Erling Haaland vs Darwin Nunez: Career Stats | Playing style Analysis
The Premier League fans will be excited to see two prolific young strikers in the form of Erling Haaland and Darwin Nunez ready to unleash their goal-scoring exploits in England for the upcoming season. 
In this article, we compare the two talented forwarded on the basis of their stats for their previous clubs and their playing style.
Erling Haaland vs Darwin Nunez: Early Life 
Darwin Nunez and Erlind Haaland had completely different family backgrounds; one spent his whole infancy in poverty while the other was raised in a family of athletes.
His mother was a former heptathlete, and Alfie Haaland, the father of Haaland, was a legend at Manchester City. Thus, it seemed evident that Haaland would develop his sporting career, which is exactly what he accomplished.  
The new Liverpool striker, Darwin Nunez, had a very contrasting childhood. He grew up in a family that lacked daily food; his mother sold milk bottles while his father was a builder. 
Nunez's family had to make sacrifices so that he could play football, and when scouting, Jose Perdomo, a former Uruguayan international, immediately saw him. Nunez rose to prominence swiftly under him and left for Montevideo from Uruguay.
When Benfica spotted him, they broke their bank to sign the 22-year-old as one of their expensive players. 
Darwin Nunez vs Erling Haaland: Last season's record
Both had different sets of runs last season; Nunez exploded to life this campaign, while Haaland had a decent season with Dortmund.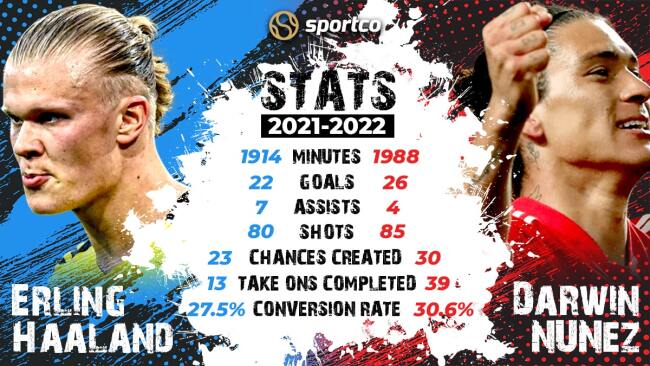 Darwin Nunez had an impressive 2021-22 campaign for SL Benfica. He has scored 47 goals in 84 games for Benfica, out of which 92% came from inside the box, which explains why he's an absolute threat in the opponent's box. 
Nunez's 34 goals last season across all competition were averaging every 81 minutes, with a shot conversion rate of 31.4% to 17.6%.
While he had most touches in the opposition's box 90 minutes - 8.4. but he had lower chances created per game with 1.2.
Haaland did not have a great season this time as per his high standards as the Norwegian only managed to score 29 goals in all competitions. 
He had a poor shot conversion rate last season of 27.3. while his touches averaged in opposition box 8.7, and the chance created this season was 0.8. and dribbles per game 0.5. 
Darwin Nunez vs Erling Haaland: Playing style 
Darwin Nunez is tall and has a poacher instincts which is enough to be a striker. He holds great experience in the box with his ball knowledge. 
He is his right-footed with impressive acceleration and control of his body. His experience helps him make immediate during the games as his explosive speed gives his teammates to feed him through balls. 
He also scans the field before making a move in the box. The 22-year-old is a disruptive striker with a dynamic range of strength, allowing him to carry counter-attacks and make precise moments in the opposition area. Besides playing as a false nine, he can also play on the wings. 
Erling Haaland possesses each requirement needed to be classified as a center-forward. His enormous size is enough to frighten the defenders. 
He is a skillful player who outmuscles opponents with his power while also having a impressive turn of speed to go in behind during counter-attacks.
Haaland is a good dribbler who frequently drops deep to contribute to build-up, which allows the defenders to lose track of him and allow him to sprint after playing long ball. His quick acceleration after releasing him makes it difficult for opponents to grab him.