Sportco Top 10 list of famous Father- son duo of football
Sportco lists down 10 father-son duo in football; some usual suspects and some not much talked about.
Inspired by their fathers, we have often seen many players who have followed the career path of their fathers in football. Sometimes players come under scrutiny as they are regarded as products of nepotism. 
However, football is all about talent and not about selecting a player who is the descendant of some legendary player. Only talent and hard work will help you make a breakthrough in a senior team. 
In this list, Sportco provides you top five famous father and son duos to play football for top clubs. 
1. Johan and Jordi Cruyff
Johan Cruyff left a legacy that is still being implemented at many top clubs. Although he spent most of his time at Ajax and Barcelona, he established himself as one of the most successful managers and players. 
A brilliant manager, he led Barcelona to glory as a manager and by helping them win their first ever Champions League trophy. Johan Cruyff spent five seasons at Barcelona where he accumulated one La Liga and a Super Cup. 
Johan Cruyff's son Jordi Cruyff commenced his football career at Ajax, but at Barcelona, he hit his stride. Being the son of a legendary player puts a lot of pressure on you. 
However, Jordi Cruyff did it with ease and was the top scorer of his first full season at the club in 1993. He made 54 appearances claiming 11 goals for Barca in all competitions.
Soon he joined Manchester United where he flopped and his career saw an irreversible downward dip. But all in all, Jordi Cruyff did have a glistening career. Definitely, one of the low-key father-son duo of football who aren't much talked about as much as the others.
2. Frank Lampard and Frank Lampard Jr 
Many English football fans would be aware of this famous father-son duo of football. Frank Lampard Sr was renowned for being a one-club man. 
He represented West Ham from 1967 to 1984, playing a mammoth 500+ games for the club. He was one of the Hammers' most paramount players and a talented left-back. 
After retirement, Frank Lampard Sr returned as an assistant coach under Harry Redknapp where he managed a golden generation of Hammers. 
On the other hand, Frank Lampard Jr burst into the scene in 1995 and made 148 appearances for West Ham before leaving for Chelsea in 2001 with his uncle Harry Redknapp and father Frank Sr due to scathing circumstances. 
At Chelsea, he became one of their decorated players, and rest, as we know, is history. 
3. Cesare and Paolo Maldini 
This illustrious father and son duo of football were one-club men who played for AC Milan until their retirement. 
Cesare began his career in 1952 at Triestina before joining Milan in 1954, where he played for 12 years winning four Scudettos and a European Cup. After his retirement, he returned to the club as a manager and led them to European Cup glory in 1973. 
Although he was sacked later, Cesare made a comeback as interim manager and in 2001 and inspired the club to a 6-0 triumph over Inter in the Milan derby.
Cesare's son Paolo Maldini was the hero of AC Milan, renowned for his defensive ability. He had a hell of a career at the club in his 24-year long stay in Milan. 
Paolo Maldini was instrumental during AC Milan's invincible run between 1991 and 1992 where they went 58 games unbeaten, amassing a stunning 23 trophies at Milan. 
4. Enrico and Federico Chiesa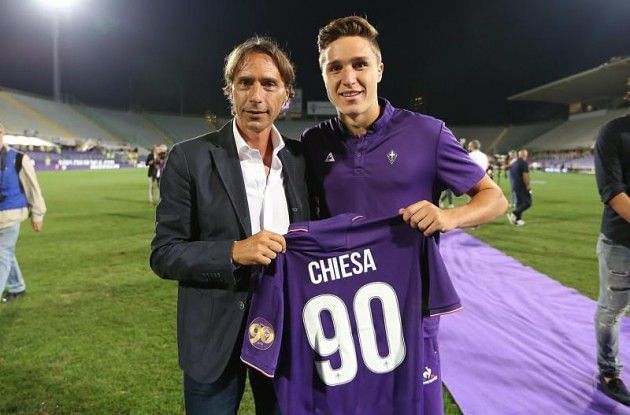 Another father-son duo in football who have both tasted success. Enrico Chiesa played for various clubs such as Fiorentina, Parma, Lazio, Sampdoria and several others, making 500 games for Italian clubs. He was one of the deadliest strikers to grace the game. 
Meanwhile, Federico Chiesa began his career at the academy of his father's former club Fiorentina. He made his professional debut for Viola before joining Juventus in 2020 on a two-year loan, which later became a permanent deal. 
Having won Euro 2020 and putting up a heroic performance, Federico Chiesa is destined to become one of the top players in Italian football in the coming years. 
5. Peter and Kasper Schmeichel 
Peter Schmeichel had an illustrious career at Manchester United being a one-club man. He won five Premier League titles, three FA Cups and was part of the famous treble-winning season of 1998-99. He even won UEFA Euro 1992 with Denmark, writing his name in the history books.
Following the footsteps of his father, Kasper Schmeichel has attained stardom in his career as well and has always displayed eye-catching performances between the sticks. 
Kasper Schmeichel spent most of his career at Leicester City where he won the Premier League, which was one of the most far-fetched triumphs of all time. 
The Danish International also clinched FA Cup and Community Shield, becoming the second father-son duo to win the prestigious trophy. 
Peter and Kasper Schmeichel would probably be the most famous father-son duo in football on our list.  
6. Miguel Angel and Xabi Alonso 
Like father, like son. Miguel Angel aka Periko spent his years playing for Barcelona and Real Sociedad. He had fairly successful years with both the clubs. 
He won back-to-back La Liga titles with Real Sociedad playing as a midfielder. Miguel later joined Barcelona, where he added more trophies to his cabinet. 
Xabi Alonso played as a midfielder akin to his father, a stylish player who represented Liverpool, Real Madrid, and Bayern Munich. He tasted success in all these clubs. 
Domestically, he won the La Liga title once and the Bundesliga in each of the three seasons and the UEFA Champions League twice. He was a part of Invincible Spain which won the World Cup in 2010 as well as the Euros in 2008 and 2012.
7. Mazinho and Thiago, Rafinha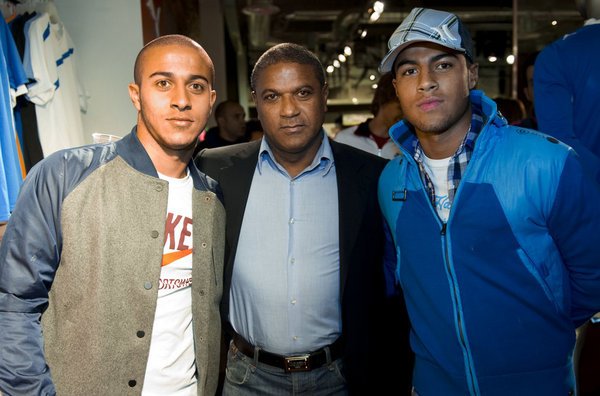 It's very common to see players choosing different countries to represent, which was seen in the case of Mazinho, and their footballer sons, Thiago and Rafinha. Both brothers have played for different countries. Rafinha decided to follow in his father's footsteps, while Thiago chose Spain. 
When it comes to winning trophies, Mazinho is the most successful one at the international stage with Brazil. He has won World Cup and Copa America with Brazil. Rafinha has only won an Olympic gold medal and it's clear that Mazinho attained more trophies on the international stage.
However, when it comes to club level, both the brothers boast a plethora of trophies. Both Thiago and Rafinha have won the Champions League with their respective clubs. 
8. Danny and Daley Blind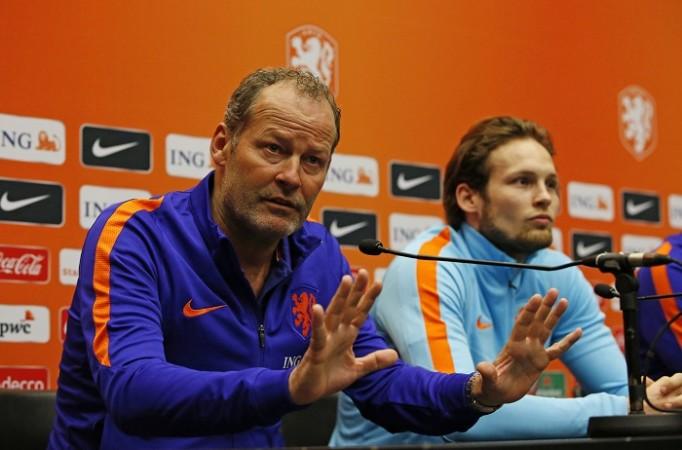 During his days at Manchester United, Daley Blind chalked up the FA Cup, League Cup, and the Europa League, and one of his famous assists to Robin van Persie in the 2014 World Cup. 
Danny Blind spent 13 years at Ajax, racking up 16 major honors, which included five Eredivisie titles, UEFA Champions League and the UEFA Super Cup along with many other accolades. 
After his retirement as a professional footballer, Danny Blind returned as manager and got a chance to coach his son in the Dutch National team. 
9. Patrick and Justin Kluivert 
Patrick Kluivert was a prolific goal scorer for both club and country. He was the third-highest goalscorer for the Netherlands international team, netting 40 times in 79 appearances. At club level, he was a goal-hungry player who always scored a goal every two games for both Ajax and Barcelona.  
Although his son wasn't as successful as his father albeit starting brightly at Ajax, and his performances for the Dutch giants earned a move to Roma.
10. Marcos Alonso Sr and Marcos Alonso Jr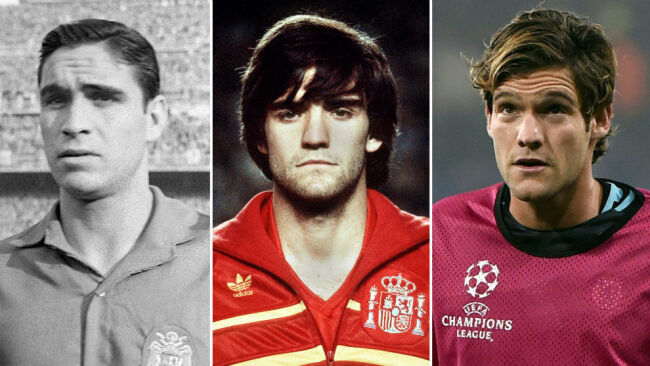 The Chelsea left-back has rich footballing lineage. His grandfather was Real Madrid's talisman who played as a defender, winning five European Cups with Real Madrid.
Following his father's footsteps, Marcos Alonso Pena (father of Marcos Alonso Jr) joined arch-rival Barcelona and Atletico Madrid and had represented Spain as well.
Marco Alonso Jr is the third generation of footballers from his family who started his football at Real Madrid academy. 
Playing only two minutes for the senior team he later joined Bolton Wanderers at the age of 19. Due to controversial circumstances outside football, he had to drop from his professional career for 21 months.
Marcos Alonso Jr resumed playing football for Bolton Wanderers, later he joined Sunderland and Italian Fiorentina before signing for Chelsea in 2016.
So far at Chelsea, he has won seven trophies and is one of the talented left-back. He is Tuchel's first-choice left-back and has the potential to rack up more success in his career.
We hope you liked this list of famous father-son duos in football. Do let us know in the comments below if we missed out on any of your favorite father-son pairs of football?