FIFA 21 Icon Swap Guide: Find out how to get Icon swaps on FIFA 21?
EA finally bringing back Icon Swap to FIFA 21 is definitely a good sign for fans & players. If this is something you have enjoyed in previous iterations, this time there is a lot to do. 
Some of football's greatest stars of previous generations are back in the FIFA 21 Icon Swap. EA has already added the first set of players in the Icon Swap. Here are the first 6 players who have been added:
Nemanja Vidić (base version)
Gheorghe Hagi (mid version)
Davor Šuker (mid version)
Ronald Koeman (prime version)
Frank Rijkaard (prime version) and 
Thierry Henry (mid version)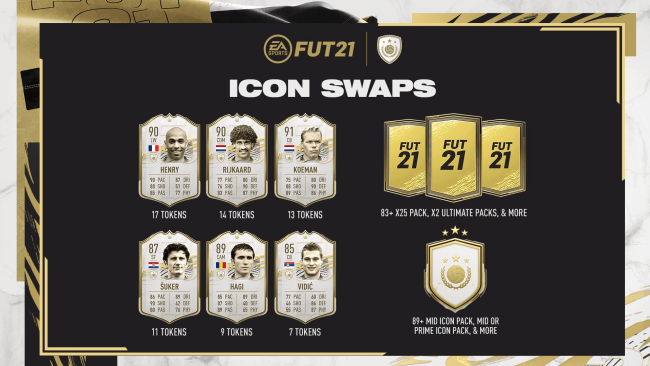 In this article, we will help guide you through the process of acquiring and swapping Icons. 
How to get Icon Swaps on FIFA 21?
In the FIFA 21 Icon Swap system, you will have to complete challenges & objectives in the FIFA 21 Ultimate team menu. After you amass enough tokens, you can trade them for the Icon card of your choice. 
Obviously, the best players require more number of tokens, making Thierry Henry the most valuable Icon. The Icon Swap for FIFA 21 began on December 11, Friday. All the challenges will end by January 1st, giving fans and gamers another 15 days to collect enough points to trade in for your favorite Icon.
Number of tokens for each of the Icon Swaps players:

Vidić – six tokens 
Hagi – nine tokens 
Suker – 11 tokens 
Koeman – 13 tokens 
Rijkaard – 14 tokens 
Henry – 17 tokens
There are plenty of rewards to hunt for. Here is the whole list of rewards and the number of tokens required.
| | |
| --- | --- |
| Icon Swaps reward | Tokens |
| 2x Ultimate Team Packs | 2 |
| 5x 85+ Players Pack | 3 |
| 25x 85+ Players Pack | 5 |
| Nemanja Vidic (CB, 85) | 7 |
| Base Icon Pack | 8 |
| Gheorge Hagi (CAM, 89) | 9 |
| Base or Mid Icon Pack | 10 |
| Davor Suker (ST, 87) | 11 |
| Mid Icon Pack | 12 |
| Ronald Koeman (CB, 91) | 13 |
| Frank Rijkaard (CDM, 90) | 14 |
| Mid or Prime Icon Pack | 15 |
| 89+ Mid Icon Player Pick Pack | 16 |
| Base Icon Player Pick Pack | 17 |
| Thierry Henry (LW, 90) | 17 |
Featured Image Credits - fifplay.com