The Gonzaga Bulldogs enter the final four of the NCAA Men's Championship 2021
The Gonzaga Bulldogs continue to dominate the American college basketball scene. Being the favorites this season, they completely dominated South Carolina 85-66 from the opening tip.
Gonzaga Bulldogs Men's Basketball team make it into the final four of the NCAA Men's Championship 2021 after defeating the USC Trojans in the Elite Eight. 
The 30-0 Gonzagas never seemed like they were going to lose. Having an undefeated regular season, they continue to do so in March Madness as well. The Gonzaga Bulldogs have won four games in the tournament by an average margin of 24 points as they continue to be unbeaten.
The Gonzaga Bulldogs set the record as they become first team with a 5th straight 30-0 season. Image Credit - Bleacher Report.
We cannot look at the Gonzaga Basketball team and not think of a place in the history books of college basketball. They are on the road of putting together a perfect season for the first time since 1976 when Indiana did it.
If the Zags are able to accomplish the milestone, they will surely become the best program in the country. Coach Mark Few's name would also be placed amongst some of the biggest college basketball coaches of all time. 
When it comes to the game against the USC Trojans, the South Carolina team never had a chance. They were already in a 19-point deficit heading into halftime. The Gonzagas were ahead in almost every single category as we take a look at the stats:
| | | |
| --- | --- | --- |
| Gonzaga Bulldogs | Team Stats | USC Trojans |
| 33/66 | Field goals | 24/62 |
| 7/21 | 3-pointers | 4/15 |
| 41 | Rebounds | 29 |
| 21 | Assists | 9 |
| 3 | Blocks | 0 |
| 6 | Steals | 7 |
| 9 | Turnover | 10 |
Having been completely outdone in collecting the boards, the USC Trojans were almost toyed with physically by the Bulldogs.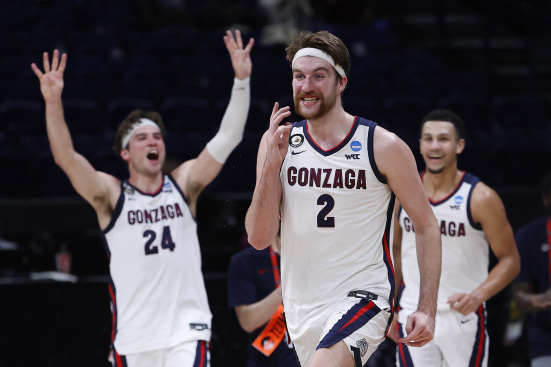 The Gonzaga forward, Drew Timme, led the scoring as he drained 23 points along with 5 boards and 4 assists. 
Potential No.1 Draft pick, Jalen Suggs, had a double-double as he put up 18 points and 10 assists along with 8 assists, making him 2 assists short of a triple-double. No. 24, Corey Kispert, also put up 18 points, 8 rebounds and 2 assists on the board. 
The Gonzaga big three combined for 59 points with 14 assists and 23 rebounds, making them an unstoppable force.
Featured Image Credits - Robert Deutsch-USA TODAY Sports