Sportco Top 10 Greatest World Cup Moments Of All Time
The FIFA World Cup in 2022 is nearing, and supporters are gearing up for one of the largest football spectacles.
As the tournament draws near, we revisit the top ten greatest moments in FIFA World Cup history. 
Greatest World Cup Moments #1. Highest attended match in World Cup history 
The most spectators ever turned out for a football match when Brazil reached the World Cup final on its own turf in 1950. Officially, 173,850 tickets for the game in Rio de Janeiro, Brazil's legendary Maracana Stadium, were sold.
However, many ticketless people entered the stadium, pushing the total to 200,000. Sadly, the Selecao fell to an agonizing 2-1 home match defeat against Uruguay. 
However, this game set a record for the biggest crowd ever in a football game. 
Greatest World Cup Moments #2. 17-year-old Pele running the World Cup final game
What would you do if you could compete in the FIFA World Cup Final at the age of 17? A moment you would never believe would happen in your life, but for Pele, then 17 years old, it was a reality when he turned the game on its head and scored twice against the Swedish team to win the FIFA World Cup trophy at the age of just 17. 
Pele was hardly a legal member of the squad, but his talent was atypical from rest of the squad. 
Greatest World Cup Moments #3. Oleg Solenko's goal-galore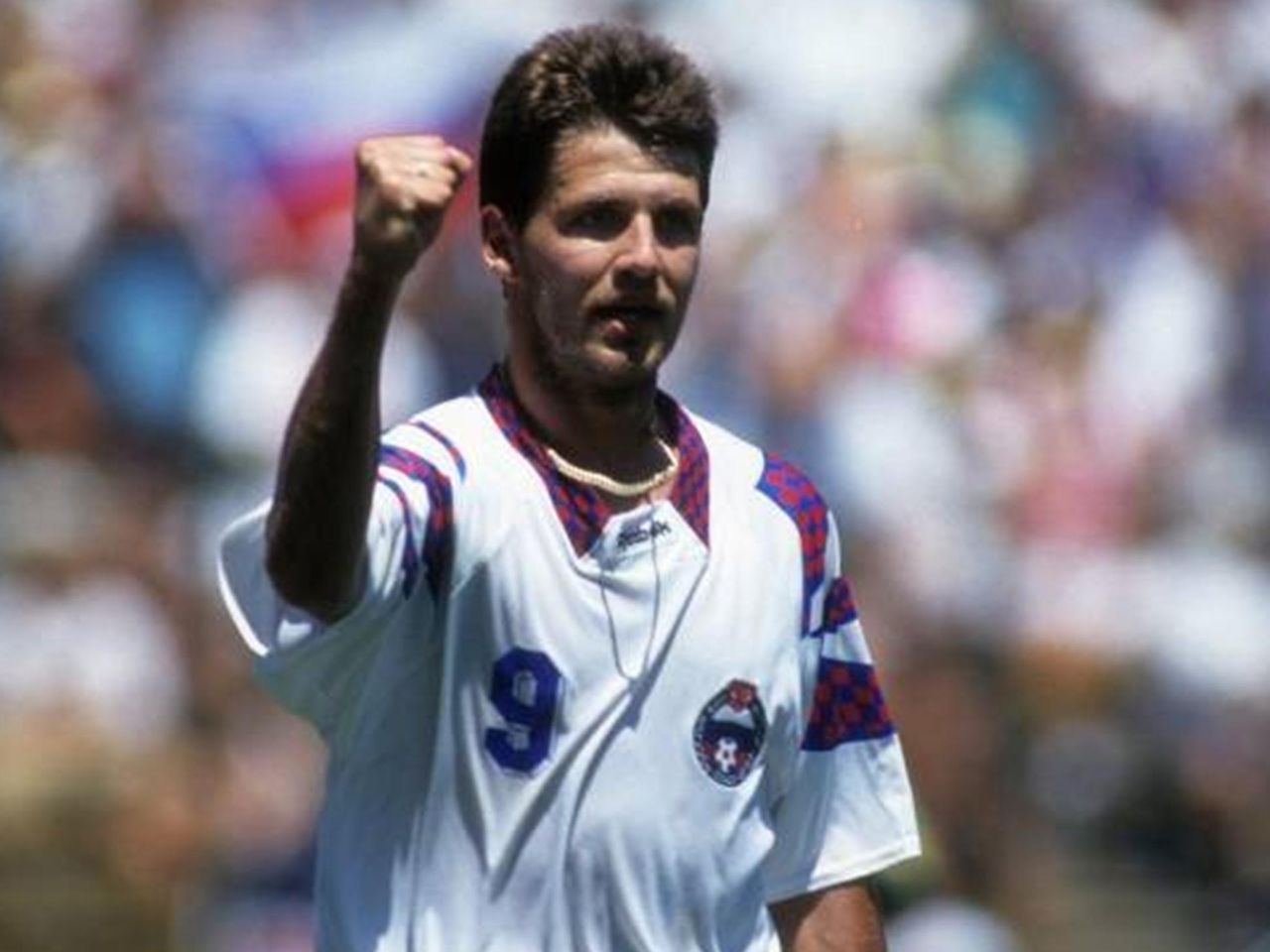 When Russia demolished Cameroon 6-1 during a group game match in 1994, Russia's Oleg Solenko set the tone of the match as he became the only player in FIFA World Cup to score five goals in a match.
Oleg Solenko concluded his World Cup campaign with six goals, but the scoring streak still remains unbroken, and what was even more surprising was that despite only participating in the group stage, he would eventually share the golden boot.
Greatest World Cup Moments #4. Annihilation of Brazil by Germany in 2014 World Cup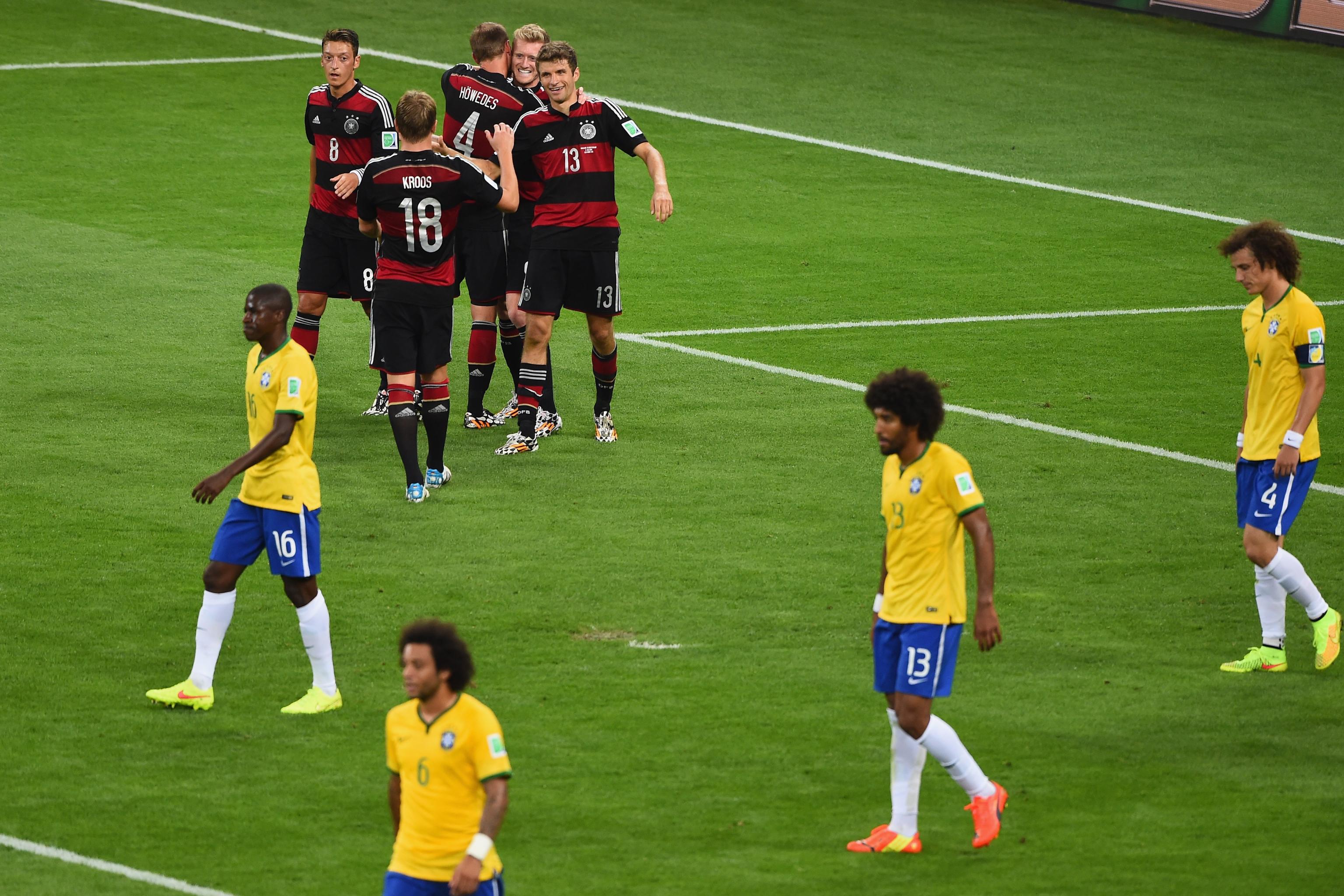 When the gloomy clouds surrounded the stadium, Brazil fans knew this match would not turn out to what they were anticipating. 
Brazil supporters experienced a trauma as Germany decimated this Brazil team, making it one of the worst moments in Brazilian sporting history, as it unfolded on their own soil.
Greatest World Cup Moments #5. Senegal stuns defending champions France in 2002 World Cup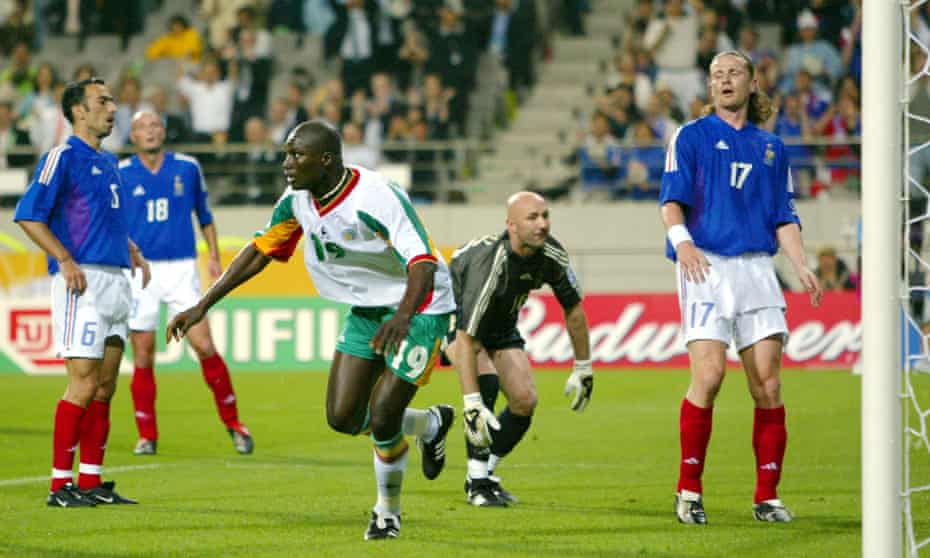 France were the overwhelming favorites to get through the group stage in the 2002 World Cup.
Senegal were the first team they played in the group stage, and the crowd was hoping for an easy victory for France. 
However, Les Belus's complacency led to them suffering a surprising 1-0 upset to Senegal, who were making their international debut. And France subsequently lose all the matches and were eliminated from the group stage.
Greatest World Cup Moments #6. Diego Maradona's best World Cup Goal vs England in 1986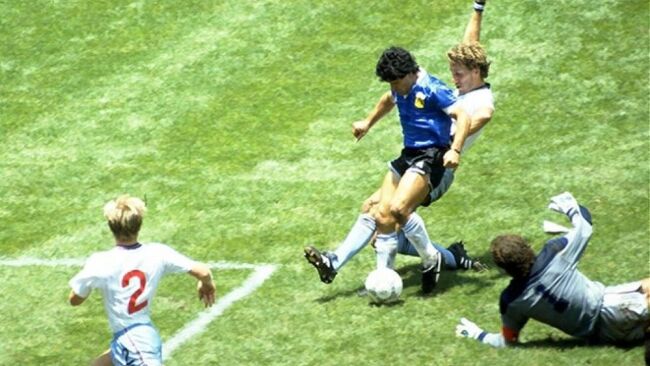 Not long after the infamous 'Hand of God' goal, Diego Maradona then went on to score one of the greatest goals ever seen on the world stage. 
Picking the ball up in his own half, Maradona beat every English player that stood in his way before slotting it past the helpless Peter Shilton. A goal still remembered even today as one of greatest individual goals of all time.
Greatest World Cup Moments #7. A goal-galore match 
We witnessed a flurry of goals in this game as Austria and Switzerland put on a show to remember. In the 1954 World Cup match between Austria and Switzerland, both teams scored ruthlessly.
If FIFA had a win probability during the 90s, then Switzerland would have been given a 99.9 win percent as they scored three goals in just 19 minutes of the match, but then Austria came out all-guns-blazing and scored five goals under nine minutes.
Austria could have emerged victorious, but playing in 104 degrees Fahrenheit temperature resulted in shaky defending, and their goalkeeper suffered hyperthermia, aiding the Swiss to fire four quick goals.  
Greatest World Cup Moments #8. Germany's early setback in the 2018 World Cup
The Germans entered the 2018 tournament as favorites once more after taking home the 2014 FIFA World Cup trophy and being rated No. 1 in FIFA's rankings.
However, things didn't turn out as planned. After losing to Mexico in their first game and avoiding danger against Sweden, it all came down to their last group encounter against South Korea.
South Korea, rated 50th in the rankings, seemed to be a task match for Germany, but South Korea pulled off a complete shocker, defeating Die Mannschaft 2-0 and barring them from progressing past the group round.
Greatest World Cup Moments #9. When the part-time players defeated the "Kings of Football"
The FIFA World Cup was held in 1950, and the USA and England were scheduled to play each other. However, the United States had mostly inexperienced players, some of whom weren't even Americans, whereas England was considered the contender to win this event.
This USA side scored a solitary goal against the Three Lions to send shockwaves in the 1950 World Cup and caused massive distress for the England side. 
Greatest World Cup Moments #10. Kylian Mbappe had the world at his feet at just 19
The record Pele set in the 1958 World Cup final, when he was just 17 years old, stood for centuries, and no one even came near.
The French wonder Kylian Mbappe did manage to set such record when he scored in the 2018 FIFA World Cup final's 4-2 triumph against Croatia, and became only the second youngster to score in a World Cup final.