Lionel Messi vs Kylian Mbappe: Head-to-Head | Career Stats | Playing style | Speed
Lionel Messi and Kylian Mbappe made their senior football debut at the age of 17 and what followed after that is years an unprecedented dominance in football. 
Hence, we couldn't help but compare the striking similarities between the two magnificent footballing talents.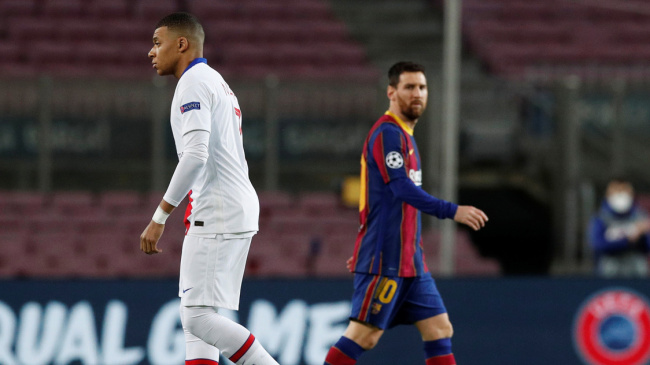 | Player profile | Lionel Messi  | Kylian Mbappe  |
| --- | --- | --- |
| Age  | 33 | 22 |
| Nationality  | Argentina  | France |
| Height  | 1.70m | 1.78m |
| weight | 72kg | 73kg |
| Preferred foot | Left  | right |
| Top speed  | 32.5km/h | 36km/h |
Lionel Messi and Kylian Mbappe: Rise to Stardom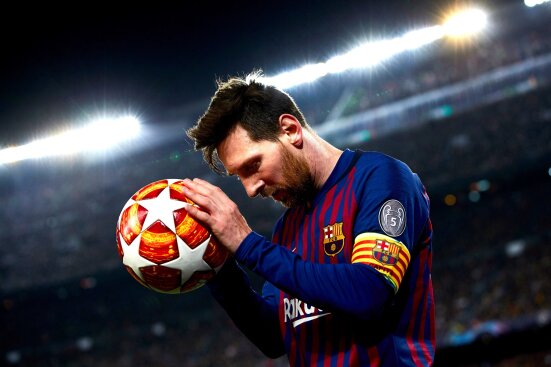 Lionel Messi first made his debut for Barcelona at the age of 17, becoming the club's youngest ever player to play a senior match, scoring his first goal against Albacete, which Barcelona legend Ronaldinho assisted; this made Lionel Messi the club's youngest ever Liga scorer. 
Lionel Messi scored one of his most famous goal against Getafe; in the 2007 Copa del Rey, when he picked up the ball from half fine and ran towards the goal beating every player who came on his path before rounding the goalkeeper and then slotting the ball in the net. 
Between 2007-2012, Lionel Messi was almost unplayable at times, with teams having no other option but to commit tactical fouls on him to stop him in his stride. 
Messi's dominance is far-fetched; the Argentine is still the world's best player until he hangs his boots. He has been aging like a fine wine and always hungry for goals and trophies.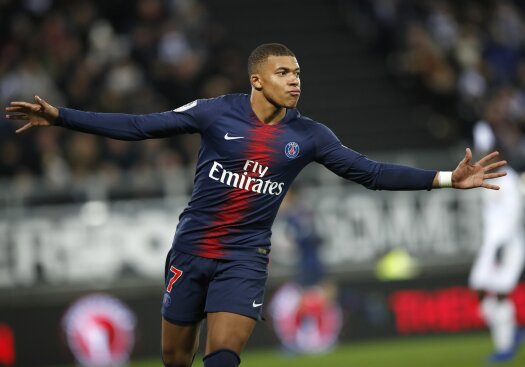 Kylian Mbappe first caught the fan's attention when Monaco clinched the 2016-17 Ligue 1 title after 17 years and reached the UCL semi-finals. 
The Frenchman was awarded Ligue 1 young player of the year and the golden boy award, bagging 26 goals in 60 games, making him the top players among other football stars.  
Mbappe netted his first hattrick for his first-team career against Stade Rennais in the Coupe de la Ligue, the first hattrick scored by any Monaco player in the competition since Sonny Anderson in 1997.
However, the PSG forward is just 22 years old, 11 years younger than Lionel Messi, and has a prominent future ahead of him. At just 22, he has won every trophy, which tells a lot about the Frenchman. 
Kylian Mbappe has the potential to surpass Lionel Messi, and establish himself as the most significant modern-day footballer.
Kylian Mbappe vs Lionel Messi at 22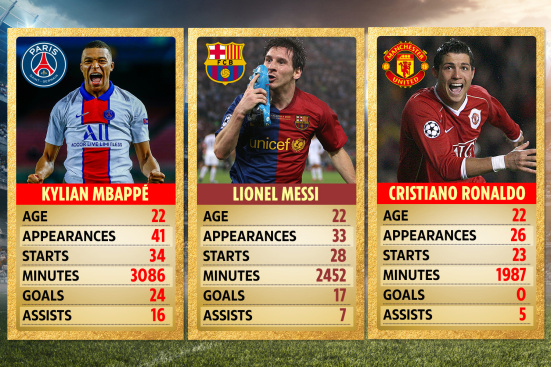 From the above stats, it's clearly visible that Kylian Mbappe leads both Lionel Messi and Cristiano Ronaldo in terms of minutes played, goals scored, assists and appearances. It is indeed astonishing to see the amount of experience that Mbappe has gained at such an early age.
Lionel Messi and Kylian Mbappe: Stats Comparison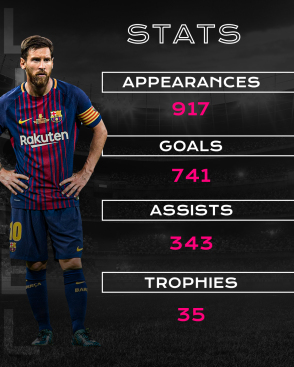 Lionel Messi: Unique Records  
Lionel Messi is Barcelona's all-time leading goalscorer with 663 goals in just 768 appearances.
In 2013 Lionel Messi scored record 91 goals in a calendar year, surpassing Gerd Muller's 85 in 1972. 
Messi officially holds the record for most assists provided in the history of football with 309 assists. 
The Barcelona forward was the first-ever player to win four consecutive Ballon' d'Or. 
Messi is the only player in football history to score more than 40 goals in ten consecutive seasons.  
Kylian Mbappe: Unique Records
After Kylian Mbappe's staggering year at Monaco, PSG bought the young Frenchman for €180 million making him the second most expensive player.
At the age of just 22 years, Mbappe has reached the 100 goals mark faster than Ronaldo and Messi. 
After scoring his Hattrick against Barcelona in the UCL, Kylian Mbappe became the youngest player in UCL history to score 25 goals in the competition, breaking Lionel Messi's record. 
 At 18, Kylian Mbappe won the 2018 FIFA World Cup, becoming the second teenager, after Brazilian Pele, to score in a World Cup Final. 
Kylian Mbappe secured the joint second-highest goal-scorer spot and given the Best Young Player and French Player of the year awards for his magnificent display in the 2018 FIFA World Cup.

Lionel Messi vs Kylian Mbappe: Playing style
At 1.70 m, Lionel Messi holds a low center of gravity, which provides him greater agility. This allows him to make body feints while dribbling and break the opponent's defense easily. Pep Guardiola once stated, 
"Messi is the only player that runs faster with the ball than he does without it." - Pep Guardiola.
Lionel Messi plays as a right-winger and sometimes as a false nine, he is a prolific goal-scorer and does not need excessive speed as his quick feet during dribbling help him in positioning, quick reactions, and make attacking runs to beat the defensive line. 
However, Lionel Messi's top speed counts at 32.5 km/h. Over the years, Lionel Messi has tried to reinvent his game, with him playing more as a playmaker and providing killer passes for his teammates.
With his excellent finishing, Kylian Mbappe often plays as a false nine. At times he plays as a left-winger due to explosive speed, capable of playing on the flank. His quick acceleration helps the team to exploit the opponent's defense which creates chances. 
Along with his exceptional speed, Kylian Mbappe is extremely skillful with the ball and doesn't shy away from dribbling past opponents or doing body feints to leave the defender for dead.
One cannot overlook his off-the-ball movements as well which helps Kylian Mbappe make quick runs and enables him to stretch the opposition's defense which makes him an excellent offensive threat on counter-attacks, with a top speed of 36 km/hr. 
Lionel Messi and Kylian Mbappe have met head to head twice. The first meeting took place in the 2018 FIFA World Cup, while the other in the Champions League quarterfinals, and in both the meetings, the Frenchman came on top over the Argentine maestro.