Julian Nagelsmann: Tactics, Formation & Philosophy
Julian Nagelsmann has become one of the prominent managers with his managing approach in football. He's one of those managers known for his attractive style of play. 
In this article, we uncover the tactics, philosophy and management of Bayer's new head coach, Julian Nagelsmann.
Nagelsmann is one of the youngest managers in the European top-flight. His style of play has got him recognition from many top clubs.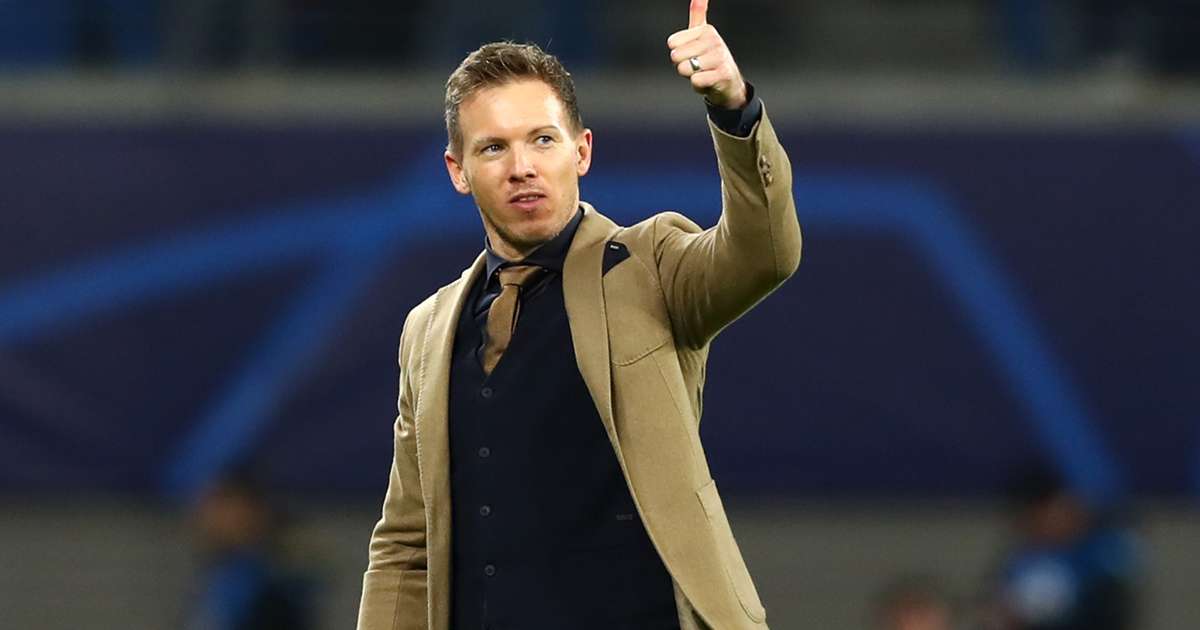 At RB Leipzig, the tactics and philosophy of Julian Nagelsmann revolved around attacking football. He is an extremely tactical and sound coach who knows what his players require, and in which position they can give their 100%. 
Julian Nagelsmann: Tactics at RB Leipzig   
At Leipzig, Nagelsmann executed 3-5-2 formation. He basically uses three-man defence and four-man defence depending upon his opponents, but the majority of the time he uses three-man defence. 
This gives players an extra helping hand during defending so that the attackers don't need to fall back, and wingers can fulfil both attacking and defensive duties. The former RB Leipzig manager knows when to play high-pressing and possession-based football. He only follows two strategies: attacking football and high-pressing when possession is lost. This provides players fluidity in attacking and solidity in defence.
Julian Nagelsmann and his alluring tactics have heaped praises from other managers. Albeit being very young in world football, he led Leipzig to a third-place finish in the 2019/2020 season. 
This saw many top European clubs being keen on signing him. However, Nagelsmann has joined Bayern Munich where he has a star-studded squad and with an astute strategy, it will be interesting to see how he deploys players for their roles. 
What can Bayern expect from Naglesmann?
Nagelsmann's pre-season games have endured a baptism of fire after he failed to deliver in those matches. 
Bayern's pre-season has been futile as they started their new season on a sour note in a 1-1 draw. However, he compensated for his poor start with a trophy in a 3-1 win over Dortmund. 
One of the best things about Nagelsmann is that he offers young players chances to prove on big stages. His arrival could be a key figure for youth development. Most of the Bayern players are reaching the twilight of their careers. Naglesmann can use academy players in future. 
How Bayern can lineup under Nagelsmann?
Julian Naglesmann is very cautious towards his tactics. The German likes Rangnick-Esque pressing. He fluctuates his formations according to his opposition and his experiments on the player, like in which position a player can deliver to his full potential. This allows players freedom and flexibility on the field. 
Due to the solidity in defence, Nagelsmann tends to make his players relentless. In his pressing tactics, Julian Nagelsmann pushes all the players at all three levels of play to jump in, where wingers, back, central midfielders and an outside-back are trying to win the ball whilst players keep pressing with high intensity and blocking the space for opponents. This also allows rotation during the play.  
Under Naglesmann, Bayern can solidify their defence as the Bavarians have struggled defensively in the past seasons. Naglesmann could mould the defensive line with his system. Rebuild in defence could enhance Bayern backline. 
When it comes to attacking tactics, Julian Nagelsmann and Bayern's attacking processes are the same: creating as much space as finding open passing lanes. 
The purpose of the attacking is to put pressure on the opposition's defence so they commit errors. This opens more space in the box and it provides players to play quick one-touch passes which exploit the opponents' defence.
At Bayern, the icing on the cake will be the likes of Kingsley Coman and Alphonso Davies who will have an important role to play. Serge Gnabry and Leroy Sane often indulge in the build-up, although under Naglesmann they will have a more important role in scoring goals.
Naglesmann's last five years as a manager of top-flight German teams saw him finish 3rd, 2nd, 4th, 2nd and 2nd on goal difference. 
Bayern can fully utilise Nagelsmann's strategy. However, the question stands how Bayern Players will adjust to this system. The club has one of the youngest and brightest tactical minds who can expand Bayern's trophy haul. 
Related Articles: Thomas Tuchel Tactics at Chelsea | Pep Guardiola Tactics and Philosophy