Pep Guardiola Masterclass - Tiki Taka at Barca | Tactics at Bayern Munich | Man City evolution
Pep Guardiola is one of the finest managers to grace the most beautiful game with his ingenious mind. 
Through his managing philosophy, he achieved unprecedented success.at all the three clubs he has managed so far.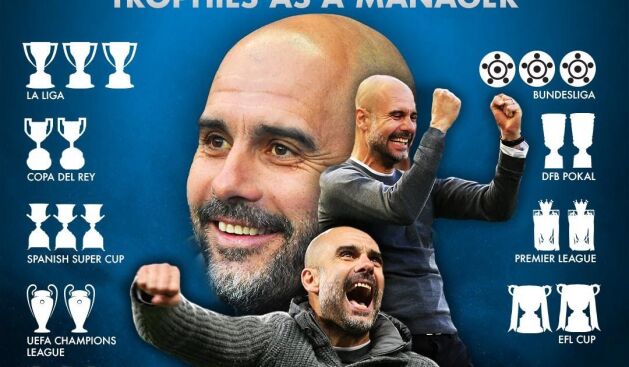 Implementation of tiki-taka at Barcelona   
Before starting his senior career as a manager, Pep Guardiola did not have prior managerial experience in managing senior clubs. He started a senior managerial career at Barcelona, his boyhood club, where he won many trophies as a player. 
However, Guardiola first season at Barcelona as a manager (2007-08) was trophyless. Within a year, he redeemed himself as a manager and what followed after that was an ear of resilient domination of Barcelona in Europe. 
He implemented tiki-taka and got the entire football world praising him for his masterclass and bringing new football tactics. 
Guardiola's tiki-taka style of play was to make opponent players relented. His primary focus was to play a possession-based and aggressive pressing style, which was perfectly implemented during his managerial spell at Barcelona; Guardiola often used the 3-4-3 formation. 
Pep Guardiola played Dani Alves and Eric Abidal, covering entire fullbacks. He played Puyol and Pique, covering the centre and the likes of Xavi, Iniesta, and Busquets in midfield, whose excellent vision and accurate passing break the tightest of spaces and feed the balls to Messi, who most of the time played false nine under Pep. 
In his four year of domination in Europe, he inspired Barcelona to win 14 trophies, a club record.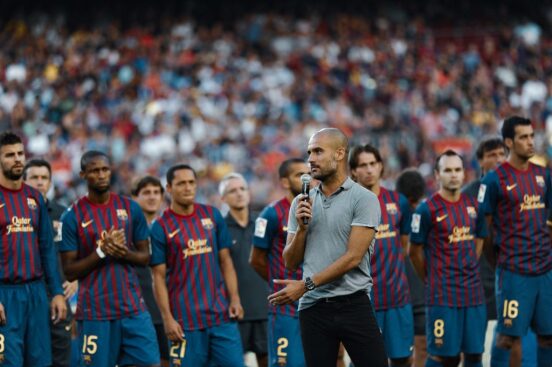 After a year's sabbatical, Pep Guardiola resumed his managerial career at new club Bayern Munich.
On 16 January 2013, Pep Guardiola announced that he would take over as Bayern Munich manager. 
The Spanish tactician instantly experimented his different sets of formation in Bundesliga, winning the league in his entire three seasons; he also won the Club World cup and UEFA super cup, as Bayern won the treble in 2012 under Jupp Heynckes. 
It made Pep Guardiola the most successful Bundesliga Manager in history in terms of points won per game.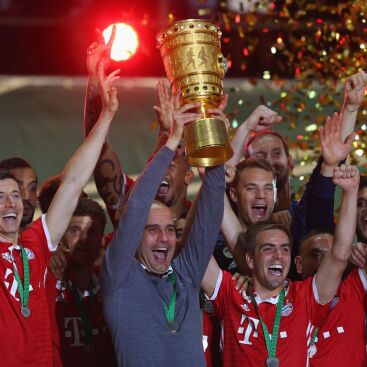 However, Champions League glory under Pep Guardiola would elude the Bavarians. Guardiola did not taste much successful season as he failed to deliver in UCL; one time, they lost to his former club Barcelona in the UCL semi-final.  
Guardiola himself said that his time at Bayern was a failure as his team was thrashed thrice in the UCL by Spanish giants. As he was only successful in domestic competitions
Bayern style of play under Pep Guardiola
Pep Guardiola shifted the formation to 4-2-3-1 to a more aggressive one, 4-1-4-1, and brought Thiago Alcantara, who once played under Guardiola in Barcelona and was familiar with his playing style.
Guardiola played one holding player in defence, following creators in midfield and wingers to support the centre-forward. He brought high pressing style, so if Bayern loses the ball, they could recover the ball back as quickly as possible with high pressing.
This made Bayern more dominating in the game, and his tactic helped Bayern force the opponents to struggle on the pitch; this helped Bavarians recover the ball and start an attack immediately.
Phillip Lahm played as a holding midfielder, Javi Martinez into a centre-back and David Alaba as a winger; he has a great pace, Kimmich and Vidal in midfield to bring pace in-game, and Thiago Alcantara in the centre to execute the plan. Robben and Ribery in flanks, Lewandowski in his usual position as a false nine.  
After dominating Spain and Germany, England giants Manchester City signed Pep Guardiola. 
However, in his first season as a City manager, Pep Guardiola unable to deliver to his expectations as the club endured a trophyless 20016-17 campaign.
His most successful period came in the 2017-18 season as City smashed record-breaking 100 points during successive Premier League triumph. During that year, Guardiola extended his contract with City until 2021.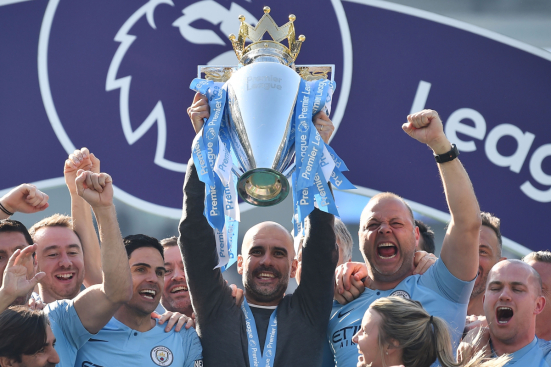 The same story continued for Pep Guardiola in the European competition. Despite winning seven trophies in England, he couldn't conquer Europe, which may have proven him to be an unsuccessful manager in Europe. 
However, this season Manchester City could be the favourites as they have reached the quarter-finals. With that resilient Guardiola, this time could prove his doubters wrong and inspire them to win their first-ever Champions League. 
Tactics Guardiola used in Man City  
Pep Guardiola did the same as he kept rotating his formation depended on opponents.
In Man City, Guardiola mainly uses 4-4-2, 4-2-3-1, 4-3-3 formation. 
Carrying the initiative, building up the game from the back, and bringing high press after losing the ball. Making variations to support the players around the ball Selfless Movement makes space for the team-mates, so they don't play under pressure.
 A heavy position-based game is played from defence to midfield along with consecutive and repetitive counter-attacks. Guardiola's primary focus is to make as much possession as the team can; he fully exploits the depth of the City game. 
The defenders are showing great potential, hugely helping midfielders in building-up attacks. And tactically placing players like Aguero, Sterling and Jesus in their respective positions to covert the ball.
Pep Guardiola personal life
Pep Guardiola was born on 18 January 1971 in, Santpedor Spain, and he was married on 29 May 2014. He has three children named Maria, Màrius and Valentina. During his sabbatical year, Pep moved to New York. 
He studied German for four years during his college days. Not just on the pitch, off the pitch, Guardiola is known for his unique appearance.
As a player, Pep Guardiola won many trophies at Barcelona. As a manager, he came into the limelight when he introduced tiki-taka at the Catalan giants, which was highly successful for his team and got many applauds from the fans and football pundits in general. 
Pep Guardiola has been praised a lot by many legends for his managing style and his mentality towards the game. We have witnessed some jaw-dropping games under his managerial career.  
"He makes you see things in one way: how he prepares for matches, defensively, how to attack... he told you exactly how the match was going to be, how you had to attack to win," - Lionel Messi on Pep Guardiola
Pep Guardiola… what can I say? He has won so many titles, the way his teams play. He's so exceptional; hands down, the best manager I've coached against." - Jurgen Klopp on Guardiola
"The one that made the biggest impression on me is the Barcelona we met at Wembley, with Manchester United, in the final of the Champions League 2011. They were unplayable. In my time as a manager, I would say they're the best team we've faced." - Sir Alex Ferguson after facing Pep Guardiola's Barcelona in 2011 Champions League Final