Who benefits the most from Leroy Sane's injury?
Leroy Sane is one of the most talented German exports to the English Premier League. He set the 2017-18 season alive with some breathtaking performances in a record breaking title win for Manchester City. He was awarded the PFA Young Player of the Year for his dazzling efforts.
Last season, he didn't play that often after the arrival of Riyad Mahrez in a then club record transfer fees. The German was subjected to several bids from German Giants, Bayern Munich, who were trying to find a replacement for their departing legends, Arjen Robben and Frank Ribery.
He suffered an ACL injury in Citizen's Community Shield triumph over Liverpool. This injury would keep him out of footballing action for a maximum period of nine months.
We take a look at a few of his peers who would benefit the most because of his unfortunate injury:
Riyad Mahrez
The Algerian maverick will benefit the most from Sane's injury. The winger was Manchester City's most expensive transfer when he signed. 
Mahrez has gone from a proven match winner at Leicester to a bench warmer at City.  He was supposed to make the right wing his own but his performances faded after a few bright outings. 
This is the ultimate opportunity for Mahrez to seal his spot in the playing eleven. So far, he has started two matches and came as a substitute in the other two. On top of that, he has two assists to show for his efforts.
Bernardo Silva
Only a few could have matched Silva's performance last season. This tireless Portuguese was everywhere on the pitch as City ran their opponents rugged. 
He found the back of the net seven times and provided seven assists for his teammates. Though, the numbers do not tell the whole story. His contribution was much more than that. The former Monaco man ran down his opponents, he tackled, he pressed, he did everything he was asked for and more,
'Merlin', David Silva is in his last season at the club and with the return of Kevin de Bruyne, there is no place for Bernardo in the middle of the park. Moreover, Raheem Sterling is a sure starter. So, the only place he could have his claim could be the one which is vacated because of Sane's injury.
Phil Foden
The Manchester City graduate is often hailed by Pep Guardiola as the most talented player he has ever seen. Still, he can't find a place for him the starting eleven. 
Sane's unfortunate injury could solve this issue. Foden, though being a central midfielder has shown that he is an able operator on the flanks as well. Perhaps the time has come for us to see the much hyped talent playing in the Premier League much regularly.
Julian Brandt and Serge Gnabry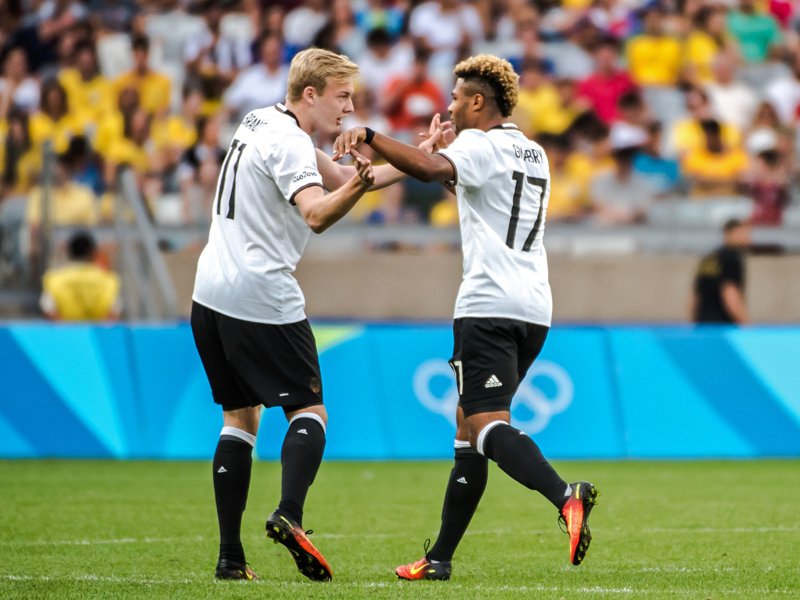 In the national set up, Borussia Dortmund's Brandt and former Arsenal winger Gnabry could stake their claim on the wings. 
Germany is rebuilding after a horrific World Cup, 2018. It needs some flair and spark which these two youngsters can provide.