Manchester City vs Liverpool: Premier League Preview and Prediction
Two great managers, the new and former Premier League champions and what should be a memorable guard of honor. Newly crowned Premier League champions Liverpool head to the Etihad Stadium to take on the team they deposed – the football equivalent of a newly crowned heavyweight champion fighting the former title holder.
With Manchester City losing 1-2 to Chelsea last week, Liverpool captured their maiden Premier League title and first league title since the 1989-90 Division I. With 86 points on board and seven games still to be played, Jurgen Klopp's Liverpool is on track to surpass Pep Guardiola's 2017-18 centurions.
Manchester City have failed to make it three Premier League titles in a row and will be smarting under the blow by Chelsea. They will enter the game with nothing but pride at stake and Liverpool could face their wrath.
Current Form
The home side fell to Chelsea at Stamford Bridge in their last Premier League game but turned things around this past weekend in the FA Cup quarterfinals, defeating Newcastle United, 2-0. Kevin de Bruyne and Raheem Sterling found the net for Guardiola's men in the win at Wembley.
Liverpool's last game was a 4-0 hammering of Crystal Palace at Anfield in the Premier League. Trent Alexander-Arnold opened the scoring with a superb free-kick. Mohamed Salah, Fabinho and Sadio Mane later added their names to the scoring list with the Brazilian midfielder's long range strike being a standout.
Manchester City have won two and lost one in their last three games across all competitions. Liverpool have won two and drawn three in that duration.
Head to Head
Klopp's Liverpool will be looking to do a league double over Manchester City for what would be a third time. The Reds completed this feat in the 2005-06 and 2015-16 seasons.
Earlier this season, Liverpool had put the league on notice with a 3-1 win over the Cityzens at Anfield. Fabinho, Salah and Mane's goals put the Reds 3-0 up before Bernardo Silva scored a consolation goal in the 78th minute.
The last five Premier League meetings between the teams have been perfectly balanced. Liverpool have won twice as well as Manchester City with a goalless draw in between.
Team News
Fernandinho will be serving the second game of his two-match suspension. He received a straight red in the loss to Chelsea for a deliberate handball.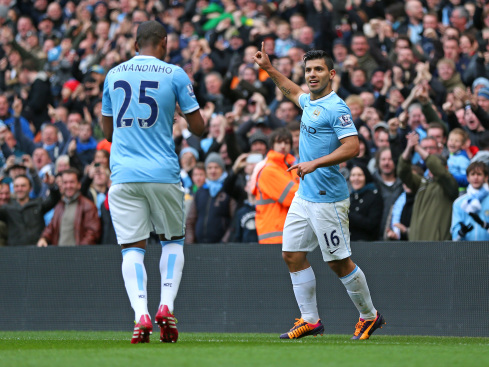 Sergio Aguero is out for the remainder of the season and Guardiola will surely miss his presence up front. Gabriel Jesus has not been an adequate replacement for the Argentine and Guardiola might start Bernardo Silva as a false-nine.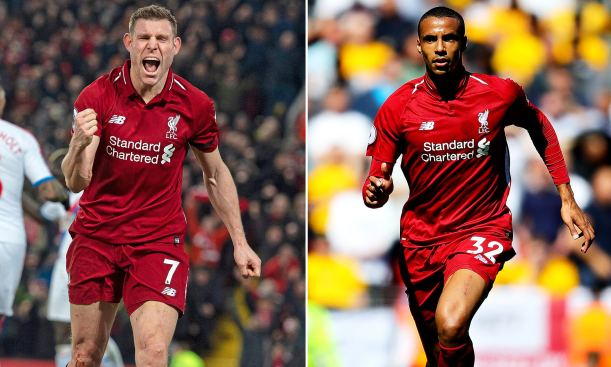 For Liverpool, James Milner, Joel Matip and Xherdan Shaqiri are injury concerns and are unlikely to feature.
Key Battles
Aymeric Laporte vs Mohamed Salah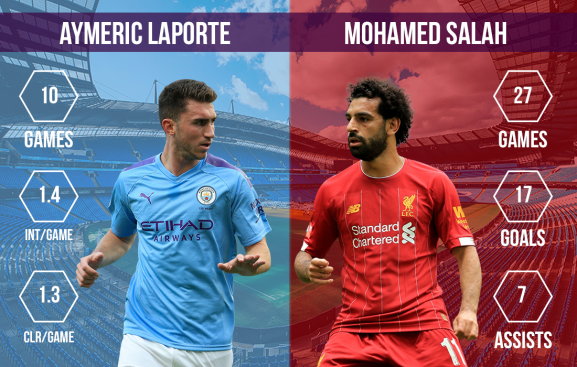 French defender Aymeric Laporte's injury layoff proved to be very costly for Manchester City this season. The Cityzens went through an injury crisis at center-back due to his absence, with Fernandinho filling in. It also affected the four-time Premier League champions' defensive shape which ultimately resulted in them ceding the title to Liverpool.
With Laporte back, City have looked stronger defensively and he will be tasked in keeping Salah at bay.
The Egyptian is chasing a major landmark as a goal or assist will make him the second-fastest player to 100 goal involvements (100 goals+assists in115 games) in the Premier League. Alan Shearer is the fastest to this feat, doing so in 100 games.
The former AS Roma man scored and assisted in the win over Crystal Palace. He is deadly while cutting inside or drifting in from the wing to attacking positions. Laporte will have to anticipate Salah's movements and position himself to deal with the 2017-18 PFA Player of the Year.
Kevin de Bruyne vs Fabinho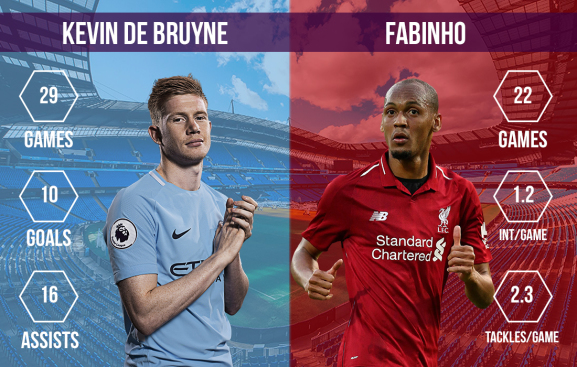 De Bruyne has arguably been the best player in the 2019-20 Premier League season. The Belgian has been on fire, scoring and assisting with aplomb.
The former Wolfsburg midfielder has scored in two games running now with his free-kick goal against Chelsea being one for the ages.
Fabinho has been a key cog in Liverpool's midfield this season. The Brazilian possesses the pace and size needed to match up to de Bruyne. Fabinho's defensive output has been extremely important in Klopp's gegenpressing and the German manager will be counting on the Brazilian to make disorient de Bruyne and control the midfield.
Riyad Mahrez vs Andrew Robertson
Algerian winger Riyad Mahrez might have been nullified by Marcos Alonso but one cannot underestimate him.
The former Leicester City man has had a productive campaign. His quickness and decision making in attacking areas makes him a threat that can be unplayable at times.
Thankfully for Liverpool, they have one of the best defensive full-backs in their side. Robertson has been phenomenal this season and has been fantastic in both defensive and offensive duties.
The Scot will have to be wary of Salah's brilliant left foot which he uses to release quick passes and shots. Covering the spaces around the box will help Robertson in stopping Mahrez.
Prediction
The league title is done and dusted. Manchester City are also not under any threat from third-placed Leicester.
This game, then, becomes an unadulterated battle for pride.
Sure, this impressive Liverpool side has deservedly won the 2019-20 Premier League title. The next step for them will be to try and surpass Guardiola's 2017-18 side's points tally and then prepare for a title defense in the 2020-21 season.
For Manchester City, therefore, this game is the perfect way to send a message that they will be taking Liverpool to the limit – much like the Reds did to City in the 2018-19 season – in the next season.
The other big question will be around complacency. With the title in the bag, do we see Liverpool being less intense on the field?
This is a really tough game to predict but I see Manchester City taking the win as they'll be more driven to remind Liverpool, and the rest of the league, of their quality. Guardiola might have lost this season but this game could be the perfect moment to start building momentum for what is to come in the 2020-21 season.
Predicted scoreline: Manchester City 2-1 Liverpool