Manchester City vs Tottenham: Pep Guardiola vs Antonio Conte| Head-to-Head|
Two of the most successful managers of Europe will be seen in the touchline when their club, Manchester City and Tottenham, take on each other this Saturday at the Etihad Stadium.,
| | | |
| --- | --- | --- |
| Pep Guardiola  | Bio and overall stats  | Antonio Conte |
| 51 | Age  | 52 |
| Spain  | Country   | Italy |
| Barcelona and Bayern Munich | Clubs managed   | Juventus, Chelsea and Inter Milan |
| Manchester City | Current club  | Tottenham |
| 4-3-3 | Preferred formation  | 3-5-2 |
| 738 | Games managed   | 537 |
| 550 | Games won   | 316 |
| 91 | Games lost | 96 |
| 31 | Trophies won  | 8 |
Pep Guardiola and Antonio Conte will cross each other's paths for the fifth time in Premier League. The managerial acumen has built a great reputation for years in Europe and attained my accolades in their managerial career.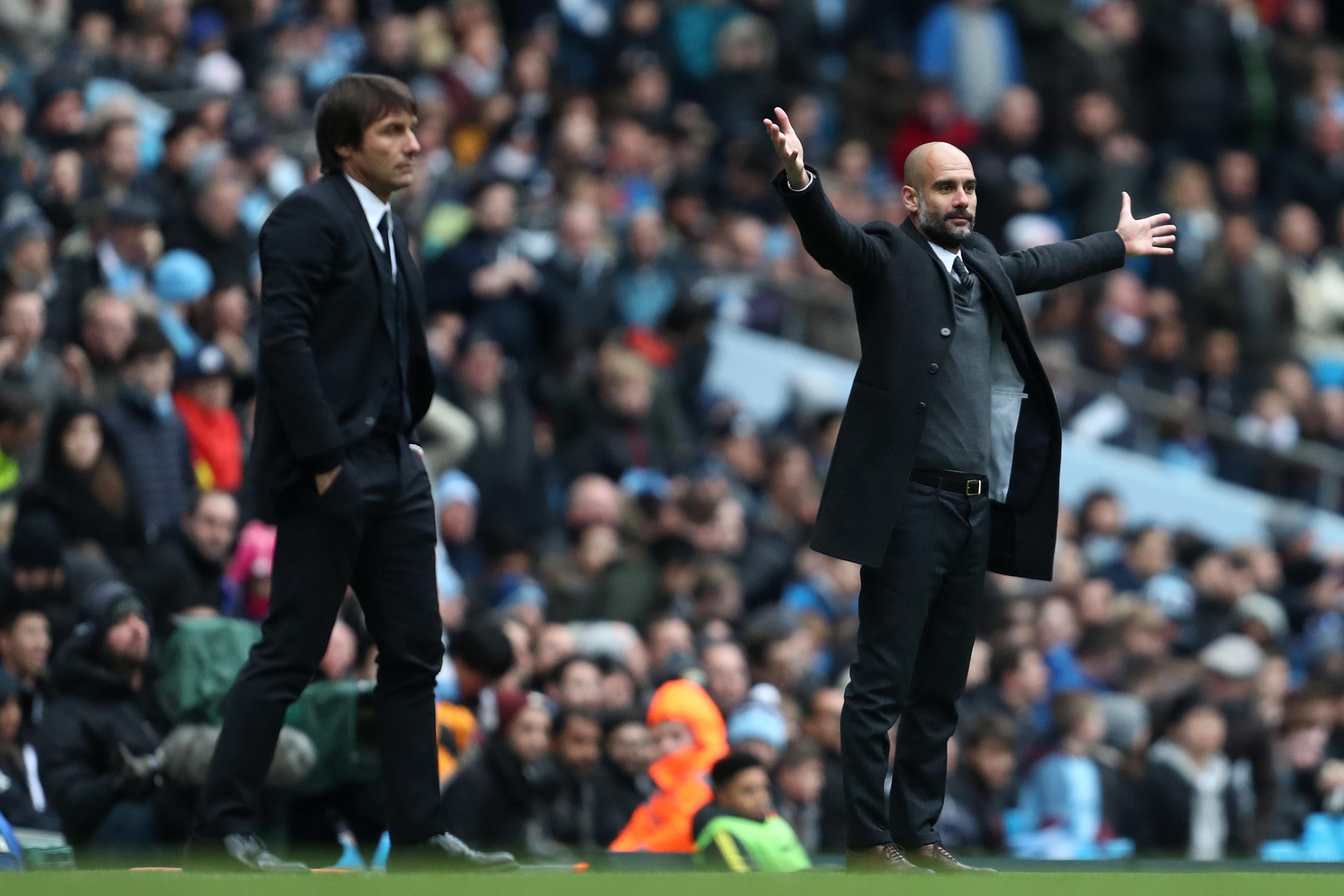 Pep Guardiola has done a spectacular job at Manchester City and led them to many glories. This season too, the Citizens happen to be the favorites to win the Premier League. After a bad start to the campaign, Manchester City turned their fortunes around and embarked on a winning run, which is yet to be halted, and to put a cherry on top, they are 12 points above second-place Liverpool. 
While Conte's return to managerial position after a successful year with Inter Milan has been arduous, he is yet to put his footprint in the club who lost three consecutive games. 
However, Conte did have a great start to his new career at Tottenham when his team sailed on a winning run, but after a defeat at the hands of Chelsea, Tottenham played two more games just to add to their dismay.
With Tottenham next facing Manchester City, Conte will have to make amendments and should hope for the top four finish, so that they manage to qualify for Champions League next season. While Guardiola's side should be least worried about their top-four finish, as their main challenge would be winning this season's Champions League. 
With Conte and Pep Guardiola meeting for the fifth time, we look at their head-to-head record in all competitions. 
| | | |
| --- | --- | --- |
| Pep Guardiola  | Stats  | Antonio Conte  |
| 4 | Matches   | 4 |
| 2 | Win  | 2 |
| 2 | Loss  | 2 |
| 0 | Draw  | 0 |
| 1.50 | Point per game | 1.50 |
Both the gaffers have a neck-to-neck record in their head-to-head clashes. Pep Guardiola and Antoni Conte will meet each other after four years.
The former Inter Milan manager won the first two games against Guardiola's men in the first season with Chelsea and guided them to Premier League and FA Cup. 
But the 51-year-old eventually earned his revenge next season, winning home and away games against the Italian, as he claimed his maiden Premier League crown with Manchester City. 
Since 2016, Pep Guardiola went on to win three Premier League titles and guided City to their first-ever Champions League finals. 
After Leaving Chelsea, Conte took over the reins of Inter Milan and delivered them their first-ever Serie A title after 11 years. After that, he left Inter Milan and took a few months hiatus before taking charge of Tottenham. 
Both the distinguished managers are set to encounter each other one more time at Etihad Stadium to battle it out for the three points.