Everton vs Liverpool: Merseyside Derby Preview and Prediction
Had the Premier League been suspended because of the coronavirus pandemic and the season declared null and void, Liverpool would have unfairly been denied their maiden Premier League title in what has been a historic campaign. That, however, will not happen as the Reds return on the pitch taking on Everton in the Merseyside Derby at Goodison Park.
For Jurgen Klopp and Liverpool, the question is when, rather than if, will they hold aloft the Premier League trophy. The club requires only two wins to win the title, currently sitting 22 points above second-placed Manchester City. Liverpool have scored 82 points so far in the league.
Carlo Ancelotti's Everton, on the other hand, are languishing in mid-table obscurity. With 37 points, the Toffees are at 12th, three points behind ninth-placed Arsenal.
Form before League Suspension
Liverpool, who had looked invincible throughout the season, suffered a major lull right before the coronavirus-induced suspension.
The Reds have lost four from their last six matches across all competitions. Two of those losses were to Atletico Madrid in the Champions League, including that infamous 2-3 loss in the second leg at Anfield.
The other two losses were to Chelsea in the FA Cup and Watford in the Premier League. The latter broke Liverpool fans' dreams of emulating the 2003-04 Arsenal side that won the Premier League title without losing a single game in the league.
In the league, Liverpool still have an imposing record, winning 19 of their last 20 games. They defeated Bournemouth, 2-1, in their last Premier League game before the suspension.
Everton, meanwhile, have been stuttering. The Toffees have won two, lost two and drawn one in their last five games.
This Merseyside Derby is another in an excruciating fixture list that has seen Everton face Arsenal, Manchester United and Chelsea in succession. The Blues thumped Everton, 4-0  - the Toffees' biggest loss this season.
Head to Head
Liverpool have firmly been in control of the Merseyside Derby for quite some time now.
Everton last posted a win in this fixture in October 2010 and have gone winless against their city rivals for 21 games now.
The last six meetings between these sides has seen Liverpool win four. The two draws in this period, interestingly, have been goalless ones.
Goodison Park has not been an easy venue for Liverpool in recent years. The Toffees have held the Reds to goalless draws in the league on the last two occasions. That being said, Everton have also not scored against Liverpool at Goodison Park in four of the pair's last five meetings at the venue.
In the Merseyside Derby in the league at Anfield this season, Liverpool were runaway winners. They scored five and conceded two in a whitewash of the Toffees.
Team News
Theo Walcott, Jean-Phillippe Gbamin and Cenk Tosun are ruled out of this Merseyside Derby.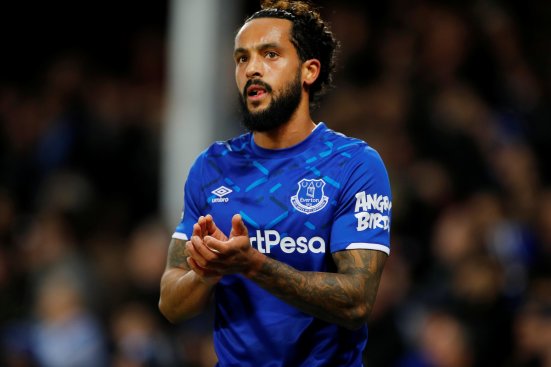 Andre Gomes has returned to fitness but doubts linger around Yerry Mina and Fabian Delph.
For Liverpool, Nathaniel Clyne and Xherdan Shaqiri are sidelined for this game. From their starters, Mohamed Salah and Andrew Robertson are doubtful.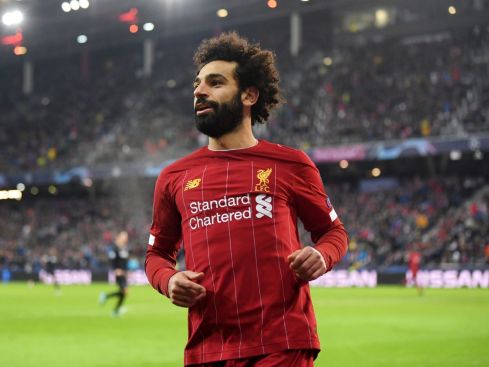 Salah had missed midweek training but there has been no official word from Liverpool on his availability.
Key Battles
Lucas Digne vs Sadio Mane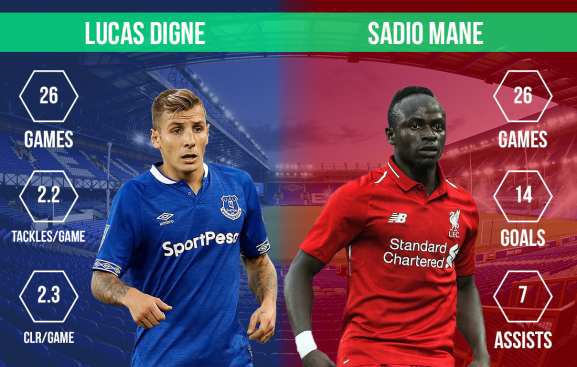 Both Lucas Digne and Sadio Mane have enjoyed fruitful campaigns this season. The Senegalese forward has scored 14 goals and provided seven assists in the league. His overall goal tally for the season stands at 16.
Digne has been a standout player for Everton, with impressive numbers on both ends of the field (five assists in the league). The Frenchman is a marauding full-back who is likely to be pinned down by the exceptional Mane.
Digne will have to give a strong effort in checking Mane's late runs into the box as well as battle individually with him when the Senegalese takes on defenders.
Michael Keane vs Roberto Firmino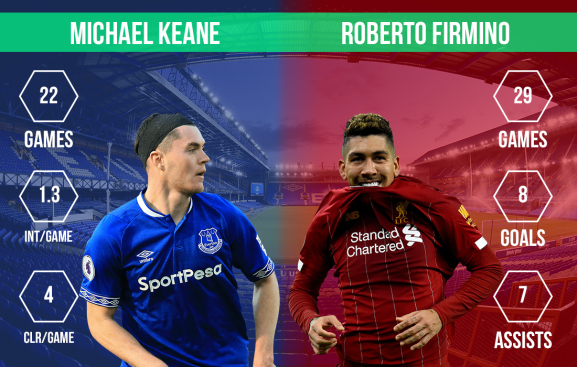 As much as Liverpool fans want to say otherwise, Roberto Firmino has been slightly underwhelming this season – as compared to the high standards he has set.
Tight defenses have been able to contain the Brazilian pressing machine which has resulted in a lower-than-usual offensive output.
In this game, however, Firmino will be licking his lips considering Michael Keane's inconsistency at the back. The English defender has been error-prone this season and is likely to give out opportunities that the Brazilian can pounce upon.
Richarlison vs Virgil van Dijk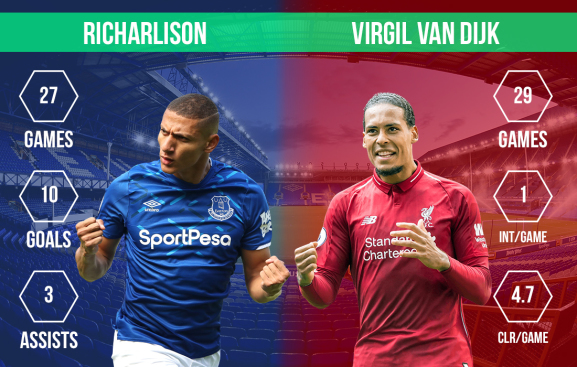 Brazilian forward Richarlison is known for his streakiness – he is irrepressible in front of goal for a few games and then goes silent for a considerable time.
He made headlines yesterday, however, with a piping hot take on Liverpool and their talismanic defender, Virgil van Dijk in an interview with Desimpedidos.
"People talk a lot about him [Van Dijk]. Yes, he is a great defender, but I've already dribbled past him. He was chosen as one of the top three in the world as he had an excellent season, but yes, for me, there are better defenders."
The Brazilian went on to say that his compatriots, Thiago Silva and Marquinhos and Spaniard Sergio Ramos are better defenders than the Dutchman.
After an NBA-esque trash talk aimed at van Dijk, the battle between the two should be a mouth-watering one. The former Southampton defender has been imperious at the back and has rightly deserved the reputation of the world's best defender.
Unless the lockdown period has severely affected van Dijk's fitness, the Dutchman is favored to keep Richarlison in his pocket.
Prediction
With 21 games unbeaten against Everton, Liverpool are clear favorites to win this edition of the Merseyside Derby.
Goodison Park, with its electric crowd, has caused troubles the Reds' goalscoring attributes but that will not count this time out due to no spectators being allowed.
Unless Klopp's men have not worked on their match-fitness during this lockdown period, I do not see Everton preventing this Liverpool machine from getting three points. 
Salah not being fully fit will affect Liverpool's performance up front but they will be able to get a decisive goal and take another step forward towards an inevitable maiden Premier League title.
Predicted Scoreline: Everton 0-1 Liverpool