Nagelsmann wants Leipzig to be confident ahead of Bayern Munich clash
RB Leipzig may have been knocked off the top spot in the Bundesliga but Julian Nagelsmann feels that this should work as an advantage for his team. 
Julian Nagelsmann admitted that confidence has suffered due to the previous results. Leipzig will now be locking horns with Bayern Munich, who lead the table, just a point ahead of Leipzig.
Leipzig will be nervous entering the game as they are currently on a three-game winless streak, their last setback coming against Eintracht Frankfurt in a 3-1 defeat in the DFB-Pokal on Tuesday. 
Bayern on the other hand, are in form having won six on the spin in the league. A trip to Allianz Arena on Sunday will be crucial and Nagelsmann will try that his squad gets back to the style of play which brought them on the top of the table.
The two teams shared points at the start of the season when Bayern still had Niko Kovac in attendance.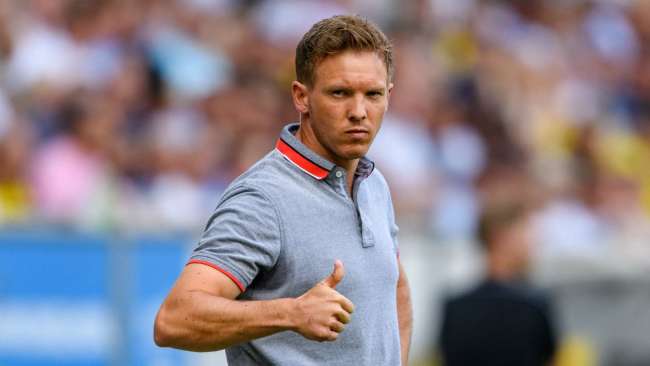 Now it's Hansi Flick, who is in charge until the end of the season, overseeing an upturn in fortunes that has led to the defending champions surging to the summit. 
Nagelsmann said," They are very stable, they have made huge progress since the start of the season. We need to put in a top-quality performance because, even if Bayern have a normal day, sometimes even 100 percent is not enough. We have to hope they don't have an extra special day."
"It's no disgrace to say that after the last games we are not the most confident team if the results and our play aren't what we expect over 90 minutes, that's what happens."
"With a win, or by reaching the next round in the DFB-Pokal, we would have had more confidence for sure. But this is no disgrace, we don't need to hide," he added while talking to a Friday news conference. 
He also accepted that it is not bad to lose as they are a young club with a young staff and a young team. But now is the time to become a hunter again and spoke that the winning mentality has to be present always.
featured image credits- archysport.com