The Rise of Naomi Osaka: Analyzing her 2021 Australian Open Victory and Future Predictions
Naomi Osaka: Australian Open 2021 Women's Singles Champion 🏆
Naomi Osaka beat Jennifer Brady in straight sets to clinch the 2021 Australian Open in style. The Japanese edged out the American 6-4, 6-3 inside 77 minutes in front of thousands of fans at Rod Laver Arena.
With four Grand Slam titles in the last four years, Naomi Osaka has become a force to reckon on the WTA Tour with her impressive consistency.
Osaka has won the US Open twice (2018 and 2020) and the Australian Open twice (2019 and 2021). Her performance in hardcourts has stood out as the Japanese has been unbeatable when playing at her best.
However, she has not been able to dominate other surfaces like clay-courts and grass. Osaka has failed to cross the third round in the French Open in four attempts and has not gone past the third round in Wimbledon in three attempts.
So, let us analyze if Naomi Osaka manages to win grand slams on other surfaces or just win a couple of grand slams only on hardcourts.
The plethora of records that Naomi Osaka achieved with her victory in the final of the 2021 Australian Open
Naomi Osaka has a perfect record in grand slam finals with a win-loss record of 4-0.
The Japanese Tennis star is the first woman to win her first four grand slam finals since Monica Seles did it 30 years ago.
Osaka will become the new World number 2 once the WTA rankings are updated.
Naomi Osaka hit the most number of aces (50) in the 2021 Australian Open.
The Japanese player is on a 21-match winning streak.
Osaka has never lost a match after reaching the quarterfinal of any grand slam with a staggering 12-0 win-loss record.
Osaka tied the grand slam lists record (4) with Kim Clijsters and only trails Venus Williams and Serena Williams in the number of majors won by active players.
Out of 7 WTA titles won in her career, 4 are grand slams.
She became the 7th woman in the Open Era to win the Australian Open after saving a match point.
Osaka is the 12th woman in the Open Era to clinch multiple Australian Open titles.
"I like to take things not big-picture, for me, I like to live in the moment, but I don't want to weigh myself down with pressure and expectations, I know that the people that I'm playing against are the best players in the world and if my time comes to win another Grand Slam, it will come," said Osaka that she will not burden herself to win more grand slams after clinching the 2021 Australian Open title. 
Osaka's head to head record against top 10 ranked players
| | |
| --- | --- |
| Player Name | Win-Loss Record |
| Ashleigh Barty | 2-2 |
| Simona Halep | 1-4 |
| Sofia Kenin | 2-2 |
| Elina Svitolina | 3-3 |
| Karolina Pliskova | 2-3 |
| Aryna Sabalenka | 1-0 |
| Petra Kvitova | 2-0 |
| Bianca Andreescu | 1-0 |
| Kiki Bertens | 2-1 |
| Serena Williams | 3-2 |
Naomi Osaka - Game Analysis
Being an aggressive baseliner, Naomi Osaka hits the ball strongly on the rise. The Japanese controls the rallies effectively with her deep forehands and her flat two-handed backhand. Her game is centred on her serve that helps her to get a lot of free points. Her biggest weapon is her composure under pressure as she can make comebacks even from precarious situations.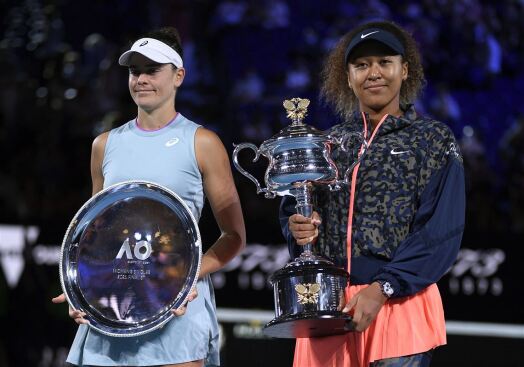 Why Osaka's game has not found success on clay and grass?
The faster hardcourts suit Osaka's game in a better manner. The slow bounce on clay is apt for those players who mix a lot of topspin in their shots. 
This affects Osaka's style of play as she is forcefully drawn into long rallies and cannot quickly get points by firing aces. She has won only 56% of her matches on clay with a dismal 18-14 (win-loss record) on the red dirt. 
Naomi Osaka has also suffered abdominal and thumb injuries while playing on the clay surface severely affecting her chances in the tournaments. 
The Japanese will most likely feature in clay-court tournaments like the Kunming Open, China, Mutua Madrid Open, Spain, and the Rome Masters, Italy ahead of Roland Garros in Paris. The clay in the French Open has become faster over the years and will help Osaka's power-hitting and great footspeed. 
"I also think that Naomi is much more of just a really good hardcourt player, and I am really looking forward to a kind of normal clay-court and grass-court season, I really want to see her perform there, I have no doubt she can do well on those surfaces too and gain confidence," said Wim Fissette, who has been the coach of Osaka since the end of 2019. Fissette added that Osaka has to master the skill of coming to the net and strengthen her backhand slice. He also praised her for the mental approach regarding match strategy applauding her smart thinking on the court.
Osaka's record on grass has been below-par with 11 wins and 9 losses (55% winning percentage). She has revealed her discomfort on the surface in the past. Her fears include chances of slipping and sliding on the grass that can lead to an injury. 
Opponents tend to rally more and use the slice often to unsettle Osaka on the grass. She also is quite defensive with her first-serve on the slick surface. Though grass courts suit her game with her aggressive serving, Osaka has failed to deliver. 
She will have a lot of choices to play on grass in the 2021 season ahead of Wimbledon with tournaments to be held in Nottingham, Berlin, 's-Hertogenbosch, Birmingham, Bad Homburg, and Eastbourne. 
On the other hand, the grass in Wimbledon has considerably slowed down. The hot weather can make the grass courts drier with a higher bounce. It will benefit the big-serving Osaka who has aggressive strokeplay. However, she can face trouble when it gets pretty sticky on the baseline. 
The fact that she is only 23 years old will favour Osaka as she still has a long way to go. The Japanese sensation is in the learning phase on clay and grass courts and will take a lot of time to produce the desired results to increase her grand slam count on non-hardcourts.
How many Grand Slams do you think Naomi Osaka will win in her career? Do let us know in the comments below.
Featured Image Credits - Getty Images