Novak Djokovic poised to break some remarkable records set by legendary tennis players
Current World No.1 in Men's Singles Tennis, Novak Djokovic aims to continue as his numero uno position for the coming weeks as he sets his sight on Roger Federer's record.
Novak Djokovic has been nothing short of an enigma in the sport of tennis. He single-handedly ended the domination of his great archrivals Roger Federer and Rafael Nadal having a positive head to head record over both. 
The Serb has won 17 grand slams in his career who is currently playing in the Vienna Open on a wildcard. He is eyeing to finish the year as World number 1 for the sixth time which the legendary Pete Sampras did successively from 1993 to 1998. 
He is also attempting to beat Federer's all-time best record of 310 weeks spent at the top of the rankings. The Serb has currently finished 292 weeks surpassing Sampras's record of 286 weeks.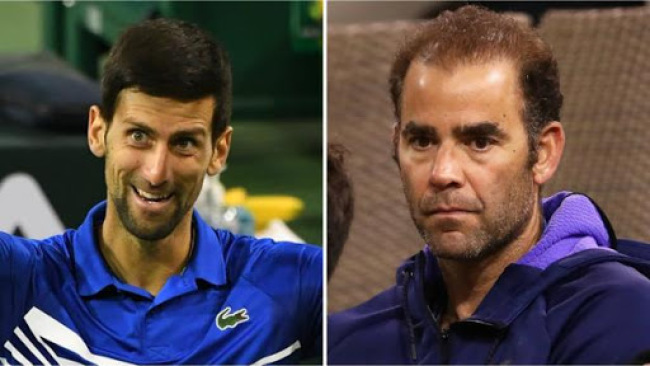 "I leave the GOAT debate to others, it is not my place, I am trying to keep the number 1 ranking", said Djokovic outlining his priorities. 
With the temporary ranking freeze system present till March 2021 due to the disruption of the tour caused by the coronavirus pandemic, the Serb strategically chose to skip the Paris Masters as he would not earn any points by playing there. 
With Nadal looking to play in Paris, Djokovic will look to win in Vienna to become the undisputed World number 1 at the end of the year. In case he loses in Vienna, he would miss a chance of pocketing up to 500 points.
Also, if Nadal manages to clinch the title in Paris, the battle at the top of the rankings will move to the ATP Finals in London.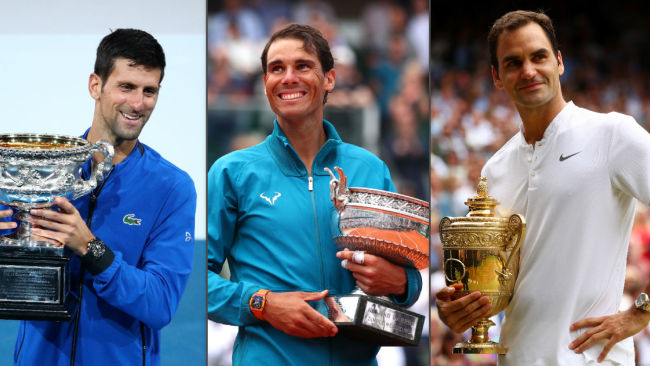 When Djokovic gets going, he is a complete player with the least weaknesses. Though not a fan favorite like Federer or Nadal, Djokovic has carved a separate niche for himself with his never-dying hunger for the game. 
While Federer has given the sport an extraordinary viewing presence with his gracefulness and longevity, Nadal is a relentless competitor who gives his 100% effort on the court with his physical style of play. 
Djokovic was the first man in the history of the game to hold all four slams simultaneously when he won consecutively from 2015 Wimbledon to the 2016 French Open. 
He did regret the missed chances this year at the US Open and the French Open. He would be itching to prove his prowess on the court and prove his critics wrong at the Australian Open where he has won a record eight times in his career.
The Serb has clinched a whopping 58 big titles in his career that includes 17 grand slams, 36 ATP Masters 1000 tournaments, and 5 ATP Finals. Nadal and Federer are placed at 55 and 54 respectively.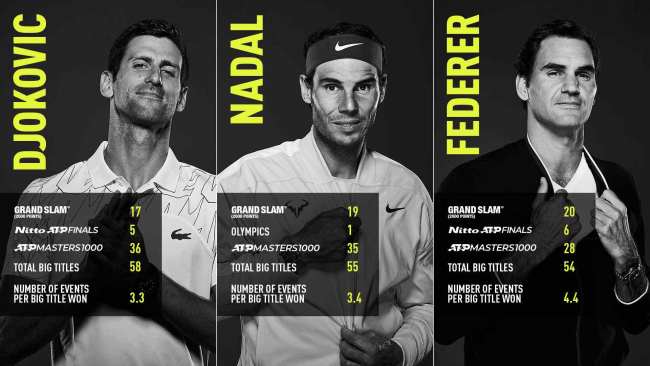 He is fifth in the most number of titles (81) behind Nadal, Ivan Lendl, Federer, and Jimmy Connors. "I believe I can win the most slams and break the record for longest number one, those are definitely my clear goals," said Djokovic sounding optimistic about his targets. 
Federer has some unique records to his game like 65 consecutive grass-court wins from 2003 to 2008, winning 24 consecutive finals from 2003 to 2005, 100 wins at Wimbledon, and staying number 1 for a record 237 consecutive weeks before being dislodged by Nadal in 2008. 
Nadal too has achieved some great record with 13 French Open titles, 100 victories at Roland Garros, winning four grand slams without dropping a set, and Olympic gold in both singles and doubles.
While Djokovic's long-time coach Marian Vajda has vowed to stick on with him till he breaks all the records, the Serb is on a mission to continue performing at the highest level for another four to five years. 
"I don't believe in limits, I think limits are only illusions of your ego or your mind", said the Serb a few months back. It remains to be seen if he continues his winning ways of playing with full intensity. 
Featured Image Credits - atptour.com