French Open 2021 Finals: Novak Djokovic vs Stefanos Tsitsipas: Who gets the bragging rights?
Top seed Novak Djokovic locks horns against the 5th seed Stefanos Tsitsipas in the finals of the French Open 2021. 
This captivating clash of generations is the 8th meeting on the ATP Tour. Djokovic leads the head-to-head record by a comfortable 5-2 against Tsitsipas. Importantly, the Serb has a perfect 3-0 win-loss record against the Greek on clay.  
Match Details
Venue: Court Philippe-Chatrier, Paris
Date: 13th June 2021
Time: 3 pm (Central European Summer Time)
Live Telecast: ITV (UK), Tennis Channel (USA), Disney/ Hotstar VIP and Star Sports (India)  
What happened in the 3 matches on clay between Djokovic and Tsitsipas?
Tournament

Result

Mutua Madrid Open 
Finals 2019
Djokovic overpowers 
Tsitsipas 6-3 6-4
French Open 
Semifinals 2020
Djokovic outlasts Tsitsipas 
6-3 6-2 5-7 4-6 6-1 
in 3 hours and 54 minutes 
Rome Masters 
Quarterfinals 2021
It is a hat-trick of wins 
as Djokovic triumphs 4-6 7-5 7-5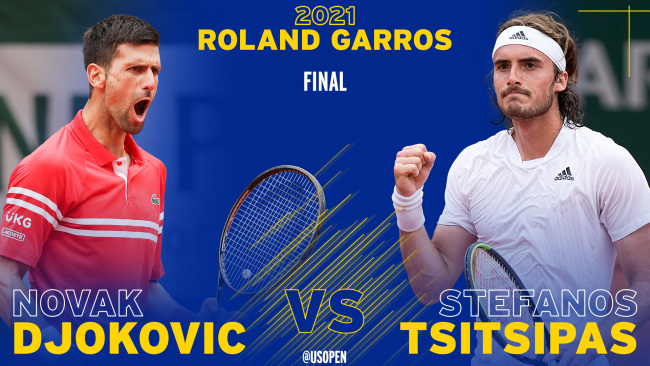 How did Djokovic turn the tables against the King of Clay Nadal?
Rafael Nadal started the match with a bang taking a huge 5-0 lead. Djokovic's serve was inconsistent. The World number 1 broke Nadal's serve 2 times in the first set but went on to lose it 6-3. The Spaniard had a staggering 97-0 win-loss record after winning the first set at Roland Garros.
However, Djokovic's returns were spot on in the second set. He forced Nadal to play passive and the Spaniard's unforced errors kept increasing. The Serb pocketed the second set 6-3. 
The third set witnessed the highest quality of tennis with some clever angles, intense rallies, and jaw-dropping returns from both players. Novak was up 5-3 but got broken back. Rafa missed an easy volley during a set point at 6-5 and Djokovic took the set to a tiebreaker. 
Djokovic had lost all his 3 tiebreakers in the French Open this year (2 to Lorenzo Musetti and 1 to Matteo Berrettini. But, the Serb was flawless in the tiebreak taking it 7-4 to move ahead with a two sets to one lead. 
Nadal once again began strongly in the next set with a 2-0 lead. However, Djokovic broke Rafa's serve 3 times as the Spaniard struggled with below-par timing and niggles with his foot. The Serb controlled his nerves to hold serve for 3 games and finally won the fourth set 6-2. 
Interestingly, Rafa had lost only his 3rd match at the French Open every six years (2009 to Robin Soderling, 2015 to Djokovic, and 2021 again to Djokovic). It was perfect revenge for Djokovic after suffering a straight-set drubbing to Nadal in the finals at Paris in 2020.
After a marathon semifinal of 4 hours and 11 minutes, Djokovic created history by becoming the first player in history to defeat Rafael Nadal twice at Roland Garros. He also stopped Nadal's 35-match winning streak in Paris. Overall, the Serb fired 50 winners and won 65% of points at the net. 
"For him (Tsitsipas) it is a great achievement, but I am sure he does not want to stop there, he is in great form, we played an epic five-setter last year in the semis here, I know it is going to be another tough one," reflected Novak Djokovic ready for the high-stakes encounter in the Roland Garros 2021 finals against Stefanos Tsitsipas.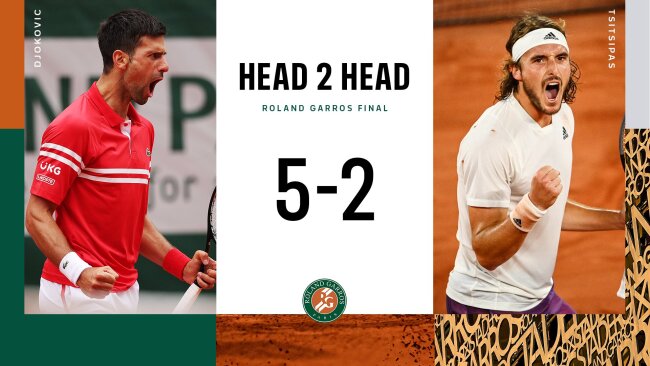 What records will Djokovic break by winning the French Open finals?
The Serbian will be eyeing a 19th grand slam title.
A win in the French Open 2021 finals would make Nole the first player since Rod Laver and Roy Emerson in the Open Era (since 1968) to win each of the 4 grand slams twice.
Djokovic will be playing his 6th Roland Garros final (1-4 win-loss record).
The World number 1 will pocket 2000 points by winning the prestigious tournament in Paris.
Novak Djokovic will win his 2nd grand slam in a row this year if he beats Tsitsipas in the Roland Garros finals.
 
How did Tsitsipas battle past the big-hitting Zverev in the semifinals
Stefanos Tsitsipas won a five-set thriller against the sixth seed Alexander Zverev in the semis. Tsitsipas was in full control in the first set as he raced to a 6-3 lead. 
Zverev got his big serves right at the start of the second set with a 3-0 lead. However, the German could not hang on as Tsitsipas broke him thrice to win 6 games in a row and bag the second set (6-3).
Early breaks in the third and fourth sets each helped Sascha clinch them 6-4 6-4 as Tsitsipas's win% on the first serve dropped drastically. The German was strong from the baseline and his cross-court forehand extracted more unforced errors from Stefanos. 
The Greek was on song in the decider as he broke Zverev's inconsistent serve twice. Tsitsipas's powerful first serve down to Zverev's backhand corner and passing shots at the net did the job as he won the 5th set 6-3. 
After a terrific tussle of 3 hours and 37 minutes, Stefanos Tsitsipas advanced to his first grand slam final. He had fallen short twice in the semifinals before (Australian Open 2019 - lost to Nadal and French Open 2020 - lost to Djokovic). 
However, the third time proved to be lucky for the 22-year-old. The 5th seed is the youngest grand slam finalist since Andy Murray (Australian Open 2010).
"I am looking forward to leaving my entire body on the court in the final, it is time for me to show that I am capable of playing Djokovic, who has also done well a few times here, I am looking forward to bring my game to kind of challenge myself to step it up," said Tsitsipas promising a big fight in the Roland Garros 2021 finals against Novak Djokovic. 
"Yes, he has experience beating the best players in the world, he believes in himself and he can do it, he will not have any doubt about his ability to win, for me Novak is a bigger challenge than Rafa, because when Novak is super confident he is almost unstoppable," said Patrick Mouratoglou, the coach of Stefanos Tsitsipas. 
How Tsitsipas will create history by clinching the French Open 2021 title
Stefanos Tsitsipas will make his nation proud by aiming to become the first Greek player (man or woman) to win a grand slam.
Tsitsipas has the most clay-court wins (22) this season and will aim to maintain that.
The World number 5 will try to emerge as the youngest French Open champion since Nadal in 2008.
If Tsitsipas beats Djokovic, he will become the new World number 3 by overtaking 20-time grand slam champion, Nadal.
He has never beaten the Serb in 3 attempts on clay and this will be the perfect time to open his account.
 
The 5 stats that give Djokovic the big edge against Tsitsipas
| | | |
| --- | --- | --- |
| Player Name | Djokovic | Tsitsipas |
| Aces  | 46 | 38 |
| Double Faults | 14 | 15 |
| Win % on First Serve | 76.51% | 74.83% |
| Breakpoint Conversion Rate | 58.53% | 50.83% |
| Winners | 242 | 226 |
The 4 numbers that give Tsitsipas the upper hand versus Djokovic
| | | |
| --- | --- | --- |
| Player Name | Tsitsipas | Djokovic |
| Sets Lost | 3 | 4 |
| Win % on Second Serve | 60.16% | 55.8% |
| Unforced Errors  | 158 | 159 |
| Points Won at the Net | 76.33% | 69.10% |
| Time spent on the Court | 15 hours and 12 mins | 16 hours and 42 mins |
Djokovic vs Tsitsipas: Prediction 
Novak Djokovic holds the psychological edge against Stefanos Tsitsipas having won 4 matches in a row against the Greek. The 22-year-old is on the cusp of creating history. He may find it tough to control his nerves since he is playing a grand slam final for the first time in his career.
Tsitsipas needs to bring his one-handed backhand to the level of Stan Wawrinka in the French Open 2015 finals to have a chance of upsetting Djokovic. The Greek will be looking for payback time after losing in five sets to Novak Djokovic in the semifinals at the French Open 2020.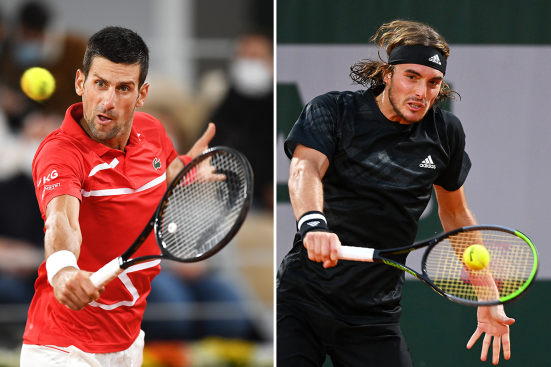 Stefanos won 54.48% of points in 0-4 shot rallies against Zverev and Nole must watch out for that. Djokovic's potent two-handed backhand will make a difference in the points won in 5 to 8 shot rallies (37.32% vs Nadal) than Tsitsipas's (30.34% vs Zverev). 
Having dethroned the King of Clay, Nadal in the semis, Novak Djokovic is the favourite to triumph in the finals in Paris. His big-match experience, composure under pressure, and deep returns will take him through after a brutal battle.
Prediction and Odds: Novak Djokovic to beat Stefanos Tsitsipas in 5 sets and win the French Open 2021 (+295). 
Meaning of Odds - Odds of +295 on a player means for a $100 bet, a player would win $295. 
Featured Image Credits - Roland Garros