Sportco Football Legends: Paolo Maldini
Paolo Maldini, the epitome of defending, has been an inspiration for many defenders and his time at AC Milan made him one of the most decorated defenders of all time. 
Maldini spent his entire football career at AC Milan; he was called the one-club man. At Milan, he chalked up endless trophies and etched his name in football history. 
In his 24 playing years at AC Milan, he racked up 25 trophies before his retirement at the age of 41 in 2009. 
In this article, we will go through Maldini's playing career and how he evolved into a complete defender at AC Milan. 
Paolo Maldini: Early career at AC Milan 
Paolo Maldini was Milan's youth product who played for AC Milan for his entire career; at just 17 years of age, Maldini made his senior debut and was instantly made the member of starting eleven. 
In his early days, Paolo Maldini played as a right-back for AC Milan as he was handed the number 3 jersey, which also belonged to his father, Cesare Maldini.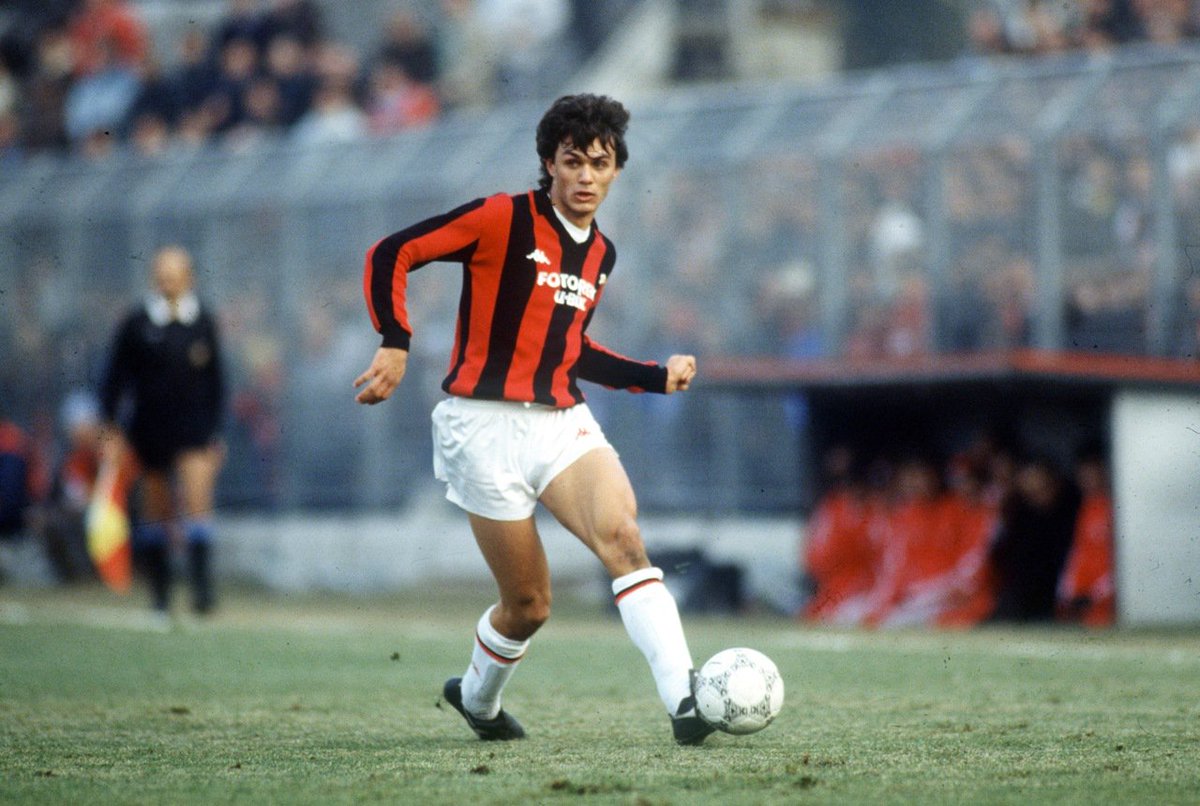 In 1987 Paolo Maldini won his first trophy with Milan, and the first of seven league titles with the club, as Maldini's game saw a speedy transformation. 
His defensive partnership with Milan stalwards such as Franco Baresi, Alessandro Costacurta, Mauro Tassotti, Filippo Galli, Stefano Nava. 
With them he formed a formidable defence which saw Milan concede just 14 goals during the 1987–88 Serie A season. 
Maldini and his compatriots formed one of the most robust defensive lineups and attained success with AC Milan, which was considered one of the best teams in Europe at that time. 
With the retirement and departure of his Milan teammates at that time, Paolo Maldini formed a new and formidable partnership with Alessandro Nesta.
In 1989, Paolo Maldini had already made 100 appearances for AC Milan in Serie A and had already registered his name in Milan history. 
Milan's unbeaten run 1991-92:
Milan's invincible run continued even after Arrigo Sacchi's departure as new manager, Fabio Capello, picked up from where Sacchi left off. 
In 1991-92 AC Milan were unbeaten for an Italian record of 58 league matches, earning the nickname "The Invincibles". They also reached their third consecutive UCL final but suffered a 1–0 defeat to Marseille.
As Maldini's game kept ameliorating, AC Milan were unstoppable and won their third Champions League title defeating heavy favourites Barcelona led by Johan Cruyff. This made Maldini the first-ever defender to win World Soccer magazine's annual World Player of the Year Award.
1996–2001: Captaincy and struggles 
AC Milan faced many setbacks during this period as many of their then current players were over-aged, and Capello's departure saw Milan making several managerial changes. 
They struggled to perform at the big stages and their performance dwindled. Carlo Ancelotti's arrival in 2001 saw AC Milan's renaissance and the club became a dominant force in Italy and Europe once again.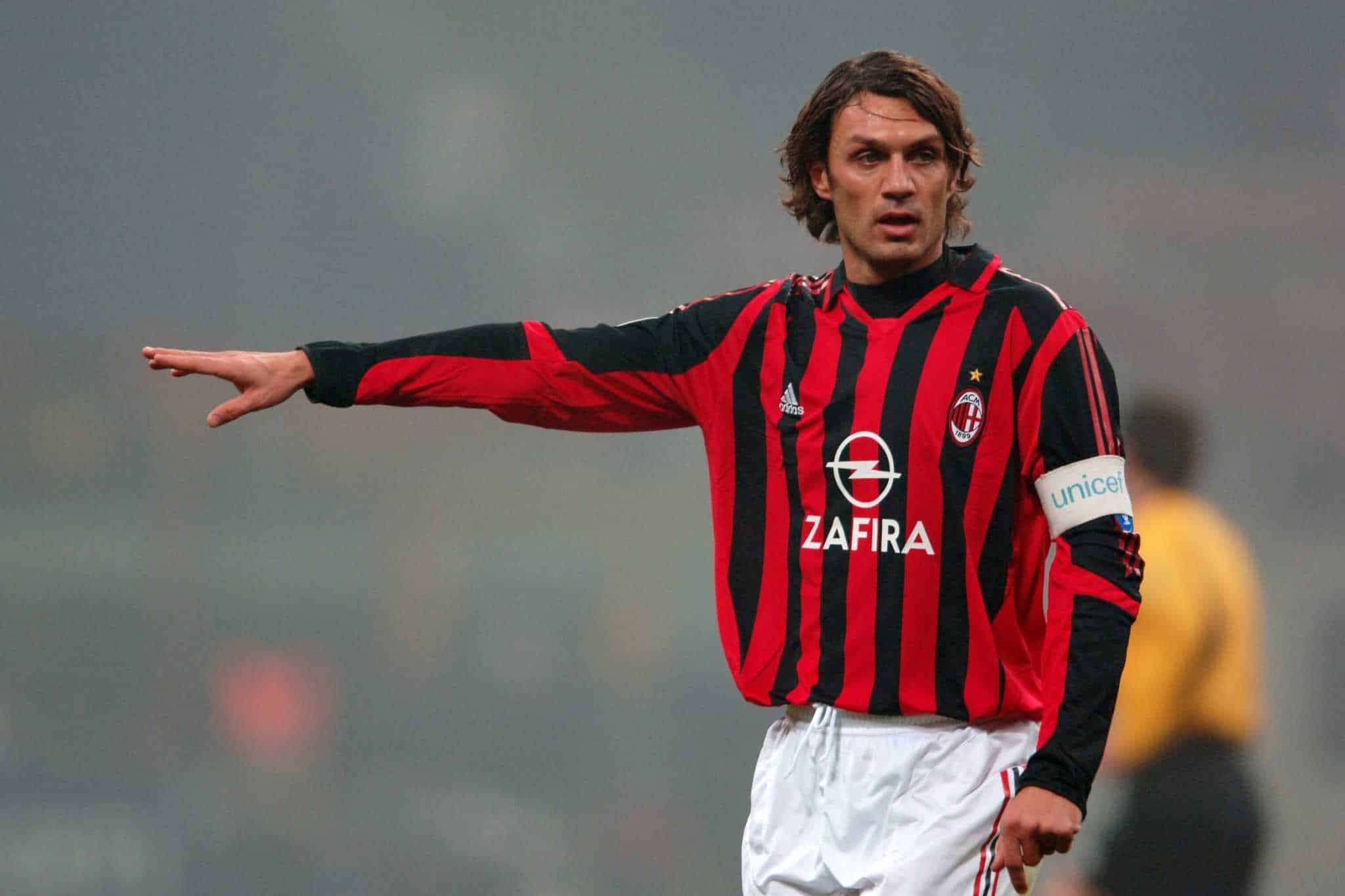 Milan won the 2002–03 Champions League, in an all Italy Champions League final under the captaincy of Paolo Maldini. 
During that era, AC Milan assembled a legendary team which was hungry to win more trophies. In 2004, they reached the UCL final again, however, they lost on penalties against Liverpool. 
Under Maldini's captaincy AC Milan won two Champions League titles, the second one, being the 2-1 win over Liverpool in Athens in 2007.
AC Milan's Champions League triumph in 2007 made Maldini the oldest captain to lift the Champions League trophy at the age of 38. 
In his entire playing career, Paolo Maldini played nine UCL finals and bagged 5 UCLs trophies.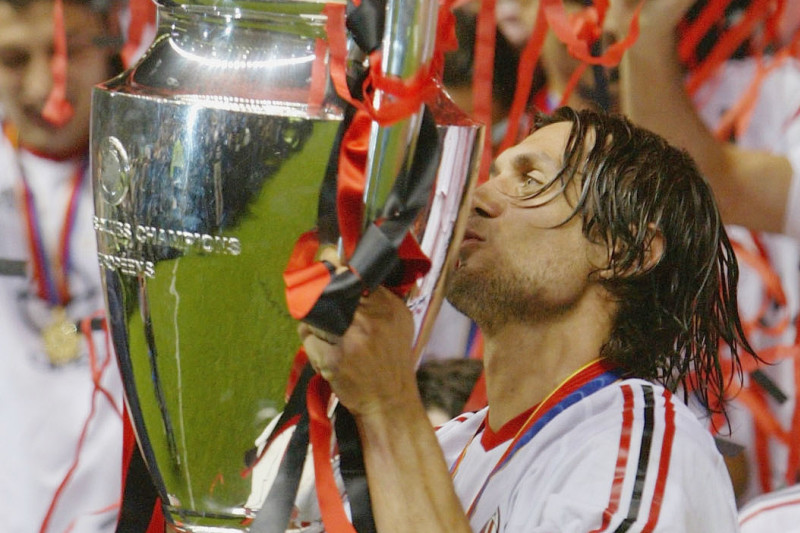 2008–2009: Retirement 
In 2008, in Milan's match against Parma, Paolo Maldini came on as a substitute to make his 1,000th professional career appearance, out of which 861 appearances were with AC Milan, 12 with the Italy under-21 side and 126 with the Italian national team.
By 2009, Paolo Maldini hung his boots as he played his last game at the San Siro in a 3–2 loss against AS Roma. The Milan legend received a standing ovation by the fans when he was substituted. However, Maldini's last game for AC Milan was in a 2–0 win against Fiorentina on 31 May 2009.
Maldini's retirement saw AC Milan retire his jersey number 3, but later AC Milan stated it will be passed on to his son if any of them ever make an appearance for this club. 
Paolo Maldini international Career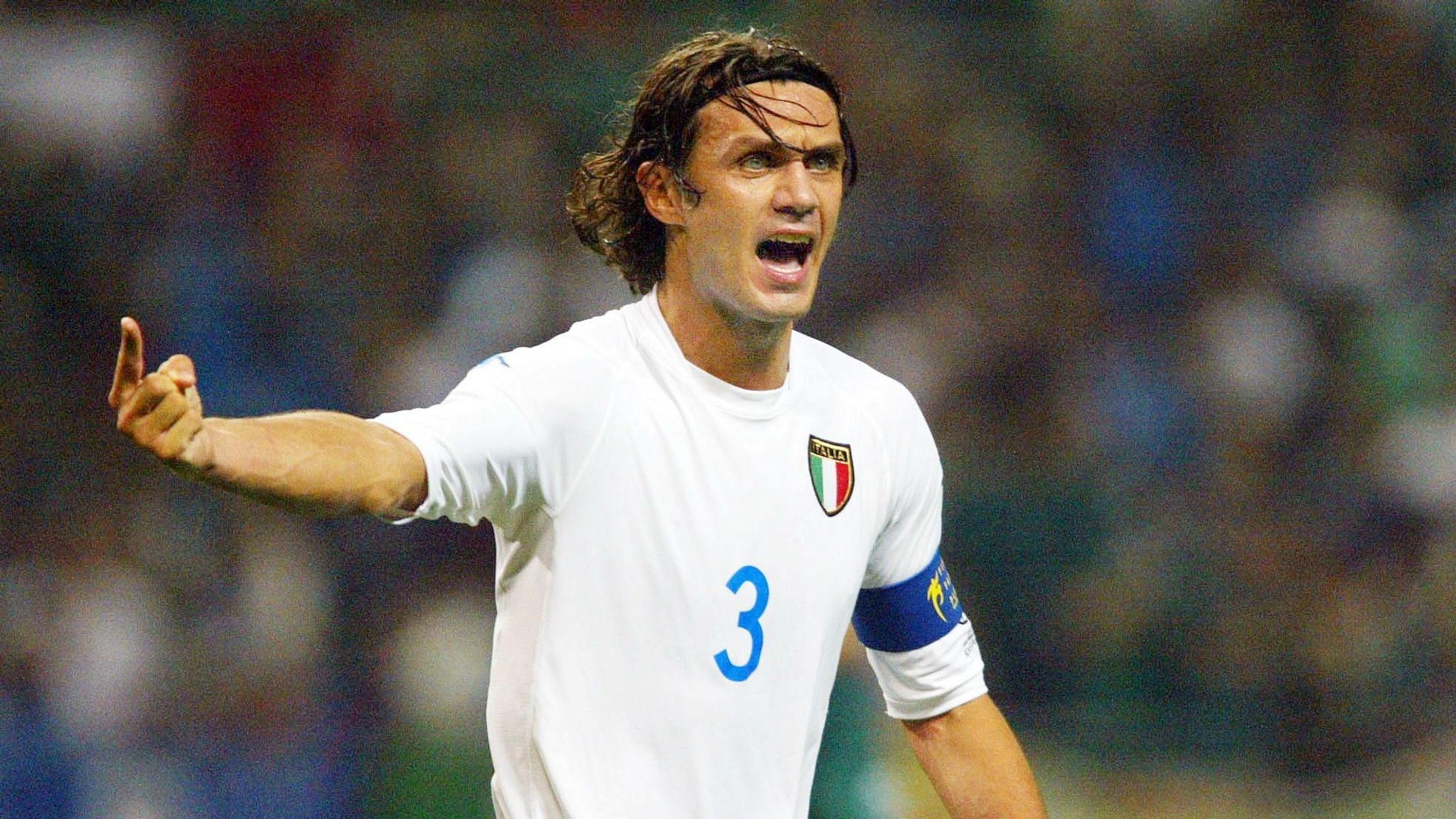 Maldini made his senior debut at the age of 19, and since then, he has made 126 appearances for his national team. 
However, Maldini never won a major trophy with Italy, albeit being runner up in the 1994 FIFA World cup and UEFA Euro Championship in 2000. After his retirement, a few years later, Italy won the FIFA World Cup in 2006. 
Paolo Maldini: Style of Play 
During the first half of his career, Paolo Maldini spent playing left-back as well as right-back for AC Milan. Under Arrigo Sacchi, he played as left-back at the Italian club. Maldini's versatility made him play at any position in back-line for AC Milan and Italy.
Paolo Maldini's defensive sage on the pitch made him a pragmatic defender; the distinguished Milan legend was renowned for his technical ability, athleticism, accurate sliding tackles, stamina, and confidence making him a world-class defender. Maldini was also a threat during attacks, and he scored and assisted many times throughout his career. 
After ageing, Maldini lost his speed and was shifted to centre-back; his experience saw him excel as centre-back, his precise tackling eluded in committing fouls. His man-marking and perfect positioning restricted the opponent's playmaking, making him a special defender.
Paolo Maldini: Major Honors and Awards 
- Ballon d'Or third place: 1994, 2003 
- World soccer player of the year: 1994
- FIFA World Cup dream team: 2002
- UEFA Champions League final MOTM: 2003
- UEFA Club defender of the year: 2007