Predicting the 2021 Australian Open men's singles champion
The first Grand Slam of the shiny new year 2021, the Australian Open has started with a bang. It is known for its infamous hot weather conditions, which results in many players succumbing to injuries. The tournament has lived up to its reputation and many-seeded players such as Wawrinka, Thiem, Fuscovics, Schwartzman, etc. have tumbled due to exhaustion 
Contenders for Men's singles title
The undisputed king of the Australian open is Novak Djokovic, an 8 times winner and he is eying to take his total Grand Slam tally to 18 titles. 
Rafael Nadal won the French Open title last year and reached a total of 20 titles and in turn equalled Roger Federer's record. He is chasing an unprecedented 21st title to become supreme.
On their heels is the young troika of Daniil Medvedev, Stefanos Tsitsipas, and Alexander Zverev. 
Medvedev won the ATP championship while crushing his opponents. Tsitsipas defeated Federer here at the Australian Open previously but he has not lived up to his potential.
The match of the tournament till now was played between mercurial Nick Kyrgios and Dominic Thiem. Home crowd support for Kyrgios was deafening and the quality of tennis played was exceptional. Thiem prevailed in 5 sets but it sapped his energy so much that in the 4th round he lost in straight sets to Grigor Dimitrov.
The surprise of the tournament has to be Aslan Karatsev, a Russian qualifier, 27-year-old with a rank of 114 as he has already scalped Diego Schwartzman and F. Auger Aliassime. His groundstrokes are flat, powerful and capable of troubling any opposition.
The kings Nadal and Djokovic have a contrasting play to reach the quarter-final. Nadal is playing seamlessly and has won all his matches in straight sets. Whereas, Novak suffered from stomach strain against Fritz in the 3rd round and won in 5 sets. In the 4th round, he had to endure pain to overcome  Milos Raonic in 4 sets. I reckon that he won't be even 90% fit for his quarter-final clash.
Predictions
Quarterfinal 1
Novak Djokovic (1) vs Alexander Zverev (6)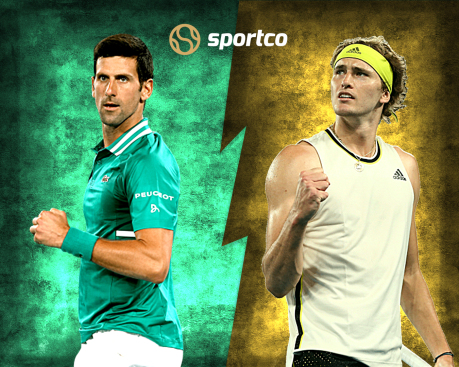 Head to head Djokovic leads 5-2, but as he is not fully fit and Zverev is playing wonderful tennis, I expect Zverev to hit more aces and win short rallies on account of his power forehand. It will be Zverev's down the line shots which will do maximum damage.
Verdict: Zverev to win in 4 sets.
Quarterfinal 2
Grigor Dimitrov (18) vs Aslan Karatsev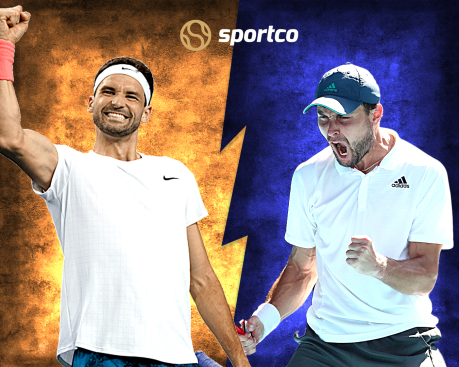 Dimitrov is consistent and he can serve, volley, and possess decent groundstrokes. Karatsev, on the other hand, has shown powerful groundstrokes. Dimitrov has the capability to change the pace and I think 5 setters in 4th round will hamper Karatsev and he will fall prey.
Verdict: Dimitrov to win in 4 sets
Quarterfinal 3
Andrey Rublev (7) vs Daniil Medvedev (4)
Rublev is playing the best tennis of his life and he can change the direction at any time. On the other hand, Medvedev is too talented and he has an effective serve and down the line forehand as his proven winners. 
The match may go to 5 sets but Medvedev will prevail. In the head to head battle, Medvedev has a clean slate, 3-0.
Quarterfinal 4
Rafael Nadal (2) vs Stefanos Tsitsipas (6)
The career record is 6-1 in favour of Nadal but the match will be a close affair and they will engage in long battles. Tsitsipas still lacks whistling winners and that is why Nadal will be able to reach every ball and finish the dream of Tsitsipas to win a major.
Verdict: Nadal to win in 4 sets
Semi-final 1
Grigor Dimitrov vs Alexander Zverev
Head to head Zverev leads 2-1
Zverev is a power player and his rhythm can be broken by the mixed play of Dimitrov. However, I feel that Zverev has too many weapons in his arsenal.
Verdict: Zverev to win in 4 sets
Semi-Final 2
Rafael Nadal vs Daniil Medvedev
This is a match to watch. Both players have tremendous groundstrokes and are great athletes. I am a Nadal fan but  I am having an inkling that Medvedev is going to prevail and avenge his loss of 2019 US open final.
In the head to head battle, Nadal leads 3-1
Dream Final
Alexander Zverev vs Daniil Medvedev
Two young musketeers, who are talented enough to wrest the throne from the trio of Roger Federer, Nadal and Djokovic.
Head to head is a tussle of 5-4 in favour of Zverev.
It will be a slugfest and I really can not separate out a winner. As Zverev is erratic and Medvedev can ably capitalize on the mistakes, I will go for Daniil Medvedev as the 2021 Australian Open winner.
Enjoy a weekend of great tennis folks!