Tennis: Predicting the 4 Grand Slam Champions for the 2021 ATP Tour
The tennis season was quite different in 2020 as only three grand slams were conducted due to the coronavirus pandemic. However, the tour will return to normalcy in 2021 as all the four grand slams will be held in their respective time slots.
Sportco analyzes the players who are the favourites to win each slam next year
Australian Open: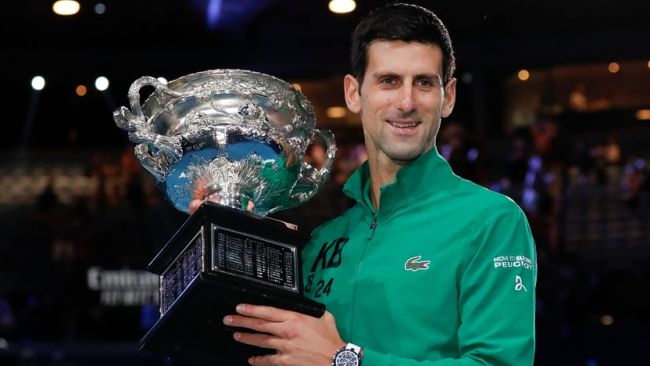 Novak Djokovic starts as the outright favourite having won the first Grand Slam in the calendar year a record eight times in his career. He won back to back titles in 2019 and 2020. His great archrival, Rafael Nadal will look to improve on his disappointing quarterfinal finish this year. 
Nadal has won the Australian Open only once in 2009 and lost in four finals since that triumph. Dominic Thiem lost in the finals this year in a thrilling five-setter and will aim to go one better next time. The fast conditions will also suit the likes of Stefanos Tsitsipas and Alexander Zverev. 
The much-anticipated comeback of Roger Federer will also attract a lot of attention. There is a lot of uncertainty surrounding the tournament as the schedule has not yet been declared and the rules regarding quarantine have not yet been pronounced by the Victorian government for the players.
Dark Horse - Daniil Medvedev, the reigning ATP Finals champion lost in the fourth round to Stan Wawrinka in five sets but looks in good touch to make a deep run this time.
French Open: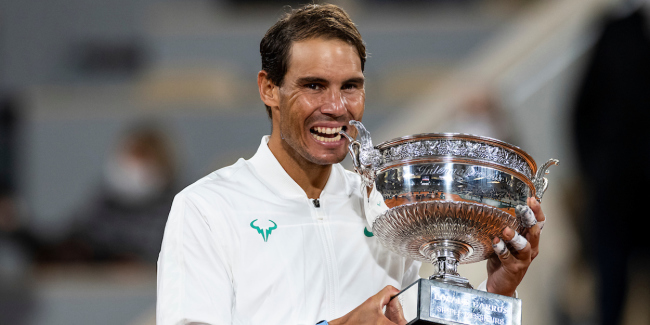 Rafael Nadal will once again start as the chief contender to defend his coveted French Open crown. The Spaniard has won the French Grand Slam a record 13 times and is the champion for the last four years in a row. Only Djokovic and Thiem are capable of beating him convincingly. 
Tsitsipas impressed everyone with his semifinal finish this year. Zverev will look to build upon his fourth-round finish. Schwartzman is capable of pulling off a few upsets having beaten both Nadal and Thiem on clay this season.
Dark Horse - Jannik Sinner, the teen made it to the quarterfinals in Roland Garros before losing to the King of Clay in straight sets. He is well capable of repeating that performance next year.
Wimbledon:
The Wimbledon Championships was cancelled for the first time this year since World War 2 due to the pandemic. Since the organizers had insurance coverage in place, they did not lose out on revenue. 
The most prestigious Grand Slam will go on in 2021 in spite of the lockdown and the rising number of cases in London. They are planning to operate it at full capacity, at reduced capacity or no capacity. They have to plan very carefully and take a prudent approach. Djokovic will start as the number one favourite having won back to back titles in 2018 and 2019. 
Federer will look to get some inspiration from his incredible 2017 triumph and a heartbreaking loss in the finals in 2019. Nadal made the semifinals in his last two appearances but the title has eluded him since 2010. Homeboy, Andy Murray will also receive a lot of support. 
Dark Horses - Marin Cilic and Milos Raonic. Cilic's best performance was a runner-up finish in 2017 where he lost to Federer in the finals as he was hampered by a foot blister. Raonic made the finals in 2016 where he was defeated by Murray in straight sets. Cilic and Raonic have a winning percentage of 75 and 70 respectively on grass from 2011 and 2020 and the fast conditions will suit their aggressive style of play and footwork. 
US Open: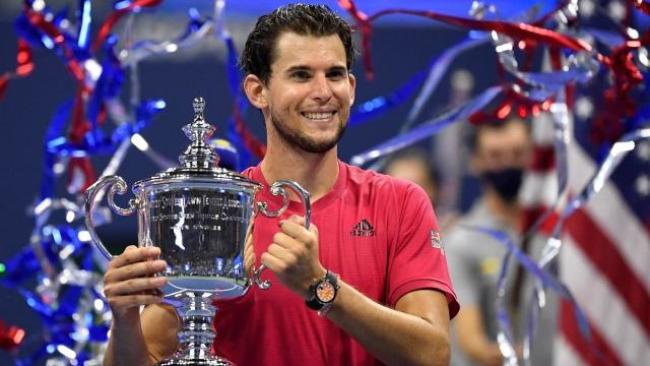 Among all the four grand slams, the US Open is arguably the most unpredictable and open grand slam tournaments as there have been four different champions in the last five years. Djokovic, Nadal, and Thiem will be the main picks for the title. 
Medvedev has a great chance to pick his major and was a runner-up and a semifinalist in the last two years in New York. Zverev will also aim to take another shot at the title after losing to Thiem in a close five-setter this year.
Dark Horse - Pablo Carreno Busta and Borna Coric. Busta is a two-time semifinalist while Coric reached the quarterfinals this year. Busta's game is suited for the fast hardcourts as he has a good serve and a strong forehand. 
Coric's strengths lie in his two-handed backhand and his inherent ability to handle pressure with a sense of a calmness which was evident when he saved six match points against Tsitsipas in the third round this year.
For every player, it will not be the same experience playing without fans, but it is a good signal that events will be going on as tennis is hanging on a tightrope balancing itself due to the coronavirus pandemic and the different lockdowns being imposed by governments across the world.
Featured Image Credits - Getty Images