Should there be more time between the French Open and the Wimbledon?
Does having a longer time gap between the end of the French Open and the beginning of Wimbledon help the players prepare better for both tournaments? Sportco analyzes both sides of the coin.
Generally, there is only a narrow gap of three weeks between the end of the French Open and the start of Wimbledon. 
While it benefits players who can get more practice and even go home in between, it also gives them more opportunity to make a deep run at both the tournaments. 
However, the transition is not easy with differences in speed, bounce, and movement between the heavier clay and the faster grass. 
Each player will use the extra time differently depending on their preferences and performance expectations. This will also improve the quality of tennis as players will adapt to the courts better and get their bodies used to play on grass. 
For decades, many men and women have searched without much success the answer to master both the surfaces, to clinch the French Open and Wimbledon continuously. Only 11 players (7 women and 4 men have accomplished the feat).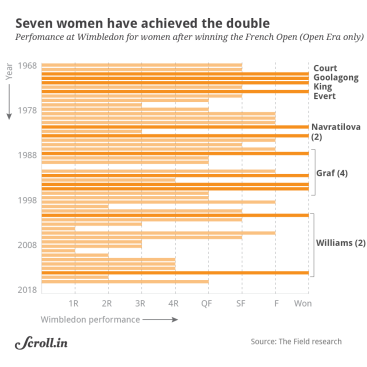 While the side-to-side movement is common on clay due to high bounce and slowness of the surface, players need to advance to the net and work on their forward-backward movement on grass due to low bounce and under-spin. 
A couple of physical adjustments need to be made as the feet needs to be kicked up and sliding should be avoided as it will hurt the ankle. Hence, it is a little tougher on the leg and the back for a player. 
Clay is best for baseliners, while the grass is apt for serve and volley style of play. Over the past decade, the grass courts of Wimbledon have been intentionally slowed down to have longer rallies and present a more entertaining viewing experience to the audience.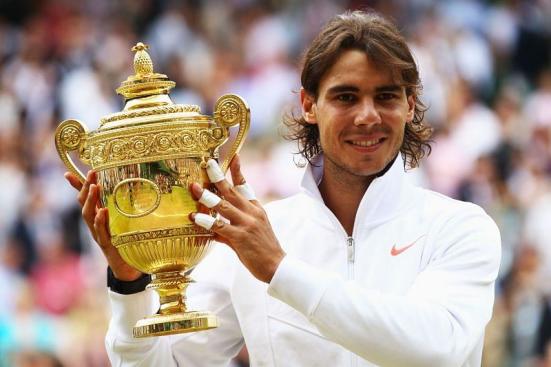 Many tennis fans decry this homogenization of the game and would prefer to watch players forced to compete under varying conditions and to see different players with different styles of play excel.
Next year, the French Open is scheduled from May 23 to June 6, while Wimbledon will run from June 28 to July 11. 
Having a bigger time gap between both the tournaments could also preserve some of the events scheduled for those autumn dates. 
Conflicts are inevitable and stakeholders must take into account the fact that grand slam events deserve more priority and the game's bigger focus should be on creating stronger connections. 
However, the shift in dates encroaches on other ATP and WTA tournaments already scheduled in those calendar slots and deprives other events of the chance to move into that same window.
Hence, there is an urgent need for smooth collaboration between the various authorities on such important decisions for the future of tennis. 
Featured Image Credits: Slideshare.net