PSG vs Bayern Munich: Champions League Final Preview and Prediction
In a year beset by a global pandemic, there are few events which can buoy the mood of people across the world. The final of the UEFA Champions League is surely one of those events, although at the end of it, either Paris Saint-Germain or Bayern Munich will be left distraught.
Despite the odds in these uncertain times, UEFA and the domestic football bodies across Europe deserve a lot of credit for making sure that the season reached a conclusion. Two-legged knockout stage games became one-legged and Lisbon served as a safe haven for teams to complete their Champions League journey.
More than just a football match
The final between PSG and Bayern Munich is more than just a fitting end to a disjointed season. It is also a clash between two different styles of football administration.
In Bayern Munich we have one of football's old aristocrats. A club whose elite reputation is arguably only bettered by Real Madrid and FC Barcelona. A veritable giant whose hunger for success has not dimmed despite decades filled with silverware.
In Bayern Munich we also have a side that is heralded as one of the best run clubs in the world. One which relies on old school scouting to recruit talents and build teams. Those proclamations, however, can be countered by valid allegations of the Bavarians tapping young talent from rival clubs and thereby weakening the Bundesliga.
In PSG we have a side that was made with one thing in mind – European domination. The club, a part of the Qatar Investment Authority's portfolio, exemplifies football nouveau riche with owners investing humongous amounts to challenge for Europe's premier competition.
Where Bayern's administration is criticized for weakening their domestic rivals, PSG's owners are infamous for, frankly, much worse.
Road to the final
Led by Neymar, Kylian Mbappe and Thiago Silva, PSG charted choppy waters to book a place in the final at Estadio da Luz.
Les Parisiens overcame a first-leg loss (1-2) to Borussia Dortmund by registering a 2-0 win in the second leg in Paris.
The Ligue 1 champions followed that up with a dramatic 2-1 win over Atalanta. Marquinhos and Eric Maxim Choupo-Mouting scored in the final minutes to break La Dea's heart.
Neymar and co. were in sublime form in the semi-final, scoring thrice to send RB Leipzig packing. Marquinhos, Angel di Maria and Juan Bernat were on the scoresheet for Les Parisiens.
Bayern Munich showcased their dominance under Hansi Flick during the knockout stages.
They thumped Chelsea in both legs, scoring three at Stamford Bridge and four at the Allianz Arena. Die Roten only conceded once in the two legs.
The next game saw an even better Bayern as the Bavarians inflicted a humiliating 8-2 loss on FC Barcelona and Lionel Messi. Six different goalscorers and eight different assist providers does not even scratch the surface in explaining how good the German champions were on that night.
The semi-final was relatively tame as Die Roten defeated Lyon, 3-0. Flick's men survived a flurry of dangerous attacking moves in the first 15 minutes to assert control and cruise to the win.
PSG are featuring in their first ever Champions League final while Bayern Munich will take part in the club's 11th European Cup/Champions League final. Only Real Madrid (16) have more appearances at this stage.
Both clubs are also in the hunt for a treble (Bayern completed a treble in the 2012-13 season). The last time this happened was when FC Barcelona faced Juventus in the 2014-15 Champions League final.
Team News
Thomas Tuchel's PSG will be strengthened by the return of Marco Verratti. The Italian returns after being on the sidelines for about 10 days due to a calf injury.
Keylor Navas is reportedly fit but there are still no assurances about him starting. The Costa Rican shot stopper won a hat-trick of Champions League titles with Real Madrid and his experience will be a great asset to Tuchel's side.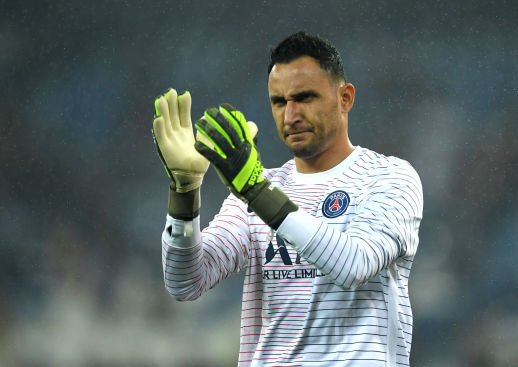 For Bayern Munich, Benjamin Pavard has returned to full fitness. The Frenchman also came on as a substitute in the win over Lyon.
Starting Pavard at right-back and shifting Joshua Kimmich to midfield is a possibility but it will be a major risk considering the Frenchman has just returned to the side.
Key Battles
Angel di Maria vs Alphonso Davies
Mbappe and Neymar are the star attacking duo for PSG but di Maria's presence in the side makes them even more dangerous.
This was evident in the win over RB Leipzig as the Argentine scored and provided two assists and was named Man of the Match.
His creativity and high work rate will make him a nuisance for Bayern Munich's high defensive line.
Die Roten's defense has looked shaky in the first 10-15 minutes due to the high line that they employ. Alphonso Davies is one of the defenders who thrives in joining the attack and leaves a lot of space on the right wing, which di Maria will be looking to exploit.
Davies has grown into his role as a full-back but he still remains a winger converted to a full-back. The Canadian will have to be more judicious in his attacking forays in the final. He possesses the pace to track back quickly but PSG's attacking trio will not be as forgiving as Lyon's.
Thiago Silva vs Robert Lewandowski
Robert Lewandowski has been the best player in the world this season. He has found the net at an astonishing clip and even on days where he's marked to death, he's been able to score.
The Pole has scored 15 times in the 2019-20 Champions League and is only two short of Cristiano Ronaldo's record of 17 goals in the 2013-14 Champions League. The Portuguese did it in a tournament that had two-legged knockout ties.
Lewandowski's goal threat and effective link-up play with Serge Gnabry, Thomas Muller and Ivan Perisic will trouble Thiago Silva.
The final will be the last game in a PSG shirt for the legendary Brazilian defender and he would like to go out with the Champions League trophy in his hands.
Silva's experience will be extremely important but he and Presnel Kimpembe are in for a tough night against Die Roten's deadly attack.
Marquinhos vs Leon Goretzka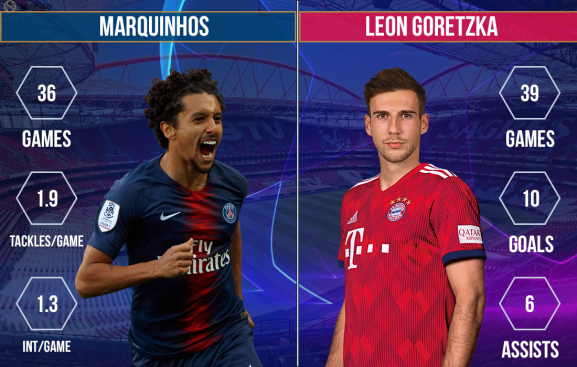 Bayern Munich are vulnerable in the first 10-15 minutes of game. Once they settle into their groove, however, their midfield becomes nigh unbeatable.
Their relentless pressing in the middle, combined with great composure on the ball makes the trio of Leon Goretzka, Thiago Alcantara and Thomas Muller a hard one to handle.
PSG's midfield was able to disrupt RB Leipzig's short passing routines but Bayern Munich will be a different beast.
Marquinhos, who was in the thick of the action while tackling Kevin Kampl and Konrad Laimer, will meet his match in the imposing Goretzka.
The former FC Schalke 04 man not only excels in the physical department but he is also technically very sound and can fulfill multiple roles. He primarily serves as a box-to-box midfielder but is also adept in creating and scoring goals.
Preventing Goretzka from combining with Bayern's attackers could help in limiting the German's influence on the game.
Prediction
On paper, this is arguably the most even matched Champions League final since the 2012-13 one between Bayern Munich and Borussia Dortmund, or the 2009-10 one between Bayern Munich and Internazionale.
PSG are blessed with two era-defining stars in Neymar and Mbappe – mavericks who can change the game in an instant – and they have built an all-conquering side around the Brazilian and the Frenchman.
Bayern Munich are the most well-drilled side in the world with one of the greatest strikers of all time leading their attacking line.
Both sides have also shown frailties that can be exploited – Bayern Munich's defense's high line and PSG's inability to dictate pace from the middle of the park.
This game will should be a high-scoring yet closely fought encounter where I see Bayern Munich edging PSG.
The Bavarians' never-say-die mentality, seen in the Bundesliga this season where they were unphased even when trailing, and superlative teamwork will be the deciding factor in winning a sixth Champions League title.
Predicted scoreline: PSG 2-3 Bayern Munich