Rafael Nadal becomes the fourth man to win 1000 ATP Tour matches
Rafael Nadal joined the exclusive 1000-win member club after his three-set win against Feliciano Lopez at the Paris Masters in a testament to his longevity in the sport
A statistical analysis of Nadal's 1000 wins 
| | | | |
| --- | --- | --- | --- |
| Surface | Win-loss record  | Number of Titles | Winning Percentage  |
| Clay | 445-40  | 60 | 91.75% |
| Hard  | 482-135 | 22 | 78.08% |
| Grass  | 71-20 | 2 | 78.02% |
| Indoor Carpet | 2-6 | 0 | 0.25% |
Though Rafael Nadal is widely known as the King of Clay, he is third in the list of the most number of wins on the surface. Guillermo Vilas has 681 wins while Manuel Orantes has 555 wins. 
Nadal has the highest winning percentage among all the men's singles players with 83.3% followed by Novak Djokovic at 83.1% and Roger Federer at 82.08%. 
Currently, Jimmy Connors has the most number of wins at 1274 followed by Roger Federer at 1242 and Ivan Lendl at 1068.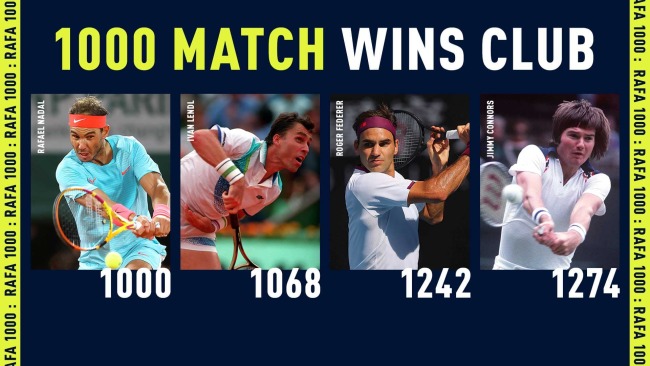 "I am proud about a lot of things, but I faced some challenges in my career in terms of body injuries, but I always had the passion to keep going and the humility when things are going in a way you don't expect", said Nadal quite modestly about his big achievement. 
Other numbers related to Nadal's 1000 wins 
A whopping 100 wins have come at the French Open alone where he has won the tournament a staggering 13 times in his career.
His grand slam win-loss record stands at 282-39 with a 88% winning percentage. He has clinched 20 slams.
His win-loss record at ATP Masters 1000 titles is 387-80 with an 83% winning percentage. He has won 35 titles next to Djokovic who has won 36.
172 wins and 92 losses against top-10 players which indicated a 65% winning percentage.
164 wins and 73 losses in deciding sets ( both 3rd and 5th sets) with a winning percentage of 69.2%.
86 wins and 37 losses in finals with a 70% winning percentage.
95% winning percentage after winning the first set of a match.
5 times he has finished as the year-end number 1.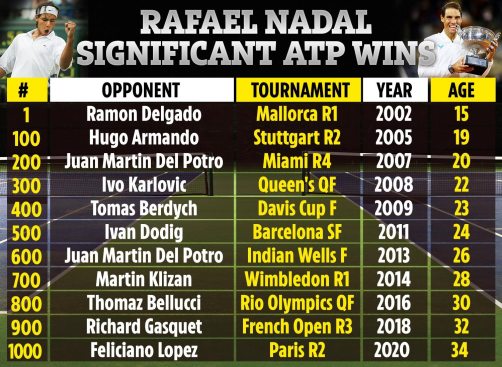 Nadal's primal energy and intensity will continue until he decides to call it a day. It is that kind of sportsmanship that has earned the legend a legion of fans around the world. 
Perhaps no other champion of his calibre has faced and ultimately silenced his naysayers. He has made strong comebacks after suffering serious injuries in his career. 
He will be remembered with love for his ominous jumping up and down during the pre-match ritual, the trademark sprint to the baseline, and his meticulous arranging of bottles during every match. 
Vamos Rafa, the greatest fighter ever in the sport. 
Image Credits - atptour.com