Sergio Ramos scores his 100th goal for Real Madrid against Inter Milan
The Spanish skipper scored his 100th goal for the club after doubling the lead for the Spanish side, in what was a very crucial game for Real Madrid in the Champions League.
Sergio Ramos has been a reputed name in football history for a while now. However, just like ex-teammate Cristiano Ronaldo even Ramos has been aging like a fine wine. It is not even a year after he made history and he has now achieved yet another feat.   
Real Madrid was off to a flying start after Benzema provided the lead, courtesy of a misjudged back pass by ex-Real Madrid player Achraf Hakimi in the 25th minute. 
Madrid scored in the winner towards the final quarter of the game after what seemed like a fantabulous comeback by Antonio Conte's Inter, the score was 2-2 as a result of a 35th-minute goal by Lautaro Martinez and the other that he set for Ivan Perisic in the 68th minute. 
However, the 19-year-old Rodrygo banged in the decisive goal in the 80th min and Zinedine Zidane's men won 3-2.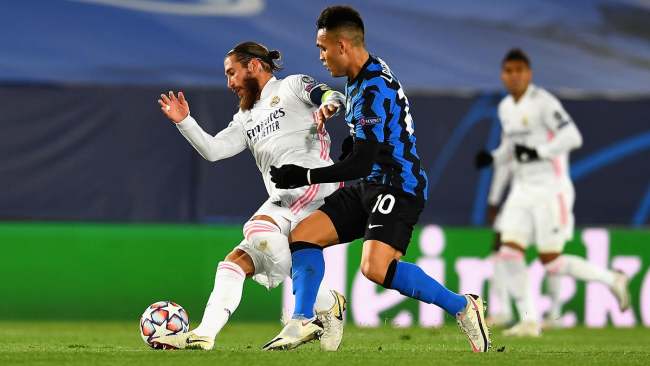 It was also Ramos' eighth headed goal in the UCL, which means he has now surpassed John Terry for the most by a defender in the competition since 2003-04. 
Ramos joined the 13-time Champions League winners in 2005 from Sevilla and surprisingly, most of his goals for Madrid have come against his former club. He has seven against Sevilla, six against city rivals Atletico and five against Clasico rivals Barcelona. 
Since his arrival, only Cristiano Ronaldo, Karim Benzema, Gonzalo Higuain, and Gareth Bale have scored more than him. The 34-year-old is an enormous threat in the box as he's scored from 39 corners and 22 free-kicks, an area where the skipper is a beast. 
He also accounts for 21 penalties, 16 of which have been in the Spanish top-flight, more than any other defender in the competition in the 21st century, and has two direct free-kicks too. Toni Kroos assisted him in his 100th goal which was his 13th for the captain, more than any other player has provided him with. 
Sergio Ramos is also known as a man of crunch moments. He has 23 goals in the final 15 minutes of the game and there have been so many instances where he has come to Real's aid in tough circumstances. 
His 11 goals in the league last season was a record for a defender in the competition since the turn of the millennium. 
 
featured image credits- uefa.com