Real Madrid vs Atletico Madrid: Supercopa final Preview and Prediction
Real Madrid is all set to battle it out against Atletico Madrid in the Supercopa de Espana final in Saudi Arabia, tonight. The two sides defeated Valencia and Barcelona in the semi-final respectively to reach the final stage of the competition.
The format of the Supercup was changed to four teams from two teams with Saudi Arabia hosting the competition in last February. This change was quite controversial and raised a lot of questions, however, the tournament has already witnessed two enthralling games with one more to go.
The El Clasico final would have been much better for the fans but they won't mind the Madrid Capital rivals fighting against each other to get their hands on the silverware.
Los Blancos defeated Valencia 3-1 in the semi-final with the help of a goal from Toni Kroos, Luka Modric and Isco. The highlight of the match was the Kroos' goal from the corner kick. While everybody was busy in the argument about free-kick, the German used the advantage and curled the ball at the back of the net.
Atletico, on the other hand, was up against the reigning La Liga champions, Barcelona. This was a more thrilling battle in comparison to the first semi-final. The VAR stepped in two times and canceled the goals of Barcelona. Los Rojiblancos kept fighting and managed to win the game 3-2 and booked the last spot in the final.
Real Madrid haven't lost a competitive game since last October 19 and this has kept them in the race for La Liga title and Champions League title. The city rivals, on the other hand, have won their last five games in all competitions.
Los Blancos have won this competition on 10 occasions with their last win coming back in 2017 while Los Rojiblancos have got their hands on the silverware on two occasions and they last won the competition in 2014.
Injury update
Real Madrid will travel to Saudi without their key players such as Eden Hazard, Marco Asensio, Karim Benzema, and Gareth Bale.
As for Atletico, only Diego Costa is going to be sidelined due to injury with a couple of players under doubt.
Key Battles
Rodrygo vs Jose Gimenez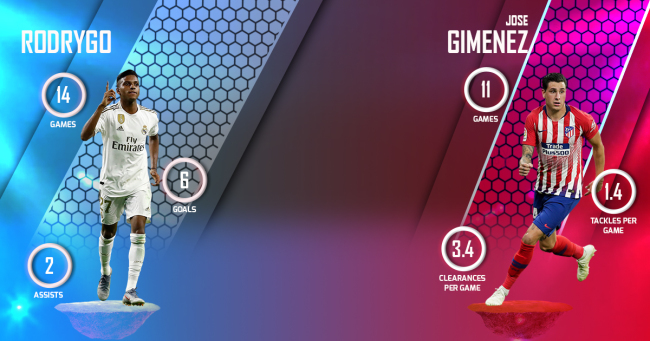 This is going to be a one-sided battle with Jose Gimenez winning it as he will be up against a youngster, Rodrygo.
The Brazilian has scored six goals and provided two assists in his 14 appearances in all competitions. Those stats aren't bad for a 19-year-old who is playing in his first season with Real Madrid.
Gimenez, on the other hand, recently returned from injury and has already won the last three La Liga games along with the semi-final against Barcelona. The Uruguayan has made 1.4 tackles per game along with 3.4 clearances in his 11 league appearances this season.
Rodrygo is going to be under a lot of pressure of scoring, however, this is his chance to show everybody what he is capable of doing.
Sergio Ramos vs Alvaro Morata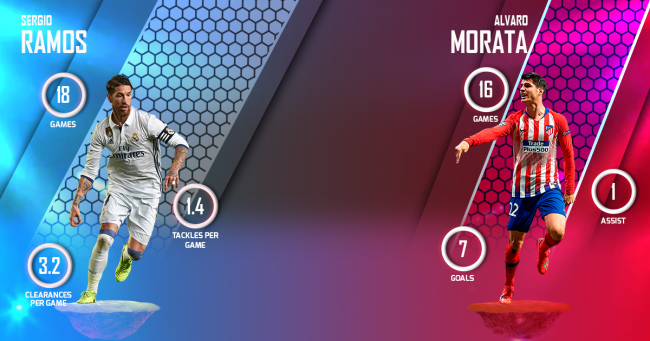 After a miserable last season, Sergio Ramos has finally stepped up and proved that he has still got the qualities of one of the best defenders. The Spaniard is averaging 1.4 tackles per game along with 3.2 clearances in his 18 La Liga appearances this season.
This improvement in the performance of Ramos has also boosted the confidence level of other defenders, which has resulted in tremendous improvement of performance.
Alvaro Morata, on the other hand, couldn't use the absence of Diego Costa to his advantage. The Spaniard has scored seven goals and provided one assist in his 16 league appearances.
Morata will find it hard to get past his former teammates, however, I would like to see him in a position where he creates the goal for Joao Felix or Angel Correa. When all the Real defenders are waiting for him to fire a shot on the goal.
Prediction
Real Madrid have improved a lot since the last season. Los Blancos' defensive line looks more solid and the youngsters are also steeping up giving the competition to old players.
Atletico, on the other hand, has always been a solid defensive side with a good attacking line, however, the strikers haven't impressed this season and they will be put to test once again tonight.
Real will be without Benzema and Bale, which is a big issue for them as Luka Jovic hasn't impressed so far while Rodrygo is still too young to take so much responsibility.
So, keeping everything in mind, I believe that Los Blancos will score a goal, but they will fall short against Atletico. It won't be an easy win for Los Rojiblancos but they will eventually get their hands on the first trophy of the season.
Predicted score: Real Madrid 1 – 2 Atletico Madrid