Focussed Zidane refuses to celebrate despite reaching the top!
Real Madrid earned a well-fought victory against Real Valladolid after which the Madrid boss claimed that moving on the top of La Liga means nothing so early in the season. Barcelona trembled in a 2-0 loss at Valencia under their new manager, Quique Setien. 
Nacho Fernandez scored a late header to help Madrid move to the top of the league. Social media was on fire after the result and the players had their thoughts shared too. 
Zinedine Zidane spoke to Marca after the game and was too modest about leading the table and told that the talk is incredibly 'premature'. He also added that the Los Blancos will simply continue to do their job until the title is won by them mathematically.
He said," Leading doesn't change anything. We have to keep doing the things we're doing well. It's a long and difficult season." 
Club captain Sergio Ramos also shared his feelings via Sport and made almost the same point as the coach and the fact that the team should not get carried away.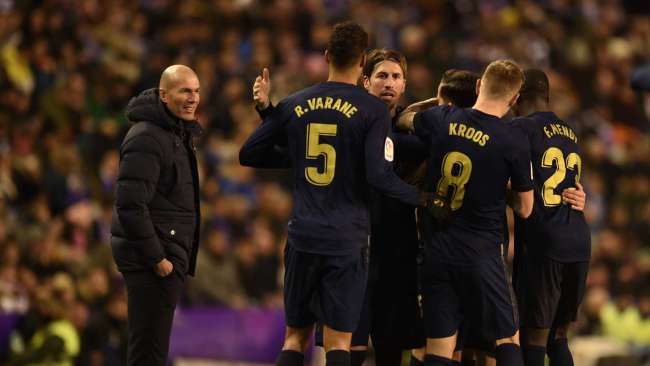 "With initiative and commitment, Real Madrid will work hard to meet their objectives," Ramos said. La Liga is yet to see 17 more games and that makes it understood why the player and the coach are not celebrating completely. 
Barcelona are just three points away with 43 points while Real have 46. However, a tough game is already on its way with a Madrid derby at home coming up, just two days after their Copa Del Rey clash against Real Zaragoza.
Thibaut Courtois, who was under a lot of scrutiny at the beginning of the season, has been one of the best players for Madrid, keeping 10 clean sheets in 18 La Liga games so far. 
When asked by Mundo Deportivo, Courtois said, "Next week we play Atletico and they will come for everyone, even if they don't come on a good run of form. They will come to die on Saturday at the Bernabeu."
Diego Simeone's Atletico have a 10-point mountain to climb for the title. It is expected that they will try to reduce the gap as they stand fifth in the La Liga table with 36 points.
featured image credits- seattletimes.com