The G.O.A.T and The G.O.A.T in making: A Comparison between Federer and Zverev
In this article, we compare the similarities in playing style between the G.O.A.T of tennis, Roger Federer, along with a Gen X tennis star, Alexander Zverev.
Roger Federer's versatility has been described by Jimmy Connors: "In an era of specialists, you're either a clay court specialist, a grass court specialist, or a hard court specialist... or you're Roger Federer."
When Roger Federer plays Tennis, the whole world gasps incessantly and watches while holding its collective breath. 
Many youngsters grew up having a dream of playing like Federer. The same way the young superstar Alexander Zverev grew up being a fan of Roger Federer. There are quite a few similarities between Zverev and Federer when they step onto the court. 
Similar service technique of Federer and Zverev
In Federer's 24 years of career till date, we have seen his technical and accurate service gaining him aces and helping him win titles. 
They both have good and complete follow-through which helps them with immense power and pinpoint accuracy while serving.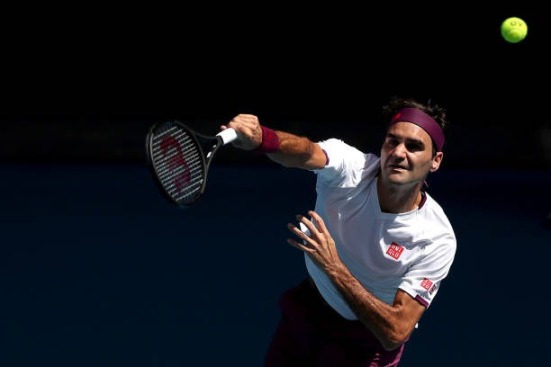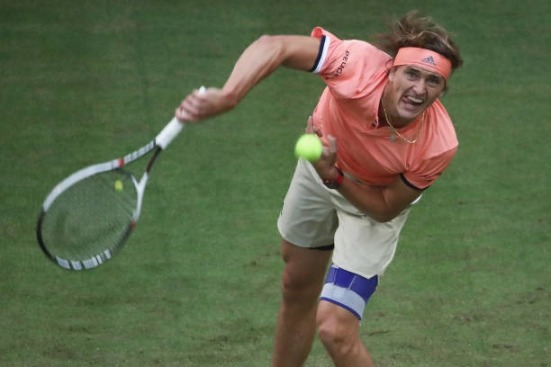 Both the players have effective 2nd serve. Zverev tries to replicate Federer's service that both of them toss the ball as similar to each other. 
They both tuck in the tossing arm against their body at a reactive break helps slow the body rotation down so the hitting arm accelerates. The back foot kicks up once the ball is released for balancing itself. They both end their serves inside the baseline. 
Playing Technique
Forehand & Backhand - Both are aggressive baseliners, so both of them stand behind the baseline and return the ball with a powerful forehand and backhand which results in the opponent's forced error or a clean winner. 
Smash - Both the players have a good height if compared in tennis. So it is easy for them to hit a powerful smash because of their height advantage.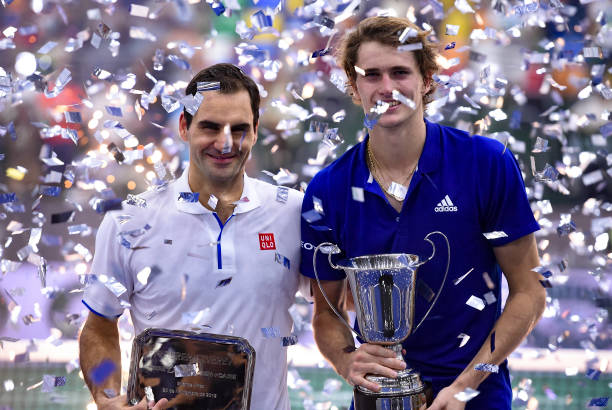 Federer vs Zverev: Stats Comparison at the age of 21
Zverev is 24 years old and is yet to win a major grand slam, but he was the Gold medal at the Tokyo Olympics 2020 as he defeated Novak Djokovic on his road to finals. 
The German is the only active player outside of the Big Four with five ATP Masters 1000 titles. Zverev has won 19 ATP titles in singles and two in doubles. 
He reached his first major final at the 2020 US Open, finishing runner-up to Dominic Thiem. Same as Roger Federer had no Grand slams at the age of 21. 
Zverev and Federer Stats comparison at 21 years
Alexander Zverev
 
Roger Federer
21
AGE
21
N/A
Grand Slams
N/A
11
ATP Titles
4
22
ATP Ranking
13
20
Highest ATP rank
12
But Roger Federer won his 1st Wimbledon grand slam just before turning 22 years old. 
Which areas does Zverev needs to improve to become like Federer?
Volley - Federer returns the volley as one of the best players does. But Zverev has a weakness when returning or hitting a volley.
Dropshot - Zverev's dropshot is not as effective as Fedrer's dropshot, the main reason behind it is that Zvererv does not use the dropshot regularly and he does not gain confidence for hitting a dropshot. 
1st Service Return - Zverev is miles away from Federer in this part of the game as he has a poor 1st serve return in comparison with Federer. If he wants to be like or be one of the best he needs to improve in returning the 1st serve.
Slice Backhand - 
Roger Federer is one of the best backhand players tennis has ever seen. He has mastered slice backhand but Zverev does not play this shot as he has a height disadvantage while playing this shot as he has to bend down while slicing.