Roger Federer accused of influencing the rankings system by German tennis official
Dirk Hordorff, the vice president of the German Tennis Federation, has alleged that Roger Federer used his position in the ATP Council to change the functioning of the rankings system during the coronavirus pandemic.
Despite playing only one tournament this year due to a knee injury, Roger Federer has been placed at the 5th spot in the rankings. Had the old system been retained, the Swiss may have been languishing at the 29th spot leading to tougher draws for him at the tournaments he plays.
The main change in the system was instead of the usual 12-month rolling period that considers a player's "Best 18" results, the calculations for determining the rankings will cover 22 months now. Hence, players can retain their points earned in a tournament the previous year even if they didn't take part or fared poorly in the same competition in 2020 
Hordorff also alleged that there was foul play involved in retaining points of the ATP Finals, which has been the last tournament of the ATP season for two years now.
Federer has been the biggest beneficiary of the new rankings system as he has retained the bulk of the points he earned in the 2019 season when he reached the semifinals of the French Open and the finals of the Wimbledon. 
Had the points earned in the 2020 season only been taken into account, Federer would have be at the 29th spot in the rankings.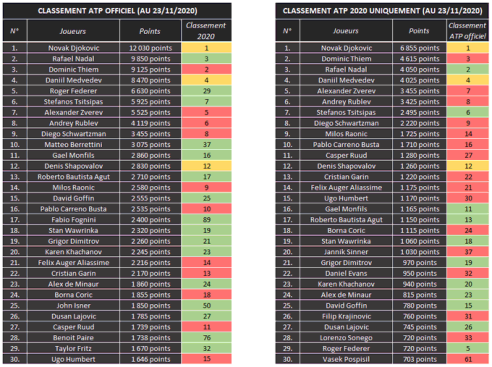 Under normal circumstances, the ATP does allow players a protected status or a protected ranking while they are recovering from a serious injury, meaning Federer would not have dropped drastically from the ranks either way. Some players like Alexander Zverev, Andrey Rublev, Milos Raonic, and Pablo Carreno Busta have been negatively impacted due to this new rule. 
As of now, there is no evidence to directly prove Federer's direct influence in the changes made in the rankings system of the ATP. The 20-time grand slam champion, Federer, will make his comeback at the 2021 Australian Open likely to start on February 8.
Featured Image Credits - Getty Images