Roland Garros: French Open 2022 Quarter-Final Predictions
French Open 2022: Quarter-Final Preview
The test of endurance, power, wrist play and mental temerity signify the French open winner. Nadal has been at the pinnacle a record 13 times and this speaks volumes of his capacity. 
No wonder he has 21 grand slam titles and he is pursued by quintessential maestro Novak Djokovic with 20 titles. 
Nadal won his 21st title at the Australian Open, where Djokovic was barred. Novak is to Australian open as what Nadal is to french. So It is quid pro quo time for Djokovic.
The first week has gone by and it witnessed a surge of sub 20 age group players like Alcaraz, Rune, and Sinner, who will be challenging the Old guard and carrying the mantle.
It is quarter-final time, starting today at 6 30 pm and I am waiting to view fantastic Tennis. Let's analyze the 4 French Open 2022 Quarter Final Predictions below:
1. Alexander Zverev (3rd) vs Carlos Alcaraz (6th)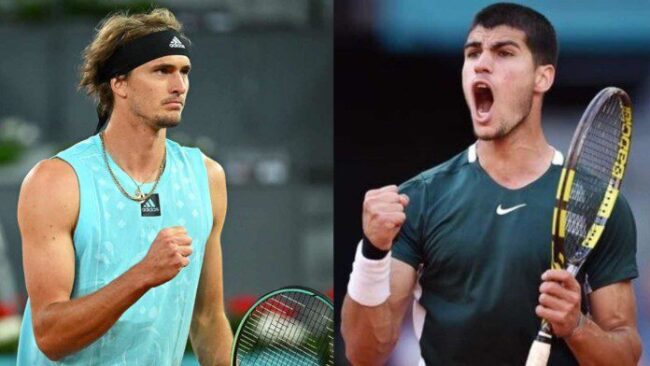 The last 6 months belong to Alcaraz with the way he has won masters on clay beating Djokovic and Nadal, he is the favourite to win. His power, angles and energy will astound everyone.
Zverev is great but lacks consistency. His backhand is superb but his forehand is erratic.  
Both have won 5 setters to reach here.
Zverev has brutal serves and that bails him out however Drops of Alcaraz will startle him.
In the Head to Head, Zverev leads 2-1 against Carlos Alcaraz.
French Open 2022 Quarter Final Predictions: In the french open quarter-finals, I expect Alcaraz to win in 4 sets.
2. Novak Djokovic (1st) vs Rafael Nadal (5th)
We never thought these two will meet at the quarter-final stage. Nadal has some niggles and he played a five-setter against Alliassime and that must have sapped his energy. 
It's not the Nadal of old but the record French Open titles holder can spring surprises with his down the line which has scalped Djokovic so many times.
Head to Head Djokovic leads 30-28. But in majors, Nafal leads owing to his wins at the french open.
French Open 2022 Quarter Final Predictions: Djokovic to win the marquee clash in 4 sets against the King of Clay.
3. Casper Ruud (8th) vs  H Rune
Rune is the first player from Denmark to reach the quarter-finals. In the first round, he defeated Shapovolav in straight sets and created a ripple. In pre-quarter, he stunned 4th seed Tsitsipas by changing the direction at will and powerful backhand.
His opponent is Casper Ruud, he has improved his backhand by introducing down the line winners. His forehand is lethal and he controls the rally by moving more and taking ball on his forehand.
French Open 2022 Quarter Final Predictions: The golden run for Rune will be over as I predict Casper Ruud to win in straight sets or in 4.
4. M Cilic (20th) vs A Rublev (7th)
M Cilic, the old warhorse stunned D Medvedev in the 4th round. Cilic has powerful serves and good forehand but he is tamed on his backhand  
A Rublev is lucky to be in quarters as he was losing to Sinner when Sinner had to retire hurt. Rublev is a returner and tires you out.
Head to head Record: The head-to-head record is even at 2-2
French Open 2022 Quarter Final Predictions: In the Australian Open, Cilic defeated Rublev in 4 sets. However, in the French Open QF, I predict Rublev will defeat Cilic.
So friends, watch these epic battles.I am confident that they will be a treat to watch.
We will be back to come with our prediction for semis and finals.
I am taking the liberty to predict the winners for women too.
Fernandez, Gauff, Kasatkina and Swiatek will be in the semi-finals.
Happy viewing : )