Stefanos Tsitsipas: Profile | Playing Style | Strengths | Career Stats | On-Court Coaching
A perfect mix of aggression and attack is a hallmark of Stefanos Tsitsipas. Popularly known as the Greek God, the World number 3 has made rapid strides on the ATP Tour. 
Sportco sketches the enigma of Stefanos Tsitsipas, his fast-rise up the charts, gripping stats, and his support for on-court coaching. 
Player Profile

Stefanos Tsitsipas

Date of Birth
12th August 1998
Turned Pro
2016
Playing Style
Right-Handed and One-Handed Backhand
ATP Ranking
3
Big Achievements

Next-Gen ATP Finals Champ in 2018

Nitto ATP Finals Winner in 2019

Surreal Shots

Around the Net Returns

Backhand Pass
Stefanos Tsitsipas: Unraveling the Greek's all-round game
With a towering height of 6'4", Tsitsipas is a powerful right-hander. Molded in the same vein as Dominic Thiem, Roger Federer, and Stan Wawrinka, the Next-Gen sensation possesses a one-handed backhand. "Down-the-line" winners from the baseline are quite common when the Greek is in full flow. 
Stefanos Tsitsipas regularly moves to the net to finish off points quickly. His exploits on hard courts (Australian Open semis 2019 and 2021) and clay (French Open semifinalist 2020 and runner-up in 2021) are proof that the Greek can deliver on the big stage. 
One of the biggest strengths of Tsitsipas is his supreme court coverage. He has every shot in the book (drop shots, forehand passes, top-spin heavy backhand, and volley). Variation in rallies enabled by smart point construction helps the Greek to survive long matches. He has multiple game plans to handle any kind of opponent. 
Stefanos Tsitsipas: A Rich Tennis Heredity
Tsitsipas's stupendous success on court can be attributed to his parents. His father, Apostolos Tsitsipas is a trained tennis coach and also travels with the Greek star for several tournaments. 
Stefanos's mother, Julia Apostoli was a professional player. With a similar playing style to her son, Julia played for the Soviet Union from 1980 and Greece from 1990.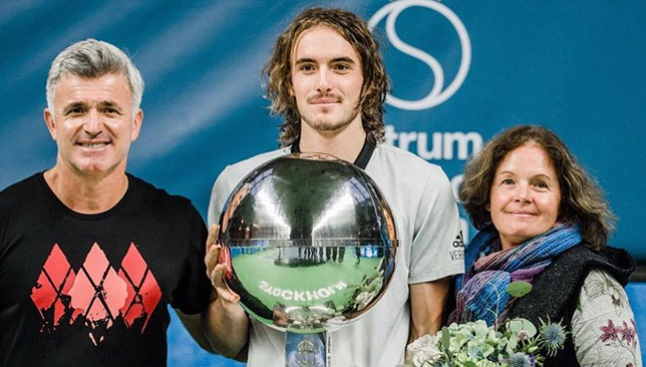 Interestingly, the talented Greek was proficient in football and swimming in his childhood. From the ripe age of 6 when he picked up the racquet for the first time to 23, Stef has shattered several records. 
Tsitsipas has also defeated each member of the big 3 (Federer, Nadal, and Djokovic). He is coached & mentored by Patrick Mouratoglou (mentor to the legendary Serena Williams). 
The surge of Stefanos Tsitsipas: Number Crunching
| | |
| --- | --- |
| Player Name | Stefanos Tsitsipas |
| Matches won this season | 49 (highest on the ATP Tour) |
| Prize Money accumulated | $15.56 million overall and $2.97 million in 2021 |
| % of Breakpoints Saved | 856/1336 (64%) |
| Service Games Won | 2955/3437 (86%) |
| Tiebreak Winning Percentage | 58.9% (higher than Medvedev - 57.7%, Thiem - 53.2%, and Rublev - 50%) |
| Win % on First Serve  | 76.1% (greater than Djokovic - 73.7% and Nadal - 72.1%) |
Why has Stefanos Tsitsipas been a voice for on-court coaching?
"Coaching on every point should be allowed in tennis, the sport needs to embrace it, we are probably one of the only global sports that does not use coaching during the play, make it legal, about time the sport takes a big step forward," said Tsitsipas on Twitter in July this year. 
 No wonder, the ATP Tour does not allow on-court coaching by pros. 
"Male players shall not receive coaching during a tournament match, communication of any kind, audible or visible, between a player and a coach may be construed as coaching if an umpire does catch a coach giving instructions to a player during a match, that will lead to a coaching violation and can lead to fines up to $5,000," mentions the ATP Rulebook.
Wrapping Up
Stefanos Tsitsipas has his task cut out in the future. An army of Next-Gen contenders like Alexander Zverev, Andrey Rublev, Felix Auger Aliassime, Jannik Sinner, and Daniil Medvedev will challenge him in the years to come. 
Dear tennis enthusiasts, will Stefanos Tsitsipas reach greater heights? Do post your comments below.  
Related articles: Jannik Sinner Player Profile | Alexander Zverev Player Profile