Stefanos Tsitsipas vs Andrey Rublev: Monte Carlo Masters Final Prediction | Preview | Stats
It is a blockbuster battle between two Next-Gen stars as the fourth seed Stefanos Tsitsipas faces the sixth seed Andrey Rublev in the finals of the Monte Carlo Open. 
Stefanos Tsitsipas vs Andrey Rublev: Preview
Stefanos Tsitsipas overpowered the giant slayer Dan Evans 6-2 6-1 in the semifinals. The Greek clinched 79% and 69% of points on his first and second serve respectively. Evans was let down by a poor second-serve winning percentage of 36. 
"I am indeed pleased with the performance, I found ways to play at my best, it was really difficult to maintain my level of consistency and I am happy I managed to deal with all the different moments during the match, had a lot of opportunities to hit the forehand, and think how I wanted to construct the points, I am feeling good and energized, I still have plenty of gas and energy left in me," said Stefanos Tsitsipas fully satisfied after trouncing Evans. 
On the other hand, Andrey Rublev outlasted clay-court specialist Casper Ruud 6-3 7-5. Rublev claimed 76% of his first-serve points, fired 21 winners, and also saved all 5 breakpoints. 
"It is an amazing feeling, it is my first ATP Masters 1000 final, so I am really happy, we will see what is going to happen in the final, I will try to do my best," remarked Andrey Rublev confident of putting up a good show ahead of the big clash. 
The match is scheduled to begin at 2:30 PM Central European Time.
Stefanos Tsitsipas vs Andrey Rublev: Head to Head Record
Stefanos Tsitsipas and Andrey Rublev are equally tied at 3-3 in their head-to-head record. They are tied 1-1 in their matches on the red dirt played last year. Rublev won the ATP-500 Hamburg Open finals in three sets and Tsitsipas won the French Open quarterfinals in straight sets.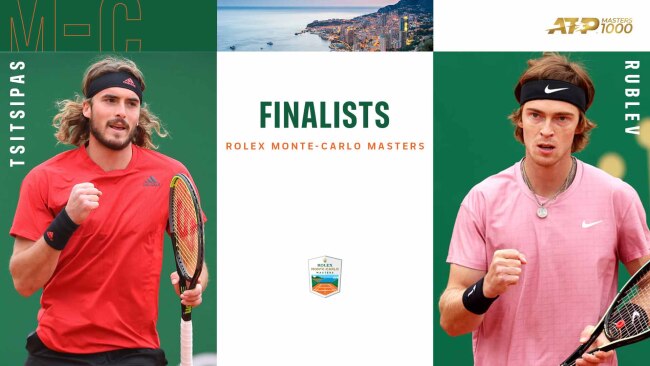 Stefanos Tsitsipas vs Andrey Rublev: Key Insights
Stefanos Tsitsipas is aiming to win his sixth career title (Win-Loss record in Finals is 5-8).
Andrey Rublev will be looking to grab the ninth title of his career (Win-Loss record in Finals is 8-2).
Both Rublev and Tsitsipas will be targetting their first ATP Masters 1000 title.
Andrey Rublev is playing his first-ever ATP Masters finals.
Stefanos Tsitsipas has not lost a single set in the Monte Carlo Open so far.
Rublev who is currently ranked 8 will leapfrog Roger Federer and Alexander Zverev if he wins against Tsitsipas in the finals.
Tsitsipas is playing his 3rd ATP Masters final (Rogers Cup 2018 and Madrid Open 2019).
The winner of the Tsitsipas vs Rublev match will emerge as the number one player in the race to the ATP Finals in Turin. The tournament is scheduled from November 14 to 21 this year.
Stefanos Tsitsipas has a 21-5 win-loss record this season.
Andrey Rublev has a 24-4 win-loss record in 2021.
Rublev will aim to clinch his fourth title of the year (ATP Cup, ATP 500 - Rotterdam Open, and Doha Open doubles alongside Aslan Karatsev).
Stefanos Tsitsipas vs Andrey Rublev: Game Analysis
Game Analysis
Stefanos Tsitsipas has been using this powerful forehand to good effect this week. His consistent groundstrokes mostly land to the opponents' backhand and he responds with deep returns to get points. The Greek has also displayed his attacking style of play by advancing bravely to the net to finish rallies.
Andrey Rublev has been strong from the baseline with his down-the-line forehand and two-handed backhand leaving opponents with no answers. He will look to avoid mid-match wobbles by not losing games continuously as there can be a significant shift in momentum. 
If StefanosTsitsipas wins more than 70% of his first-serve points, he will be the strong favourite for the title. Andrey Rublev will depend on his hard-hitting abilities and staying calm under pressure. 
With both players equally matched in skill-sets, this match could go down to the wire given their close head-to-head record. 
Stefanos Tsitsipas has better shot-making skills than Andrey Rublev and that gives him the slight edge though the Russian can outwit him with his lightning-fast court coverage. Both the players will go all out to win the biggest titles of their careers.
Prediction - Stefanos Tsitsipas to beat Andrey Rublev in three sets and win the Monte Carlo Open
Featured Image Credits - Australian Open - Twitter