Steven Gerrard: Player profile | Playing Style | Career Stats | Managerial Career
Steven Gerrard is one of the decorated midfielders to have graced the Premier League. The Englishman has accumulated many accolades throughout his playing career. So, let's glance through his playing career and his evolution into an elite player. 
Gerrard has won several trophies as a player, and then returned as a manager to lead his club to glory, his glittering career as a manager and as a player has been phenomenal. 
The Englishman is currently managing Rangers FC, and we might see him coming back to Premier League as a manager.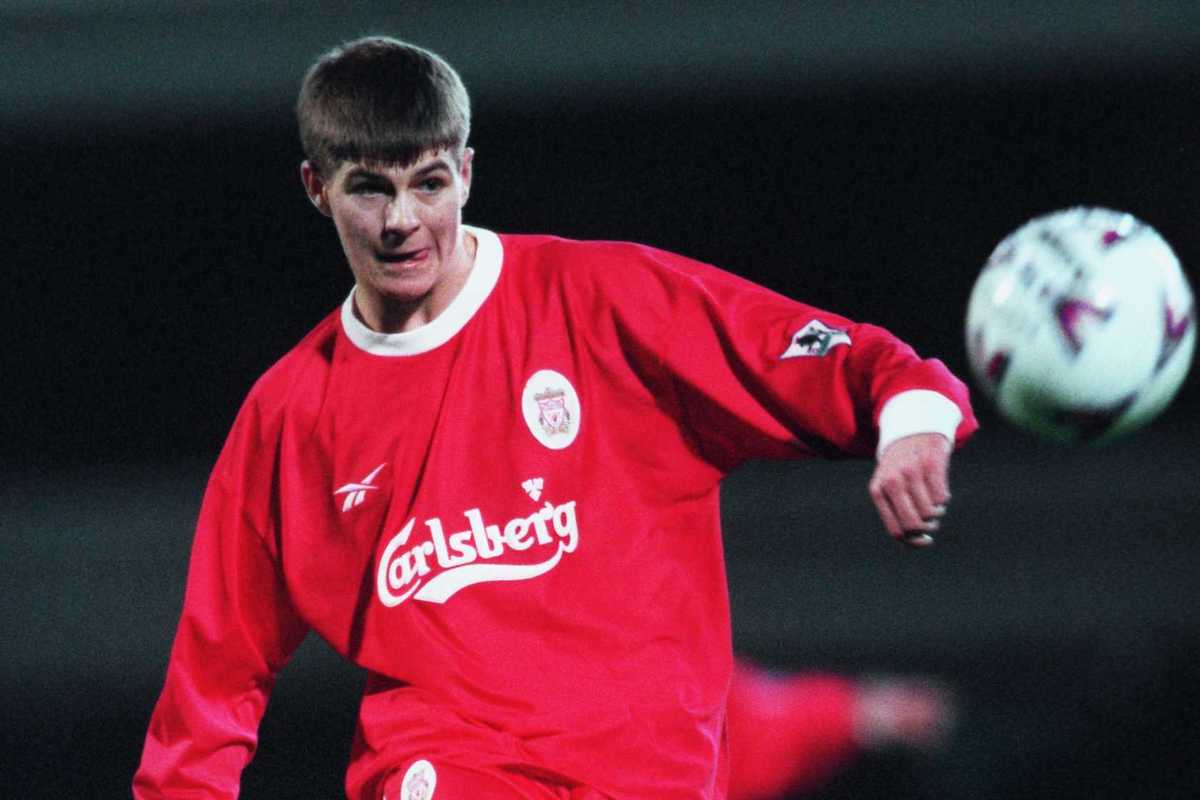 | | |
| --- | --- |
| Player profile  | Steven Gerrard  |
| Age | 41 |
| Height  | 1,83m |
| Clubs | Liverpool, LA Galaxy |
| Country  | England  |
| Position  | Central Midfielder  |
| Appearances  | 863 |
| Goals  | 212 |
| Assists  | 188 |
| Trophies  | 11 |
Early life and breakthrough into Senior Football
Steven Gerrard is a born Red; at the age of nine, he has been playing for Liverpool. He was born in Merseyside on 30 May 1980, although he first started playing for his hometown team Whiston Juniors where he was spotted by Liverpool scouts. 
His football career could have gone down the wire when a garden fork was stuck in the big toe of his right foot, which needed an amputation. Liverpool's academy director Steve Heighway and Steven Gerrard's father prevented operating his toe.
Since then its been a rollercoaster ride for the Rangers manager, as the legendary midfielder took the first step of his life when he was drafted into the senior team and made his Liverpool debut on 29 November 1998 against Blackburn Rovers. 
Steven Gerrard went on to make 709 appearances for Liverpool, churning up 185 goals and 150 assists for the Reds. Under his captaincy, the club endured the finest runs in Premier League history. 
His illustrious years had many remarkable moments, the 2004 Champions League final where Liverpool made one of the greatest comebacks against AC Milan from 3-0 down to scoring three goals in the second half and then winning on penalties. 
Three years later, another déjà vu of Champions League occurred, although this time Liverpool couldn't get their hands on their seventh UCL title as they lost by 2–1. 
Gerrard made his 500th Premier League appearance against West Brom in the 2014-15 season; his final match came against in a 6-1 defeat against Stoke City. 
Later the former Liverpool great crossed the Atlantic to play for LA Galaxy in the MLS, where he played for a season before announcing his retirement from professional football on 24 November at age of 36.
International Career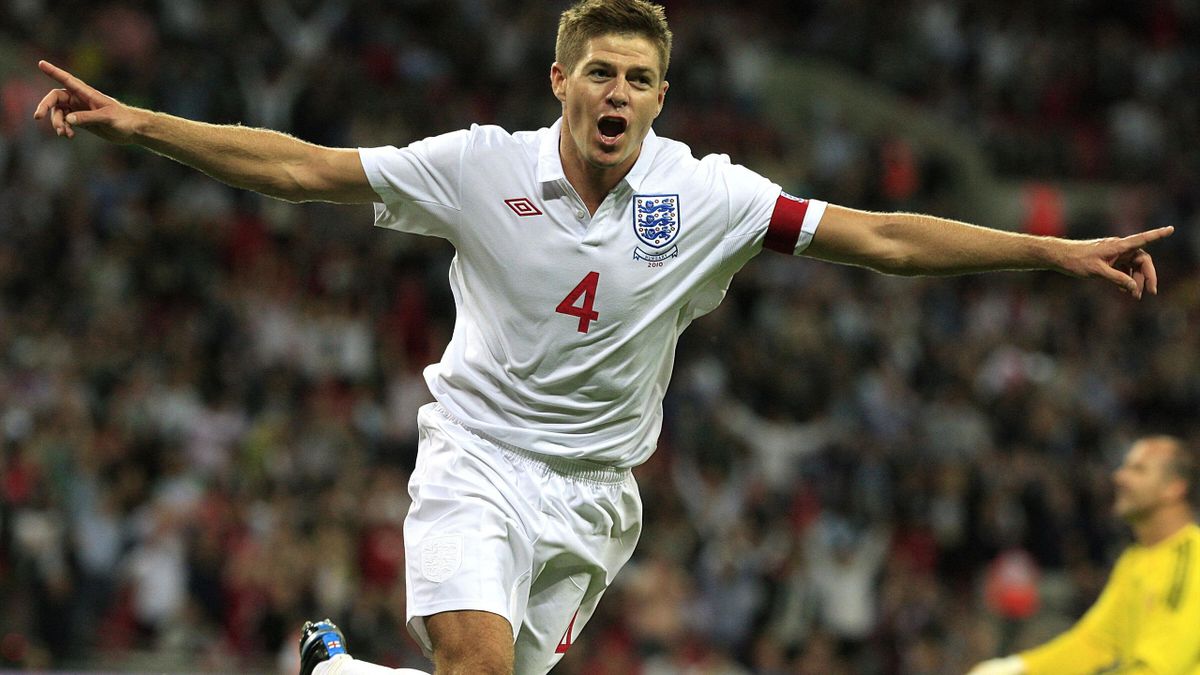 The former Reds player made his international debut on 31 May 2000 in a game against Ukraine. However, his international career did not provide any noteworthy moments regardless of having one of the best players alongside him. 
England's golden generation filled with David Beckham, John Terry, Rio Ferdinand, Paul Scholes, Frank Lampard, Steven Gerrard, Wayne Rooney and Michael Owen failed to win any major international trophy in the 2000s. 
By 2014 Gerrard announced his retirement from international football, making 114 appearances scoring 21 goals for the country.
Managerial career 
In 2016 Steven Gerrard began his football career as a manager when he was appointed youth coach at Liverpool. His coaching abilities were admired by Liverpool boss Jürgen Klopp and Alex Inglethorpe. 
| | |
| --- | --- |
| Managerial profile   | Steven Gerrard   |
| Club  | Rangers  |
| Matches  | 224 |
| Draws  | 46 |
| Defeats  | 36 |
| Wins  | 142 |
|  PPM | 2.11 |
| Trophies  | 1 |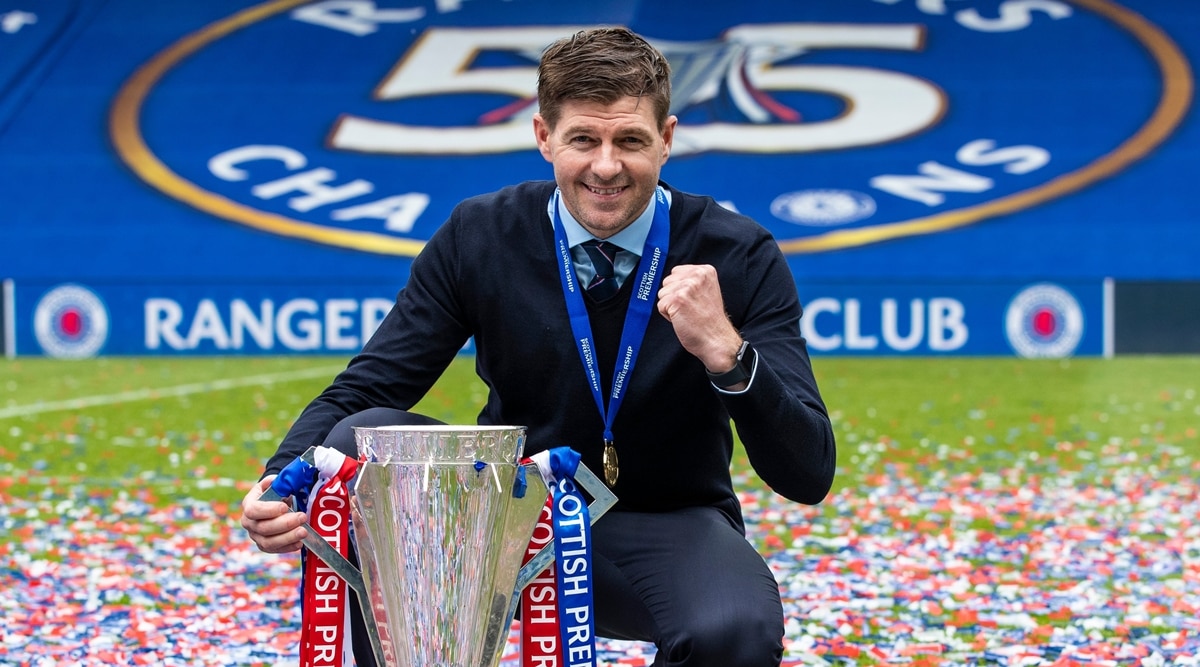 Steven Gerrard received his coaching credentials and later became the Under-19 team coach in the 2017–18 UEFA Youth League. 
However, he was rumoured to become the new manager of Scottish Premiership club Rangers, which subsequently turned true, and Gerrard was appointed their new manager in the 2018–19 season, signing a four-year deal. 
He became one of the most adored managers in Scotland as he guided the club to a record-breaking season, winning consecutive matches against rivals Celtic and topping their Europa League group. 
On 7 March 2021, Gerrard led the club to the Scottish Premiership title without losing a single league match; Rangers' first title in 10 years and their 55th top-flight title overall.
Steven Gerrard: Playing Style 
Steven Gerrard has mainly played his entire life as a central midfielder, famous for being a hardworking box-to-box player with great endurance. 
The Scouser was versatile in his playing position as he played as a central midfielder, a second striker, a holding midfielder, an attacking midfielder, a right-back, and a right-winger throughout his football career. 
However, his ball-winning ability shifted him to a central midfield role, where he would play box-to-box football. This evolved him tactically, making him effective both offensively and defensively. 
Gerrard was a great goal scorer as well; most of his goals came from long-range due to his powerhouse strikes from distance, scoring many important goals during his playing days. 
His game awareness made him a deep-lying playmaker who often dictated play in midfield with his vision and passing range. 
Steven Gerrard's leadership skills helped the team perform in big matches, and his influence on the pitch made Liverpool one of the greatest clubs in Europe.
Steven Gerrard: Major Honors 
- UEFA Club Footballer of the Year: 2005
- PFA Premier League Team of the Year: 2000–01, 2003–04, 2004–05, 2005–06, 2006–07, 2007–08, 2008–09, 2013–14
- FIFA FIFPro World XI: 2007, 2008, 2009
- Premier League Hall of Fame: 2021
- Ballon d'Or Bronze Award: 2005