Hence proved!! Red cards can win you MOM awards and matches too!
Real Madrid midfielder Federico Valverde fouled Alvaro Morata, who was racing away towards the goal in the last five minutes of the game. He was shown a quick red as he denied a clear goal-scoring opportunity. Atletico failed to capitalize from the free-kick and Real Madrid went to win on penalties. 
Valverde did a good job for the team and also gained respect as he apologized for his cynical foul which saw him getting sent off. When asked about the incident after the game, Valverde told Marca that he did not want to commit such a foul, but had no regrets about doing so in the dying minutes of the game.
"I've apologized. It's not good what I did, but I had to do that," Valverde confessed. "I'm happy for the trophy. I waited and I then ran onto the pitch. They congratulated me, but it's for everyone. For those who played, those who didn't and those who gave advice at half time. It's a triumph of the team."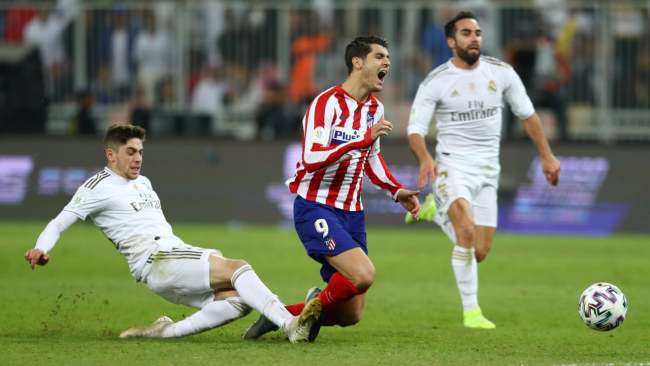 Despite the foul, Valverde was named as the Player of the Tournament and many fans have called for a statue of the Uruguayan to be erected outside the Santiago Bernabeu for his match-saving tackle.
Los Blancos boss Zidane confessed after the game that he would have not preferred losing a player in the ending minutes of the game but held on to the fact that it was the only thing that could be done to save the game slipping away. 
Zidane said," He has taken the MVP trophy and I'm glad for him. He has done a great job, like everyone else. He sure wants to share it with all his teammates." Valverde has been impressive in La Liga as well and his performance in the El Clasico played in December was also a spectacular one.
featured image credits- sportsfinding.com