West Indies chances to make it to the ICC WC after their loss to Zimbabwe
The ICC World Cup 2023 qualifier is ongoing in Zimbabwe. Two time champions West Indies suffered a huge upset in the qualifiers to host Zimbabwe at the Harare Sports Club on Saturday. For the first time in their cricketing history, two time champions West Indies face the risk of not qualifying for the 2023 Cricket World Cup.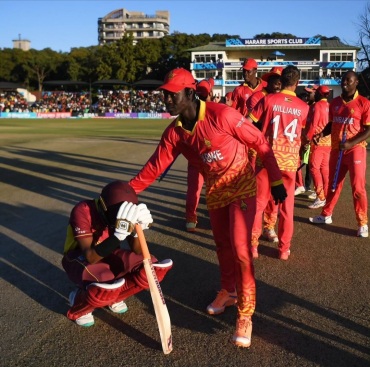 Host Zimbabwe defeated West Indies by 35 runs to not just open up their chances of qualifying for the WC but also put a major doubt on the West Indies prospects. The win has put the Zimbabwe team in strong position to qualify for the Super Six stages as the group winners. The result put the WI down to third spot in Group A, behind Zimbabwe and the Netherlands after three games each. Nepal and USA are in the bottom two positions in the table. 
The scenario for West Indies to still qualify for the World Cup 2023
West Indies have already played against Nepal and USA, meaning their final match will be a tougher contest against the Netherlands in the group stage. The first task for the Caribbeans is to win their final group stage match against Netherlands in the first round. They will then play with the remaining five teams in the Super Six stage. Out of the remaining six games , West Indies needs to defeat the Netherlands to progress to the Super Six stage with four points and a good Net Run Rate. After this, WI will have to win at least four of their games to avoid any mess up. 
In such a situation, the Windies will have 12 points and will also have a chance to finish in the top two  of the points table after the end of the Super Six stage. However, it will not be easy for the two-time champions as they face a threat from Sri Lanka and Zimbabwe who are the favorites to finish in the top two positions. But if the Caribbean team manages to beat at least one of them along with the other three opponents (which can be Scotland, Netherlands and Ireland), then they will have a solid chance of qualifying. 
In case West Indies fails to win at least four games of their remaining six matches, the ODI Cricket World Cup qualification chances for them will be at risk.
Cover Credits : ICC