Journey of Zidane as Real Madrid Manager - Less Luck. More Grit and Shrewdness
Zinedine Zidane spearheaded Real Madrid to glory days both as a player and as a manager. Hence, let's have a close analysis of his managerial career so far. 
| | |
| --- | --- |
| Managerial profile  | Zinedine Zidane  |
| DOB | 23 June 1972 |
| Nationality  | France  |
| Height  | 6'1 |
| Club  | Real Madrid |
| Preferred formation | 4-3-3 Attacking  |
The 1998 World Cup winner took over the helm of Real Madrid in 2016 when the club looked subdued; the players became exhausted, the entire team was in shambles.  
the club faced many humiliating defeats, the 4-0 at Bernabeu against Barcelona under Rafa Benitez, this led to a downfall in the club's hierarchy, and players came under much criticism for their underwhelming performance on the pitch.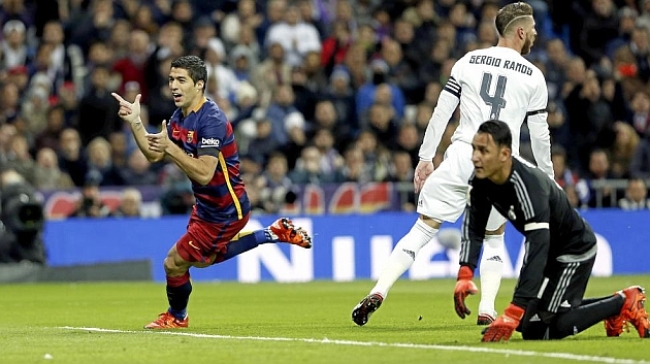 Albeit of this, Real Madrid appointed a new manager in haste; Zinedine Zidane took the club's reins; however, he saw a slew of backlash as he was inexperienced for the job.
Zinedine Zidane: Management Style at Real Madrid
During his first year as Real Madrid manager, Zinedine Zidane had a lot on his plate, restructuring the team and implementing his preferred formation. The club did not need a strict tactician; they wanted trust and good chemistry between players and precise team management, indeed Zidane had a strenuous job.
The goal was to bring unity to the team, a great understanding and a phenomenal display on the pitch. So, he brought a new fitness coach, Antonio Pintus, so the squad doesn't become injury prone and adapt to new techniques.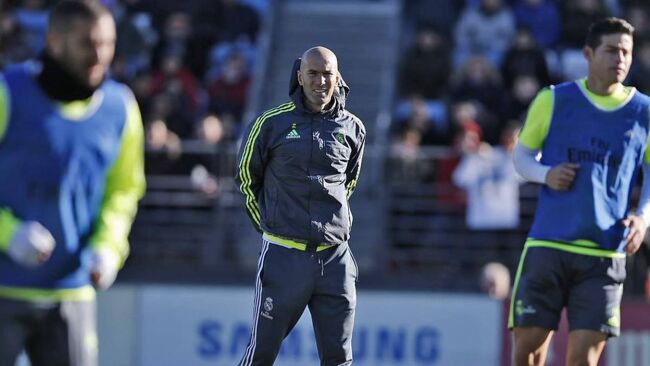 Zinedine Zidane changed the Real Madrid formation to 4-4-3, and occasionally, he would use 4-4-2 to use an extra midfielder. 
Zidane brought Casemiro, who would play as defensive midfield and a cushion for back four, Kroos and Modric as an attacking midfielder, providing support to the front trio, Benzema, Bale and Ronaldo. 
Thus, Zinedine Zidane rejuvenated the Real Madrid squad with a dynamic playing style. 
He would alter the squad according to the situation; against high pressing teams, he will accommodate the players to cover the whole ground and play long balls, so the team doesn't come under pressure.
Against tight defensive teams, deft passing was deployed with Modric and Kross pulling strings. Zidane's had a clear game plan, alleviate the pressure, exploit the opponent's defense and carry out the attack with an immediate move on the opponent's mistakes. 
Zidane had a positive start to his managerial career in a 5-1 win over Sporting Gijon. 
Zinedine Zidane Stats from 2016-2021
Games 
263
Wins 
174
Draws 
53
Loss 
36
Win%
68%
Zinedine Zidane: Trophies won at Real Madrid 
Managing a club like Real Madrid is always complicated. Most managers couldn't last for more than 2 seasons or even one season for some as the club runs on a hire and fire policy. 
However, Zinedine Zidane trusted his instincts and what followed after that was years of dominance in Europe.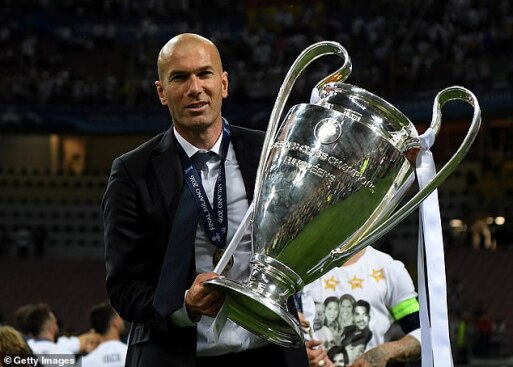 One of the most important things was Zidane gained is his player's trust, which created a healthy environment in the Real Madrid dressing room.
Zidane bagged 11 trophies in just six years at Real Madrid as a manager. The former Galactico managed to pull all the strings and cemented his place among the best managers in Real Madrid history, from being an inexperienced manager to other clubs lining up to buy him.  
| Trophies  | Won  |
| --- | --- |
| Champions League  | 3 |
| UEFA Super Cup  | 2 |
| FIFA Club World Cup  | 2 |
| La Liga  | 2 |
| Super Cup | 2 |
Unique Records set by Zinedine Zidane as Real Madrid Manager 
Zinedine Zidane is the first manager to win three consecutive Champions League 
Zidane has won a trophy in every 19 games at Real Madrid as a manager.
Quickest manager in the history of top 5 five leagues to win 8 titles with a single club
Zidane is also the only manager to defend the Champions League and Club World Cup simultaneously with Real Madrid.
Conceded only 23 goals in 2019-20 campaign best record compared to clubs in Europe's top five domestic leagues. A special record under Zidane    

After the 2018 UCL final Zidane announced he would depart from the club stating "the club needs a change". 
However, Real Madrid returned to their struggling days under new manager Julen Lopetegui; the club endured the worst ever run in La Liga history. There was 12 points gap between the clubs and a humiliating 4-1 defeat against Ajax in the Champions League. 
This led to the sacking of Julen Lopetegui and the return of Zinedine Zidane as Real Madrid manager on 11 March 2019, on a contract until summer 2022.
Zidane: Second Stint as Real Madrid Manager
In his second stint as a manager at Real Madrid, Zinedine Zidane inspired the club to 2nd La Liga glory on 16 July 2020; in doing so, he was hailed by many international and Spanish media, as Real Madrid broke numerous records in maintaining their best league defensive record in 30 years.
Real Madrid had a bumpy ride in the 2020-21 season under their manager Zinedine Zidane; an injury-ravaged team and a trophyless season. 
However, they managed to reach the Champions League semi-finals but were eliminated by Thomas Tuchel's Chelsea 3-1 on aggregate. Add to that a narrow loss on the league title against city rivals Atletico Madrid.
Having left Real Madrid for the second time as manager, where would you like to see Zinedine Zidane as the head coach? Premier League? Serie A? Or for the France national side?