Top three contenders for the NBA MVP 2018-19
James Harden ran away with the MVP award last season. Can he win it back-to-back? The Beard will surely have stiff competition with many of the usual suspects. Will LeBron James lead the Los Angeles Lakers to the playoffs and earn his fifth MVP award? Or could this be the season Anthony Davis or Giannis Antetokounmpo capture the crown? We take a look at the five top contenders for the NBA MVP of 2018-19.
3. Kevin Durant (Warriors)
Durant has won back-to-back NBA Finals MVP awards for the two-time defending champion Golden State Warriors, cementing his status as an all-time great. While James is the consensus best player in the game today, Durant is often considered his biggest challenger. The Warriors are touted to have another great season, and Durant is likely to have the best box score stats on the team. He could carry the narrative that he has surpassed James as the best player in the league to his first MVP award since the 2013-14 season.
2. Anthony Davis (Pelicans)
Davis played masterfully down the stretch last season, averaging 29.8 points (52.0 FG%, 84.5% FT), 11.8 rebounds, 3.5 blocks, 2.1 assists and 2.0 steals in 24 games after the All-Star Game without running mate DeMarcus Cousins. Entering his seventh NBA season at age 25, Davis is into his prime on a Pelicans squad built around his strengths. New Orleans replaced Cousins and Rajon Rondo with younger, less ball-dominant players this offseason, such as Julius Randle, while Jrue Holiday is enough of an offensive threat to open up space for Davis. Fitness is the key, and if Davis matches last season's 75 games played, he will be an MVP frontrunner.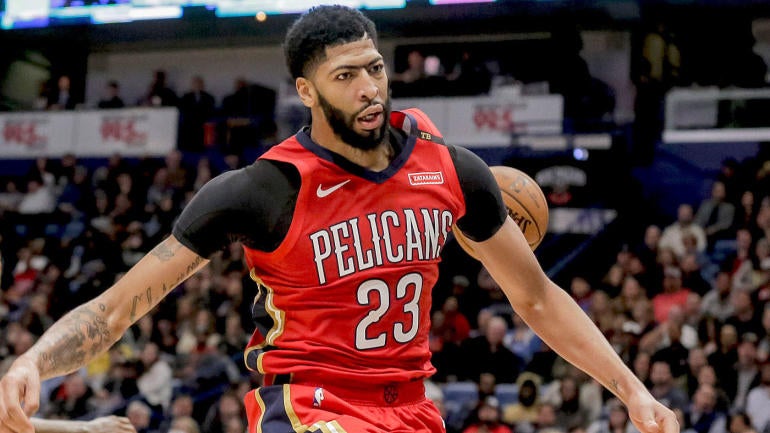 1. LeBron James | SF | Lakers
Despite being widely regarded as the best basketball player in the world and an all-time great, LeBron hasn't won an MVP award since the 2012-13 season. But James would have a compelling case if he were to lead the NBA's glamour franchise back to the playoffs after a six-year drought. James is coming off a monster season in which he led the NBA in games and minutes played, producing some of his best box score stats in years. If he replicates that effort while leading the young Lakers to success, he has a great chance to earn the fifth MVP award of his career.