Barcelona vs Atletico Madrid: Head to Head La Liga Record | H2H Stats | History | Results
Saturday is all set for a thriller as Barcelona host Atletico Madrid in what could be one of the potential deciding fixtures as to where the La Liga trophy would go at the end of this season.
Before the big game, we take a look at the last five encounters between Barcelona and Atletico Madrid. Which team has a better head-to-head record? Well, we are here to analyze how the sides fared when they played each other in their last five confrontations. Let's begin!
1) Atletico Madrid 1-0 Barcelona (22 November 2020)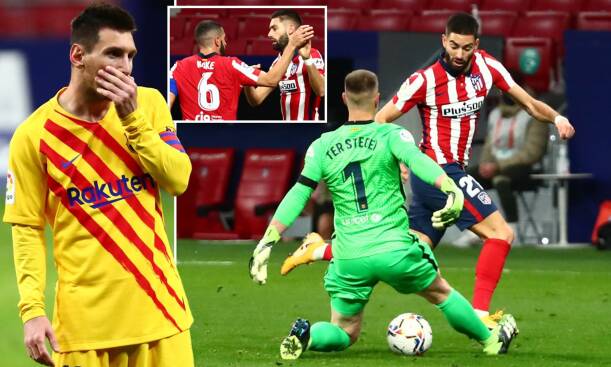 Wanda Metropolitano was poised last time out when the La Liga giants locked horns with each other. Yannick Carasco broke the deadlock just at the end of the first half, and the Rojiblancos contrived to a fine lead at halftime.
Barcelona did not have a response to Diego Simeone's Atletico Madrid and their robust defending as the latter ended the game with all three points.
2) Barcelona 2-2 Atletico Madrid (1 July 2020)
Camp Nou hosted an enthralling contest and the game stood up to it. Diego Costa ended up on the wrong side of the scoresheet with an own goal as Barcelona took the lead in the 11th minute.
Just eight minutes later, Barcelona committed a high-priced error and Atletico Madrid were awarded a penalty. 
Diego Costa stepped up to make things right but it was not his day as he missed the spot-kick. However, there was more drama lasting as Marc-Andre Ter Stegen was off his line, and thus, the referee commanded for the penalty to be retaken.
This time it was Saul Niguez who took the spot-kick and converted it in style. Controversies prevailed as Barcelona were awarded a penalty this time and Lionel Messi fired the ball into the net with conviction to restore Barcelona's lead in the 50th minute.
But luck was not on their side that day as Nelson Semedo clipped Carrasco's heels, and the Belgian earned another penalty for his side.
Looking at Costa's miss earlier in the game, Saul Niguez was up to the task again as he equalized for Atletico Madrid to end the game with a point to both sides.
3) Barcelona 2-3 Atletico Madrid (10 Jan 2020)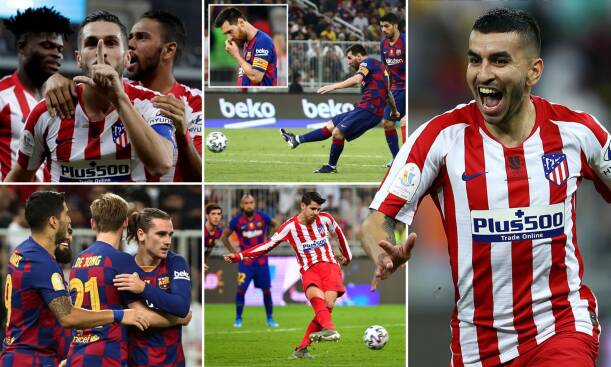 The atmosphere was lit for a Super Cup semi-final and both sides wanted to ascertain their prominence.
After a dull first half, all the entertainment was bound to come in the second, and as expected, the game turned out to be a sensational one.
Koke fired the ball into the net as the Rojiblancos went ahead just a minute after the second-half whistle. Barcelona responded promptly as Lionel Messi scored and restored parity five minutes later. 
Barcelona scored eight minutes later again, but the goal was ruled out by VAR due to a foul in the build-up. However, three minutes after the incident, former Atletico Madrid man, Antoine Griezmann found the net against his former side but there was no remorse.
After a while, another attempt from Barcelona went in vain as Gerard Pique's goal was ruled out due to offside. 
However, what was about to be witnessed was something special as Atletico Madrid scored two goals in quick succession. It began with an Alvaro Morata penalty in the 81st minute followed by Atletico's third goal which was also the winner and was scored by Angel Correa.
4) Atletico Madrid 0-1 Barcelona (2 December 2019)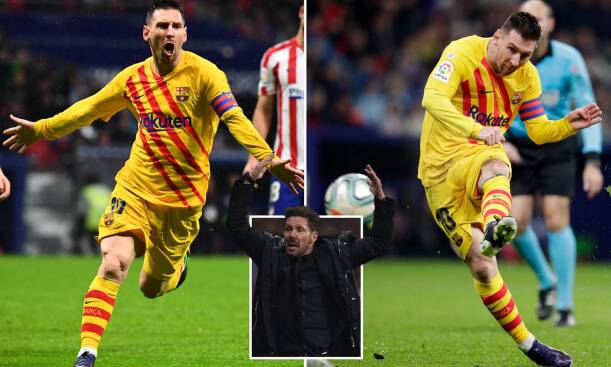 The game witnessed a lot of bookings but it barely had any goals involved. Both sides tried their best but their conversion rate was not up to the mark. In the end, it was the Argentine maestro who scored the winner, set up by Luis Suarez.
5) Barcelona 2-0 Atletico Madrid (7 April 2019)
Another masterclass by the Catalan side was on the way as Camp Nou hosted Simeone and co. The game saw a heated first 30 minutes as Diego Costa was sent off with a straight red card due to his exaggerated reaction to one of the decisions made by the official.
Despite being down to 10 men, Atletico Madrid fought hard until the 85th minute when they finally succumbed to a Luis Suarez goal, followed by Messi adding the second for Barcelona.
The game was put to bed in a flash and Simeone was yet again unfortunate.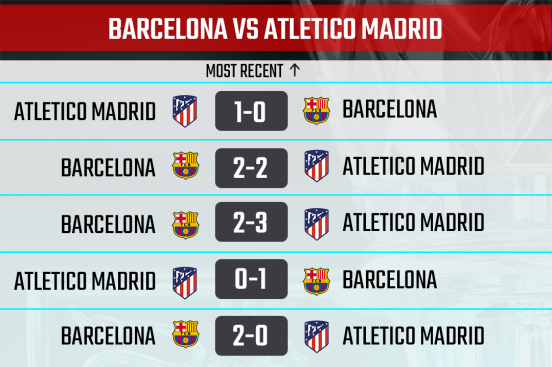 Match Prediction: Barcelona 2-0 Atletico Madrid