Cristiano Ronaldo: Complete Workout and Fitness Routine | Diet Plan | Recovery
Sportco dissects one of the fittest athletes who is an epitome of consistency; ruling at the top of the football world for more than a decade, Cristiano Ronaldo. We take a look at his fitness regime, diet plan and recovery drills in this article.
We have heard this quote "our body is a temple" if we eat right get the right amount of sleep and exercise we will be fit for eternity. 
This quote is very well followed by the Portuguese talisman, Cristiano Ronaldo. He actually treats his body like a temple, Ronaldo aged 36 looks like a 25-year-old super-fit athlete.
Due to the tremendous fitness levels of Cristiano Ronaldo, he doesn't counter injuries very often, hence he's one of the best football players globally.  
His fitness level is above all the athletes, in 2018 when he signed for Juventus, his medical revealed he has 7% body fat, which is lower than an average football player, and 50% muscular mass, which is four per cent higher than other players.
At just 36-year-old he has the physical strength and capacity of a 20-year-old. Ronaldo recently joined his old club Manchester United after ripping up the record books at both Real Madrid and Juventus, and it's safe to say that the 36-year-old still has the physique of a 25-year-old. 
We have seen several instances where Cristiano Ronaldo has advocated health, fitness and proper diet throughout his career, and e.g. during the Euro 2020 at a press conference, where he kept the Coca-Cola bottles aside and urged people to drink water.  
On that note we take a look at his workout and fitness routine and what diet does Cristiano Ronaldo follow. 
Workout routine and training:
Cristiano Ronaldo starts his workout with warm-ups to decrease the risk of injury.
"In training, we always do a few laps of the pitch, stretching, and cardio warm-up exercises. Make sure you do something similar in your training, even if it is jogging to the gym or a warm-up on the treadmill or bicycle."
Ronaldo does his full-body workout which helps him target all areas of his body and focus on exercises that improve strength and stamina. 
His workout schedule:  
Daily trains for 3-4 hours help in maintain body fat level (less than 10%)
Cardio which includes several running sessions for 25-30 minutes
Short-period exercises such as high intensity sprinting drills
Technical drills for improving his ball control
Even during matchdays Ronaldo does, cardio, squats, jumps and lunges, push-ups and pull-ups, power cleans and sprints, leg days along with abs as well as regular skipping drills. 
What diet does Cristiano Ronaldo follow? 
The diet followed by Cristiano Ronaldo involves whole grains, fresh fruit, lean proteins (think sea bass, swordfish, cod, and other fish) this is called Ronaldo's diligent diet plan. He eats salads, alongside protein shakes and joint supplements which help in recovery after a workout or a match. 
To keep his energy high level, he eats plenty of fresh fish – including tuna and swordfish – plus steak, olives, chicken, low-fat yoghurt, and fresh fruits and salads. He also drinks lots of water to avoid dehydration and has never touched alcohol in his life. 
This diet keeps his body fat levels extremely low, with an excellent metabolism, and prevents body weakness and hungover throughout the day. 
Post-match recovery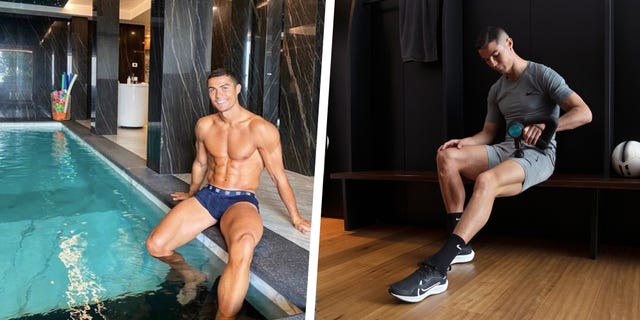 For his recovery to prohibit any life-threatening injuries, Ronaldo does swimming after games or intense workouts.  Swimming provides him hydrotherapy and helps build lean muscle and increase aerobic capacity. 
He's a high-level fitness freak who needs recovery and get as much rest as he can for his body, thus, Ronaldo has never been injured very selfdom, and has been consistent on the pitch even at the age of 36.  
So this was the complete fitness and diet plan of Cristiano Ronaldo. We hope this article inspires you to achieve your dream fitness goals in the coming months!!