How a Novak Djokovic victory in the Wimbledon 2021 final can change the G.O.A.T debate?
While tennis fans constantly debate about who is the Greatest Of All Time (GOAT), a Djokovic win in the Wimbledon final on 11th July against the Italian, Matteo Berrettini could lead to a tectonic shift. 
The 3 greats of the game will be locked at 20 grand slams each. The legendary trio of Roger Federer, Rafael Nadal, and Novak Djokovic share a whopping 59 grand slams between them.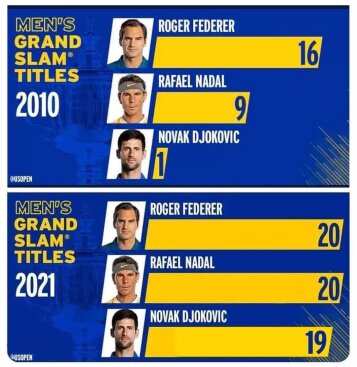 Journalist: What has it been like to be something of the "Bad Guy" chasing after Roger and Rafa all these years?
Djokovic: "I don't consider myself a bad guy, that is your opinion, I am not chasing anybody, I am making my own path, own journey, and you know my own history". 
What are the different records where Djokovic has pipped Federer and Nadal?
Achieved the career grand slam twice 
Djokovic has won each grand slam at least 2 times in his career. He broke that coveted record after winning his second French Open title in 2021. 
Better Head-to-Head Record
Novak Djokovic leads the H2H 27-23 against Roger Federer. The Serb has clinched 5 out of his last 6 matches against the Swiss star. Likewise, the World number 1 has a 30-28 H2H record versus Rafael Nadal. 
Won at least 75 matches in each Grand Slam 
Djokovic grabbed his 75th win at Wimbledon after ousting Denis Kudla in straight sets in the 3rd round. The Serbian has at least 75 victories each at all the 4 grand slams (Australian Open - 82, French Open - 81, Wimbledon - 78, and US Open - 75). 
Won more Grand Slams than Federer and Nadal in the last decade
The grand slam tally of Federer, Nadal, and Djokovic was 16, 9, and 1 respectively in 2010. It is 20, 20, and 19 in 2021.
Novak Djokovic has won a staggering 18 grand slams in just 11 years. It is more than Federer and Nadal's tally of 15 major titles between 2010 and 2021. 
Djokovic can win 3 grand slams in a row and beat a 52-year record. The last player to win 3 grand slams in a row in the same year was Rod Laver in 1969.
Djokovic would break this 52-year-old record by clinching the Wimbledon 2021 title. Federer and Nadal have never won 3 grand slams in a row in the same season.
"Roger Federer is never going to win another Grand Slam again, Nadal wins one more and Djokovic is going to win four or five more," said John McEnroe, a 7-time major singles champion.
Novak Djokovic vs Matteo Berrettini: Wimbledon 2021 Final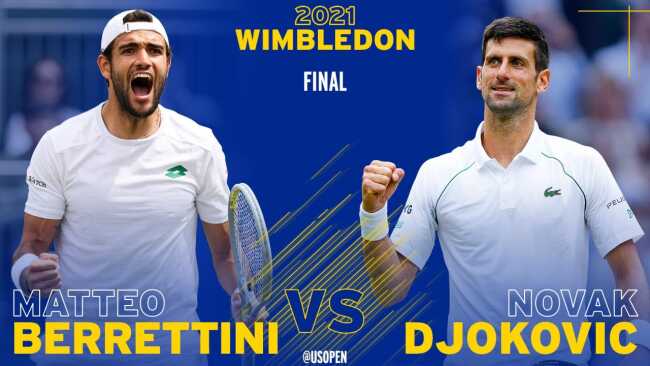 Djokovic vs Berrettini: Wimbledon Final Key Insights 
✨ Novak Djokovic is playing his landmark 30th grand slam final (the win-loss record is 19-10). On the other hand, Berrettini is featuring in his first-ever major final.
✨ Djokovic has a 5-1 win-loss record in the Wimbledon final. He lost in straight sets to Andy Murray in the finals at SW19 in 2013.
✨ Novak Djokovic has clinched 20 grand slam matches in a row in 2021.
✨ Matteo Berrettini is the first-ever Italian (man or woman) to reach the Wimbledon final.
✨ The win-loss record of Djokovic and Berrettini this season is 28-3 and 27-6 respectively.
✨ Berrettini could become the first player to win both the Queen's Club Championships and the Wimbledon in the same year since Andy Murray (2013).
✨ This is the first meeting between Novak Djokovic and Matteo Berrettini on grass.
✨ This is the first time that Djokovic has lost only 1 set en route to the Wimbledon 2021 final. He lost 2 sets each in 2013, 2015, and 2019.
All the stats you need to know about Djokovic vs Berrettini: Wimbledon 2021 Final 
| | | |
| --- | --- | --- |
| Focus Area | Novak Djokovic | Matteo Berrettini |
| Head-to-Head Record | 2 | 0 |
| Sets Lost | 1 | 3 |
| Win-Loss Record in Tiebreaks | 2-0 | 1-1 |
| % of Points Won | 57.43% | 55.60% |
| Win % on First Serve | 85.83% | 82.33% |
| Win % on Second Serve | 58.16% | 62.67% |
| Breakpoint Conversion Rate | 37.14% | 46.67% |
| Points Won at the Net | 77.46% | 67.83% |
| Aces + Winners  | 253 | 355 |
Above all, it is an interesting battle between right-handers with two-handed backhands. 2-time defending champion Novak Djokovic will be the strong favorite for the title. 
Nerves of appearing in the first grand slam final of his career may affect Matteo Berrettini, similar to Stefanos Tsitsipas (French Open 2021 finals).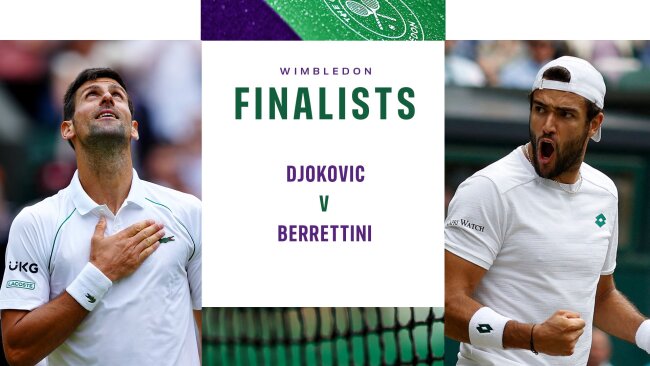 Interestingly, Djokovic and Berrettini are yet to play a five-setter at Wimbledon 2021. Matteo could take it to the distance in the final if he maintains his power-hitting (22 aces and 60 winners against Hubert Hurkacz in the semifinals). 
The Italian is also on an 11-match winning streak on the grass. If he manages to defeat Djokovic, he will become the first Italian man in 45 years to win a grand slam (Adriano Panatta grabbed the French Open in 1976). 
"Anything is possible in the finals, obviously experience is on my side, but Berrettini has been winning a lot of matches on grass courts this year, winning Queen's, he is in great form, he is serving big and playing big, so it is going to be a very tough match I think for both of us, but I am looking forward to a great battle," remarked Djokovic ahead of the Wimbledon Final against Berrettini.
Matteo Berrettini will look to play first-strike tennis. He struck 30 winners against Hurkacz with his booming forehand. Djokovic will look to put pressure on the Italian's serve and convert more breakpoints.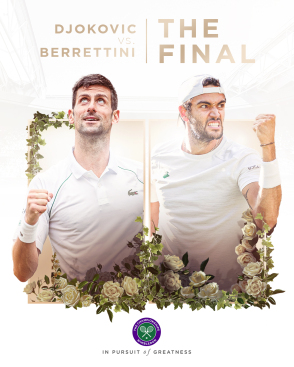 Composure under pressure and domination of the rallies from the baseline will determine the outcome of the Wimbledon 2021 Final. Djokovic will have a slight edge in big points and long rallies against Berrettini. 
Surprisingly this year has seen 3 grand slams (Australian Open, French Open, and Wimbledon) where neither Roger Federer nor Rafael Nadal has made it to the finals. 
The Serbian has been highly consistent having reached the 3 major finals in a row. Hence, Djokovic is undoubtedly in a great position to become the GOAT.    
So, dear fans, do you feel Novak Djokovic will claim his 20th grand slam title, or will Matteo Berrettini (25) lead the talented Next-Gen era by clinching his 1st grand slam trophy by winning the Wimbledon Final on Sunday. 
Featured Image Credits - Australian Open - Twitter