FIFA 21 TOTY Midfielder Ratings: Midfield Trio of a Portuguese, Belgian and a German
EA Sports have revealed the ratings for the 3 midfield maestros, Bruno Fernandes, Kevin De Bruyne, and Joshua Kimmich, who occupy the FIFA 21 TOTY. 
Each of these players brings a unique aspect to the game, in terms of both attack & defense. The updated TOTY cards for them are also out, and let us look at the ratings.  
When the FIFA 21 TOTY was revealed, we got a look at the newly updated rating cards of the attackers, Mbappe, Lewandowski & Ronaldo. They have been on top of their game in the last year, and have truly earned their place in the FIFA 21 TOTY.  
When it comes to the midfield playmakers, fans & members of the FIFA 21 community had a lot of options, but the community picked the ultimate 3. The two midfielders from the Premier League, Bruno Fernandes & Kevin De Bruyne, along with Bayern's CDM, Joshua Kimmich made the final cut in the FIFA 21 Team of the Year.  
Here is an in-depth look at how these 3 players are currently performing, and the stats in their TOTY cards.  
Bruno Fernandes (TOTY card- 97 OVR )  
Bruno Fernandes with his unstoppable supply of balls from the midfield to the attacking thirds has paved the way for Manchester United's success. He is excellent at reading the game and has won 3 Player of the Month awards since he joined the Red Devils.  
So, it is no surprise to see Bruno Fernandes being the highest rated midfielder in FIFA 21 TOTY. He boasts of an overall rating of 97.  
| | |
| --- | --- |
| Attributes | Stats |
| Passing | 98 |
| Dribbling | 97 |
| Shooting | 97 |
| Speed | 90 |

Kevin De Bruyne (TOTY Card- 96 OVR)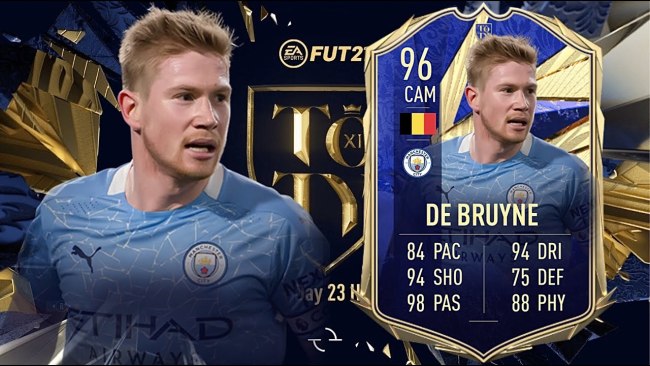 Hot on Bruno's heels is his contemporary & Premier League rival, Kevin De Bruyne TOTY from Manchester City. The Belgian has been the most vital cog for Manchester City's success, and his TOTY card reflects it too.
| | |
| --- | --- |
| Attributes | Stats |
| Passing | 98 |
| Dribbling | 94 |
| Physicality | 88 |
| Shooting | 94 |
Joshua Kimmich (TOTY Card- 96 OVR)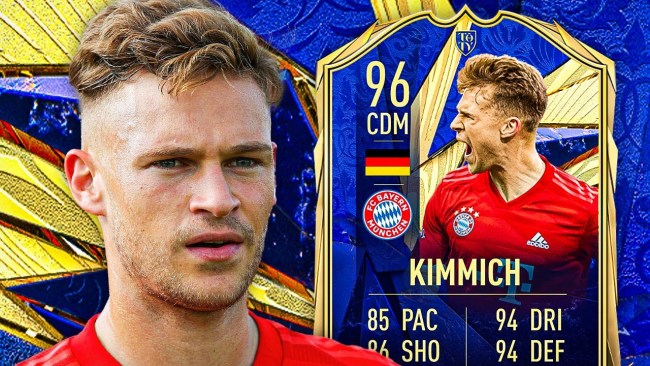 Joshua Kimmich is the only midfielder in FIFA 21 TOTY who is from the Bundesliga. The defensive midfielder's TOTY card is magnificent for the performances he has been putting in for Bayern Munich.
| | |
| --- | --- |
| Attributes | Stats |
| Passing | 96 |
| Dribbling | 94 |
| Defending | 94 |
Featured Image Credits - gamingintel.com/EA