FIFA 21 Team of the Year: Release date & predicted players in the TOTY
The release of FIFA 21 Team of the Year is just around the corner. We do not know the confirmed date yet, but we can expect it to be around mid-January. Here is everything you need to know about FIFA 21 TOTY & the predicted cards.
FIFA Team of the Year is a yearly event, in which the best XI of the year are given improved overall ratings. It will feature the top players of 2020. The voting for FIFA 21 Team of the Year is still open. Passionate players of FIFA 21 can still go and vote for who they think should make the cut in FIFA 21 TOTY.
So, the big question on everyone's mind is when will the FIFA 21 TOTY be released? With the headliners promotion running till January 14, it is safe to say that the TOTY will not be released until then.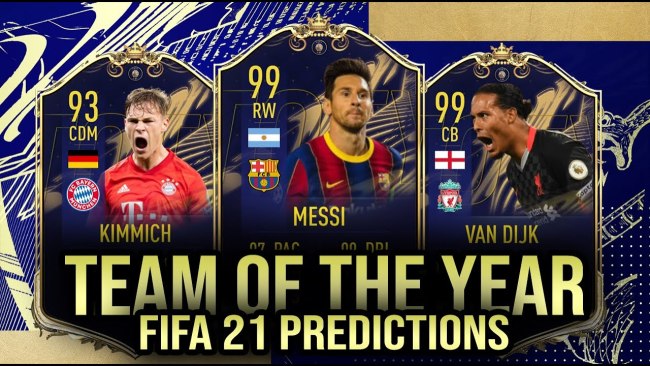 When will FIFA 21 TOTY release?
This year, the prediction is that FIFA 21 TOTY will be releasing either on 15 Jan, Friday or 18 Jan, Monday. In the last couple of years, the TOTY was not released until Jan 15. We can expect this to continue this year too, considering that the launch of FIFA 21 itself was delayed. 
Last year, however, the Team of the Year for FIFA 20 was revealed on Monday, January 6 at 5pm UK time, ahead of the new FUT cards arriving in packs at 6pm UK time. 
Throughout the event, the final FIFA 21 TOTY XI will be released in batches, with the entire squad being available in the final phase. All the XI players will be available only in a pack, and can be brought and sold on the transfer market.
Predicted players for FIFA 21 TOTY
GK: Manuel Neuer (Bayern Munich)
RB: Trent Alexander-Arnold (Liverpool) 
CB: Virgil Van Dijk (Liverpool) 
CB: Sergio Ramos (Real Madrid) 
LB: Alphonso Davies (Bayern Munich) 
CM: Joshua Kimmich (Bayern Munich)
CM: Kevin De Bruyne (Manchester City) 
CM: Bruno Fernandes (Manchester United) 
RW: Lionel Messi (Barcelona) 
ST: Robert Lewandowski (Bayern Munich) 
LW: Cristiano Ronaldo (Juventus) 
The position of 12th man in the FIFA 21 TOTY will be decided by votes, and in all probability will come down to a battle between PSG starts Neymar & Mbappe.
Featured Image Credits - fifplay.com