Friends United: A Messi-Neymar reunion looks imminent at PSG!!
Part of the journey is the end; Lionel Messi hosts a press conference to conclude his glittering tenure with Barcelona. 
If all goes well, fans could see a possible reunion of Messi along with his close friend, Neymar at PSG in the coming days. 
On Sunday Lionel Messi hosted an emotional press conference to mark the end of his illustrious spell with Barcelona. 
When asked about his next club he said, "That is one possibility [PSG]. There's nothing closed at the moment but we're talking about a lot of things. After Barca's statement, a lot of clubs showed an interest. But nothing final, although there are talks, of course." 
However, various sources suggest Leo Messi has almost joined PSG and will undergo a medical test in no time. 
According to ESPN, Leo Messi has agreed to a 2-year deal with the option of a third year. He will travel to Paris on Sunday, and PSG has booked Eiffel Tower for the unveiling of Lionel Messi in few days, sources claimed. 
Leo Messi looks set to be reunited with his amigo, Neymar at PSG
Many sources claim that Leo Messi is likely to join the PSG in few days, and there he will meet his former Barcelona counterpart Neymar.  Both the players share a good relationship on and off the field, as Neymar has always admired Messi and considered him his idol. 
During Neymar's stint at Barcelona, his partnership with Messi and Suarez (MSN) formed a deadly trio and won the treble with the club in 2014-15. 
However, after three years, Neymar left Barcelona for PSG which was one of the most expensive transfers in football history. 
It is said that Neymar played a key part in the Messi transfer saga as the Brazilian wanted a reunion with his former Barcelona teammate and friend at PSG. 
The holy trinity of Neymar-Mbappe-Messi upfront at PSG will cause havoc to any opposition in Europe. Neymar and Leo Messi are the top dribblers in European football and Kylian Mbappe up-front will use his blistering speed to exploit defense, the trio will be the force to be reckoned with. 
How PSG will line up next season? 
With a busy summer in the transfer market, PSG will be looking to end their Champions League Hoodoo, as Mauricio Pochettino will be the man on a mission to lead this team to annihilate whichever team comes in front of this devastating squad. 
With the arrival of Sergio Ramos from Real Madrid, Italy's Euro 2020 winning goalkeeper, Gianluigi Donnarumma, and Achraf Hakimi from Inter Milan, PSG's defense compliment the front three and balance the team well.
Mauricio Pochettino would be looking to set a system from the start of the season that would provide flexibility to the front three of Neymar-Mbappe-Messi. 
Since past few years, Messi has evolved his game to more of a playmaking role. At PSG, we can expect him to drift infield for as he always does from the right, to thread deadly through balls to Mbappe and Neymar.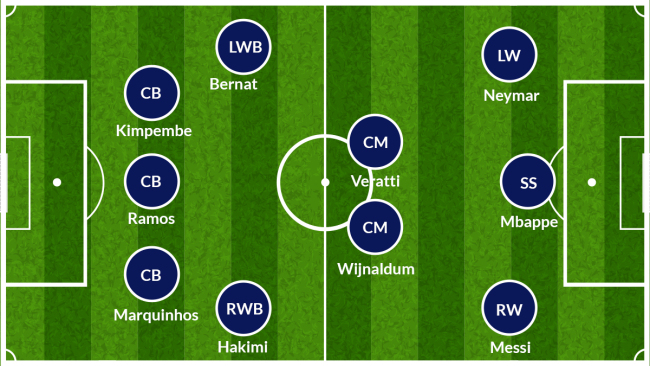 How excited are you to see a Messi and Neymar reunion at PSG for the 2021-22 season?