ICC World Test Championship, the revival of Test cricket
With the lack of interest from cricket fans, ICC decided to introduce a Test championship to regain people's interest into the Test cricket. This idea of Test Championship will help bring the spectators to the stadiums especially in the subcontinent.
In Australia, England, New Zealand and South Africa already have a large number of spectators coming to watch the Test matches but in Asia, this trend is other way around. So we are hoping that the Test championship will have a great impact on the Test cricket format.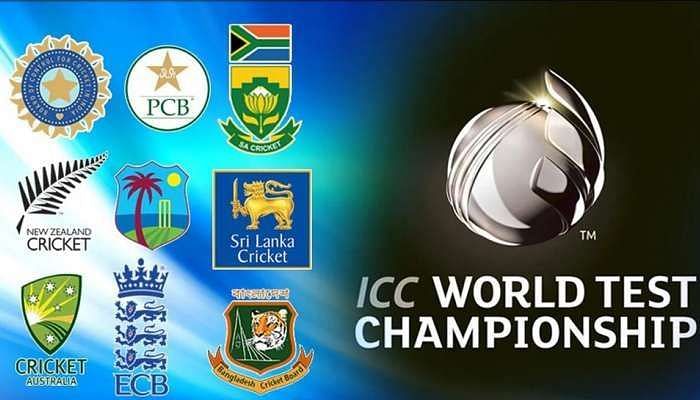 ICC takes almost ten years to start a test championship. The first idea of this championship was proposed in 2010, but due to some reason ICC disapproved of it. After that one suggestion came to start test championship between 2013 and 2017 but again this proposal was rejected by ICC.
Finally, in 2019 ICC started a Test Championship from 1 August 2019 to June 2021. ICC allotted a two-year window for this championship in which every team will play three home and three away series. In this championship, only the top 9 test playing nations will take part.
A series, which will consist of a minimum of two test matches will be considered as a part of this championship. Matches that will be played against other than these 9 test playing nations will not be considered as a part of this championship. Teams that will play Test matches other than this championship will be a part of ICC FTP (Future Tour Program).
Every team will play a series of a different number of test matches but they will play the same number of series. Test Championship started on 1st August 2019 from the first Ashes test and the end of this championship will be upon the final played at the Lord's between the top two teams.
How teams will get points?
Each series(either of 2,3,4 or 5 test matches) consists of 120 points in which if a team wins a match will get points by dividing 120 over the number of matches in that series. Similarly, if a match is drawn one-third (of winning a match) the number of points will be awarded to each team. 
For tie one-half (of winning a match) the number of points will be awarded to each team. No points will be deducted from the team which lost the match. So in this way, every match has equal importance. If in a series of three test matches one team won the first two test matches and get the unassailable lead, even then the third match will not be a dead rubber because of its points.
One more thing about the points is, if a team has a slow over-rate then two points will be deducted for every over which is above allotted time.
The complete distribution of points is in the table given below.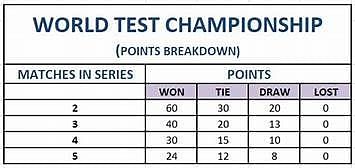 The Final of this championship will be played at Lord's from 10-14 June 2021. If two teams having equal points then the team that won more series shall be ranked higher. If teams are still equal, then the team with the higher runs per wicket ratio shall be ranked higher. The runs per wicket ratio are calculated by dividing runs scored per wicket loss over runs conceded per wicket taken.