Jessica Fox wins her much awaited gold medal at Tokyo Olympics 2020
Australian canoeist Jessica Fox became the first gold medalist in the Women's C1 Olympic Champion in canoe slalom.  
The 27-years-old Australian, Jessica Fox, wrote her name in history books of the Olympics when she bagged a gold medal in women's C1 canoe slalom and bronze in the canoe slalom K1 final in a unique way. 
Jessica Fox saw her kayak broken while competing, as she hurriedly used a condom which she got from Olympic village to fix the kayak. However, two-pole strikes in the kayak earned her a four-second penalty which saw her lose to Germany's Ricard Funk the gold medal.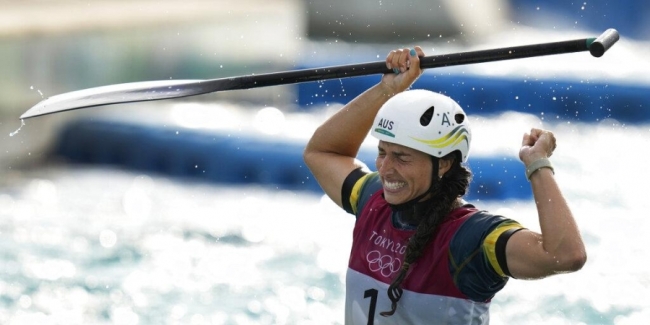 She grew in a talented family who were canoeing champions, and by 13, she embarked on canoeing. In the past ten years, she has accumulated 26x World Cup Gold medals, 7x Championship titles, and 2x Olympic medals. 
Jessica has been the most successful Australian paddler and has been representing the country since 2009 in a canoe (C1W) and kayaking (K1W) singles.  
Background and personal life
Born on 11 June 1994, Jessica Fox is a French-born Australian. She was born in Marseille, France; at the age of six, she moved to Australia with her parents. 
Jessica Fox pursued her canoeing passion through her parents. Her mother represented France in the 1996 Atlanta Olympics and her dad Richard Fox was the five-time world champion of Great Britain. 
The champion canoeist completed her HSC from Blaxland High School and finished first in New South Wales in PDHPE. 
Jessica Fox is currently studying in the Elite Athlete Program at the University of Sydney, where she learns media/communications. She studied Bachelor of Social Science (Psychology) in Swinburne online as well. 
Inspired by her parents, she took paddling at just 11-year-old, but couldn't find any motivation to participate in competitions. 
Following year she broke her arm, her physio suggested try doing kayaking. At just 16, she won the gold medal in the Singapore youth Olympics one year after she made her senior debut (2009), and then the rest is history. 
Jessica fox: Achievements and records 
It was Jessica's mother, Myriam Fox-Jerusalmi, who started teaching her paddling. Following her parents, nobody thought she would become the world's most excellent paddler before hitting 25.  
Achievements/ Records 
Year
Junior World Champion K1W and C1W 
 2010, 2012
4x C1 World Champion 
(2013, 2014, 2015, 2018)
2009, 2011, 2013, 
2014, 2015
Silver medal in London Olympics
Bronze in Rio Olympics 
Gold and Bronze in Tokyo Olympics 
2012 
2016 
2020
Triple K1 World Champion
2014, 2017, 2018
U23 World Champion K1W
2014, 2014, 2016, 
2017
U23 World Champion C1W 
2013, 2014, 2016
Some impressive records of Jessica Fox: 
★ Most successful female canoe slalom athlete ever.
★ Jessica Fox is also the most successful individual canoe slalom athlete ever.
★ She is the first athlete to win both the K1 and C1 world titles in the same year.
★ The only female paddler to have won three consecutive world titles.
★ The first athlete to win both the K1 and C1 Canoe Slalom World Cup titles.
Amazing facts about Jessica Fox:
🛶 Jessica Fox defeated 44-year-old Czech paddler Stepanka Hilgertova at the 2012 London Olympics, who defeated Jessica's mother for a gold medal in Canoe slalom K-1 at the 1996 Atlanta Olympics.
🛶 When Jessica was just four years old, her dad wanted to move to Australia so he could become the National Head Coach for the 2000 Sydney Olympics, that's the reason of her competing for Australia   
🛶 Jessica's sister, Noémie Fox, is also a slalom canoeist.   
 🛶 At the 2012 London Olympics, aged just 18 years, Jessica Fox became the youngest woman to earn a medal in canoe slalom. 
 🛶 Over the past ten years, Jessica Fox has won 26 World Cup titles, seven World Championships, and two Olympic medals.
Jessica Fox at Tokyo 2020 Olympic Games: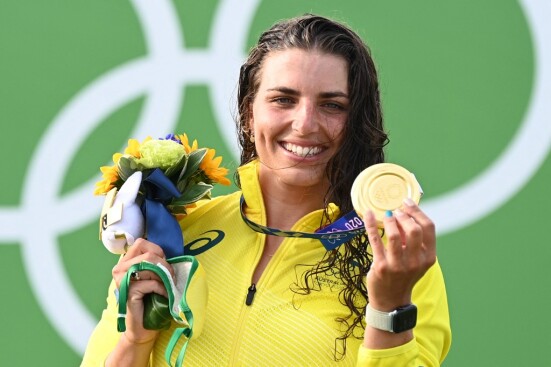 Jessica Fox has now made history, becoming the first women paddler to win a C1 gold medal. Despite winning bronze two days ago, the Australian finally won her much-awaited Olympic gold medal, which she has been desperate to add to her Olympic medal tally. 
She won with her clean run in a time of 105.04, which was 3.64 seconds ahead of second-placed Brit Mallory Franklin (108.68). 
Her parents were the driving force for her success in paddling. 
After winning the C1 gold medal in the Canoe Slalom, Jessica Fox said, "I was just thrilled to be part of that, and I knew I had to do the best run that I could, no mistakes, piece it together with the whole way down and hold it together. I was full of emotion at the finish line to have done that."