Michael Jordan or LeBron James- Who is the greatest of all time?
Michael Jordan or LeBron James? Who is the greatest? Is MJ still the greatest player in NBA history or has King James taken over the crown?  
This debate has once again come to the fore after the airing of 'The Last Dance', a 10-part documentary series, which chronicles Jordan's rise to power throughout the 1990s.
A survey conducted by ESPN found that 73% of the NBA fans are of the view that Jordan is the better player overall as the Chicago Bulls superstar swept all 17 questions comparing him to James by metrics both on and off the court.
Let's take a statistical approach as we look at some of their numbers to have a clear picture on where we stand in this debate:-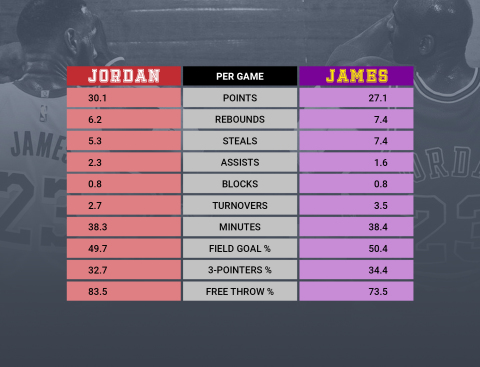 If we look at the per game stats, Jordan is surely a better scorer as evidenced by his 30.1 points per game but James is a clear winner in grabbing rebounds and making steals.
Both the legends were fierce competitors and tenacious in their approach while defending but Jordan was the league leader in steals three times in his career and LeBron is yet to claim even one.
LeBron has had a longer career between the two as the game has changed slightly. Now the emphasis is more on rest and recovery rather than hardcore training sessions. 
Now we come to the most important question as to who put a ring to their legacy? 
MJ has six NBA championship rings to his name. Jordan also won the finals MVP in all six of them and he never went to a Game 7 in the NBA Finals. 
It could be said that he is the gold standard when it comes down to winning. He famously replied to the cliched there's no "I" in "team" by stating that there's "I" in "win".
But, James appeared in eight straight NBA finals between 2011 and 2018. But he could win only three of them. It's great but is it good enough as compared to a 100% record?
Playing styles
Jordan was a tremendous one-on-one scorer playing in a time where the rules pushed the game more towards isolation basketball, which is to give the ball handler room to play one-on-one against an inferior defender by preventing the remaining defenders from joining the play.
Whereas, James is a point guard in a power forward's body. He is also a much better passer as evidenced by his stats with better vision on the court. 
In his era, the emphasis is less on individualism and more on the method of driving-and-kicking, which is essentially a three player weave or making a skip-pass against an overloaded defense. 
So, what would you go for? His Airness's precise scoring ability or LeBron's all-round brilliance?
Approach towards the game
Both of them are epitome of basketball brilliance but they used contrasting approach to get there. 
MJ was intense and fierce in his approach.He was also a ruthless leader who even criticized his teammates to motivate them and bring the best out of them.
But, he never asked them to do something he wouldn't do himself. He worked harder than anyone else and his only agenda was to win.
LeBron, on the other hand is also demanding of his teammates but is known for using a kind, more positive approach to bring the best out of them. He also believes in having a personal relationship with the players and work on strengthening relationships.
But their approach towards the game also had some drawbacks and made it difficult to play with them. Jordan, sometimes was a bit too harsh towards his teammates and used to test them in training to see who deserves his respect.
LeBron is more laid back in his approach and is known to be aloof during training. He also likes to have fun as he dances and raps all the time. This is in stark contrast to how MJ went about his business.
Jordan also opened many barriers for a sportsperson as well and is a huge name off the court, but LeBron expanded those barriers in a social-media era, where your every move is scrutinized to the very core. 
Who faced tougher opponents?
If we crunch some numbers, we see that MJ faced tougher playoff paths as compared to LeBron in his career. It is also highlighted that LeBron's nine runs to the finals has been boosted by a weakened Eastern Conference.
 
Average wins
Average net rating
Player
Own team
Playoff opposition
Own team 
Playoff opposition
MJ
58.38
53.54
7.29
4.58
Lebron
55.44
51.77
5.34
3.97
* Net rating is the difference between points scored and allowed per 100 possessions.                   Source: BASKETBALL-REFERENCE.COM
But, it is to be noted that King James faced some of the finest teams of the 21st century and came out on top most of the time. Also, MJ never faced anyone like the Golden State Warriors, a juggernaut which was one of the best sporting teams ever assembled.
In the NBA finals too, all nine of LeBron's opponents rank among the top 36 teams ever to reach the NBA Finals, an astounding statement regarding his quality of opposition.
We can't predict how MJ would have fared against a peak Stephen Curry led Warriors. Would we be 6-0 in the finals against the famed Warriors?
If not for the Warriors, LeBron would have surely had a couple of more NBA rings on his fingers. However, would he have gone 6-0 against the teams MJ faced in the finals? It's up to debate.
We can't compare different eras in sports. MJ went through a trial by fire each time he faced the 'Bad Boys' Detroit Pistons. The league was more physical back then.
Whereas, in LeBron's time, pace and technique run supreme. He also had to face the Warriors, who could well go down in history as one of the greatest sport dynasties. 
MJ would have totally killed it in today's game and LeBron could have been a star even in the 1990's. Both are supremely talented athletes who have enthralled the audiences every time they stepped onto the court and are loved by all. 
We were privileged to witness 'His Airness' and we are privileged to witness 'King James'. Let's pay our tribute to two of the absolute greats of the game.