Jose Mourinho taunts at Jurgen Klopp's touchline antics
Jose Mourinho has made the headlines again after a painful defeat at Anfield last night. Jurgen Klopp's Liverpool snatched a 2-1 victory against the Lilywhites in the dying minutes of the game.
The Reds managed a possession percentage of 76%, dominating the first half completely with barely any clear chances for Jose Mourinho's men. 
Liverpool took the lead against Tottenham Hotspur at Anfield, courtesy of a Mo Salah strike that deflected followed by Son Heung-Min's 99th goal for the London club. A brilliant 90th min Roberto Firminho header gave the Reds a well-deserved victory over Spurs.
Spurs were reliant on their quick counter-culture but things didn't pan out for them in the first half. The second half though, saw them missing two vital chances in quick succession as they let go of the opportunity to get the game buried there.
A Steven Bergwijn strike that struck the Post, followed by Harry Kane missing a free header from just six yards away turned costly for them.
However, the Special One was very frustrated with the result and told Amazon Prime Sport, "you can imagine how we feel" after a "great performance and a very unfair result".
The ex-Manchester United boss then shifted his focus towards the Reds' boss, Klopp who is very vocal and expressive when the fourth official awarded only a minute of stoppage time at the end of the first half.
The game also saw a conversation between the two managers just a few moments after the final whistle. When asked about it, Jose Mourinho said, "I told him the best team lost. He disagreed but that's his opinion. By the way, if I behave the same way on the touchline as he does, I have no chance to stay there, I am out."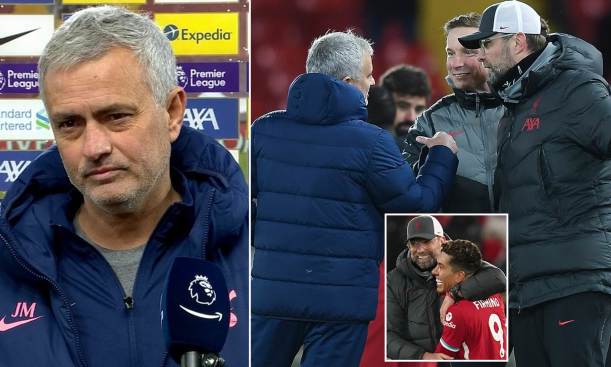 He continued saying, "That's animated? Or do you want to take the table with the numbers from the fourth official's hands to see what happens to me? I'm saying that, for some reason, I am different."
To hear the other side of it, Klopp was asked about his response on what Jose said. Klopp responded by saying, "Maybe my English is worse than I thought he said to me that the best team lost, and nothing about my behavior on the touchline."
Jose Mourinho has never won away against the German manager, making him perhaps the only manager who is unbeaten against the special one in six meetings.