Jose Mourinho: Tactics, Formation and Philosophy at Roma
After taking charge as a new manager at AS Roma, Jose Mourinho has seen his team display an exceptional performance in the last two Serie A games. 
Although a long season lies ahead of him, the question remains will he engineer Roma to the Scudetto?  
It's been 20 years since AS Roma lifted the Scudetto. Francesco Totti spearheaded the club to Scudetto in 2000/01 and had etched his name in the Roma folklore. 
However, the onus this time will be on Jose Mourinho, how he will lead his new club, AS Roma to glory with his tactical sage.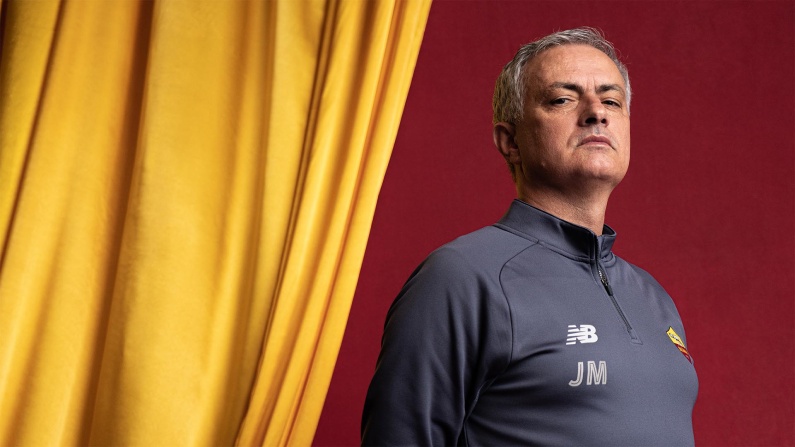 The last time Mourinho coached an Italian club was Inter Milan, where he built an 'us against the world' mentality that his players embraced and inspired the club to a treble. 
The Portuguese manager is back again in Italy after his failure at Tottenham, albeit of this he has already made his prominence felt. 
The club has commenced its new campaign on the right foot, with two wins out of two games. However, Jose Mourinho has great players at his disposal at AS Roma, and it seems like the players have already adjusted to his formation. 
The 4-2-3-1 formation at AS Roma
Jose Mourinho has implemented a 4-2-3-1 formation at AS Roma and obtained positive results. So, let's have a look at his strategy and the role of players under 4-2-3-1 formation. 
Jose Mourinho has executed many strategies in his managerial career; the most popular have been the 4-4-2 with diamond, 4-3-3, 4-4-1-1 and the 4-2-3-1.
His strategy follows flexibility so that the players can play with composure; he tinkers with his formation, usually depends on his opponents and how his players can outperform opponents in every aspect. 
Mourinho is one of the brightest tacticians; he has a great understanding of games, and his immediate alteration of formation has sometimes made the game in his favour. From high pressing to parking a bus Mourinho's tactics are immaculate.  
Jose Mourinho frequently uses the 4-2-3-1 formation, it allows wingers more freedom while playing, as he employees right-footed to left-wing and left to right-wing. This helps the wingers makes a converging run towards the centre when the ball is moved from the strong side to a central midfielder.
Creating more space for wingers to shoot or lay off a through ball to strikers, this movement can easily be adapted to formations with two forwards during the buildup. In addition, it makes it easier for midfielders to show their creativity and exploit the opponent's defence.
Jose Mourinho has used a similar formation at Real Madrid, and its safe to say the strategy has been rewarding.  
4-2-3-1 formation is more like a defensive based strategy, where he deploys four defenders as the backbone. The strategy has delivered great success; Chelsea and Real Madrid are the testaments to this formation. 
Roma Squad at Mourinho's Disposal:
So, at AS Roma, Jose Mourinho has Matias Vina, Roger Ibanez, Gianluca Mancini, and Rick Karsdorp, the Roma's heart of defence. 
Meanwhile, Jordan Veretout and Bryan Cristante will be dropping deep, this will help reduce the pressure off the centre backs, and the defenders will have more freedom to play freely. 
The attacking midfielders, Henrik Mkhitaryan and Lorenzo Pellegrini will provide support to the forwards during counter-attacks. The right forward, Carles Perez, could be used as a second striker and helping hand for Tammy Abraham when the team is attacking. 
Mourinho fully utilizes his attacking midfielders; their creativity with aplomb help create goals and play possession or all-out attack football but always used to rack up plenty of goals from this. 
According to Mourinho, an ideal striker should have all these qualities, being a target man, big physical presence, clinical finishing and aerial ability.   
Tammy contains all these qualities; at Chelsea, Tammy has grown more into a number 9 player.  At AS Roma, Jose Mourinho has stationed Tammy Abraham at the number nine position. The player has exhibited great performance in that position racking up one goal and two assists in the last two games.   
However, AS Roma has played two league games so far, and they have a long campaign ahead of them, it will be interesting to see how far 'the special one' will take them. 
Featured Image Credits: skysports.com
Related Article: Pep Guardiola Tactics, Philosophy | Thomas Tuchel Tactics at Chelsea