SportCo Fantasy Fight Series: Khabib Nurmagomedov vs Tony Ferguson
Khabib Nurmagomedov vs Tony Ferguson had been scheduled 5 times in the UFC with both of the fighters pulling out the fights for one reason or the other. 
Could Tony Ferguson in his prime have defeated the unbeatable, Khabib Nurmagomedov? Let's analyze the two fighters before jumping to a conclusion. 
Khabib Nurmagomedov vs Tony Ferguson: Records
Khabib Nurmagomedov Record: 29-0
(22) Top Finishes: Khabib Nurmagomedov - YouTube
The only MMA fighter in history to go undefeated at the highest level. He did not just go undefeated, he absolutely dominated every single fight. 
Khabib only ever lost 2 rounds in his entire career, one came against Conor McGregor and the other one was against Justin Gaethje, in Khabib's final fight. 
Some of the noticeable names in Khabib's resume are Conor McGregor, Dustin Poirier, Justin Gaethje, Rafael Dos Anjos, and Edson Barboza. 
Tony Ferguson Record: 26-6
(22) Tony Ferguson's 12-fight Win Streak - YouTube
Tony Ferguson might not have gone undefeated but he had one of the longest winning streaks in the Lightweight division of UFC history. 
He had a winning streak of 12 fights which lasted from 2013 to 2019. Tony Ferguson is also regarded as one of the best fighters ever to not win a World Championship. 
Tony Ferguson has defeated some of the most elite Lightweights including Rafael Dos Anjos, Donald Cerrone, Anthony Pettis, Kevin Lee, and Edson Barboza. 
Khabib Nurmagomedov vs Tony Ferguson: Style of fighting
Khabib's fighting style is considered by some as one of the most boring styles of fighting because he mainly relied on his wrestling throughout his career, his style of wrestling is often referred to as Sambo. 
Khabib Nurmagomedov had perfected his art as his takedowns became almost impossible to defend. His striking was one of the most underrated aspects as he would throw hands when required. 
Lut🅰️livreandco ®️ on Twitter: "Khabib Nurmagomedov Highlights • Slams/Takedowns YouTube 🎥 MMAHL https://t.co/3rYyFwBQE4" / Twitter
On the other hand, Tony Ferguson has one of the most unorthodox fighting styles ever seen in MMA. His main art is Brazilian Jiu-Jitsu and his striking is no less. 
His elbows in close clinch are brutal as he has smashed most of his opponent's head with his spinning elbow. One of the major characteristics of Tony Ferguson is his will to not give up. He would rather break his bones or pass out than give up. 
(22) Tony Ferguson - HIGHLIGHTS 2020 [HD] - YouTube
Khabib Nurmagomedov vs Tony Ferguson: Strengths 
Khabib Nurmagedov:
Wrestling
Ground Game
Close Clinch Control
Submission
Grappling
Takedown Defense
Stamina
Tony Ferguson:
Brazilian Jiu-Jitsu
Grappling
Close Clinch Control
Ground Game
Takedown Defense
Submission
Unorthodox Striking
Stamina
Khabib Nurmagomedov vs Tony Ferguson: Weaknesses
Khabib Nurmadomedov:
It would be tough to talk about the weakness of a fighter who remained undefeated throughout his career with only two rounds lost. But in these two rounds, it was noticed how Khabib was put on the back foot when constant pressure was applied to him with accuracy, which Khabib is not used to as he is always the aggressor. 
Khabib's game did not have any major hole, not even minor in that regard as he was never completely dominated in a single round. 
Tony Ferguson: 
As soon as Tony Ferguson started looking unbeatable, his career has gone downhill with three consecutive losses. Tony Ferguson mainly relied on his unorthodox form of approach where he was unpredictable in his style of fight. 
Against Gaethje, it was clear that his standup game was not up to the level of the best strikers in the world. He did score a knockdown on Gaethje with an uppercut but that's about it for his whole highlight during that fight. 
Tony Ferguson was then faced by Charles Oliveira and Beneil Dariush. Both of the fighters dominated Mexican-American fighters on the ground. As he wasn't able to stop their takedowns, neither was he able to get out of their grapples. 
Khabib Nurmagomedov vs Tony Ferguson Fantasy Fight: Prediction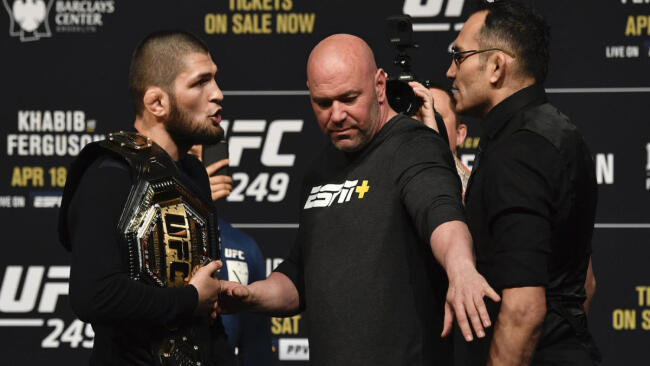 This would've been a huge topic of debate back in 2019 when Tony Ferguson was still undefeated. 
Could Tony Ferguson in his prime have defeated the unbeatable, Khabib Nurmagomedov? It is a difficult one but the answer is, No!!
It was clear that Tony struggled against the likes of Dariush, who does not come close to the level of Khabib in terms of wrestling. If the fight was to happen, it would have most likely been a Unanimous Decision victory for Khabib Nurmagomedov. 
Tony Ferguson is not the fighter who taps out, and it is difficult to get him in a position of submission, to begin with, let alone following through and making the fighter tap. The Eagle's ground game would've been too much for El Cucuy. Does Khabib make a comeback for one last fight against Tony Ferguson?
How do you think this fight goes? Does Tony get a win in your analysis? Let us know!