Sergio Aguero elated as KRÜ Esports stuns Sentinels at VALORANT Champions 2021
LATAM Representatives KRÜ Esports advanced to the playoffs by eliminating the North American giants, Sentinels from Valorant Champions 2021. The match has produced one of the most shocking results in the game's short history.
Sentinels were considered one of the heavy favorites in the tournament. Sentinels' star-studded dominated the 2021 VCT season, winning VCT NA Stage 1 Masters and Masters Reykjavik, the first-ever international Valorant tournament.
The North American squad's 2021 VCT season ended after they were outplayed by underdog squad KRÜ Esports, a team no one even expected to make out of the group stage, with many even calling it the greatest upset in Valorant's short history.
KRÜ Esports stun Sentinels at Valorant Champions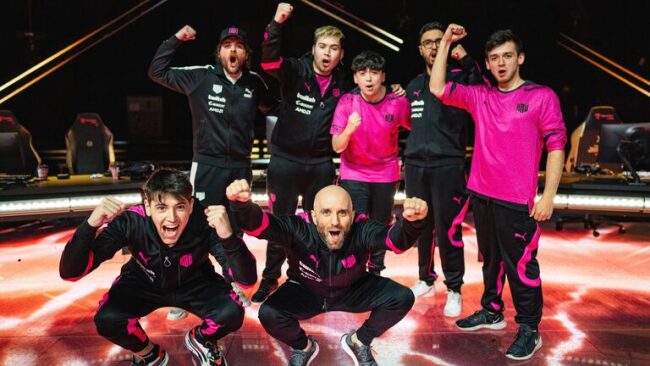 KRÜ Esports chose Fracture to begin the match. Sentinels set the pace early in the series with a 9-3 lead in the first half. 
After losing the second-half pistol round, KRÜ shrunk their disadvantage winning three rounds straight, eventually recovering to an 11-7 scoreline. 
Unfortunately, their star player NagZet had a poor showing that Sentinels took advantage of. He finished the first map with a KDA of 4/17/3 as Sentinels won 13-7. However, despite having a slow start, NagZet didn't let this map affect him for the rest of the series.
"We expected Sentinels to be a little off-guard because they hadn't really played Fracture so much," said NagZet. "We thought they might not have it well-prepared, but I was really nervous, the whole team was really nervous, I even had an anxiety attack. After that map, after we lost it and I let my team down, they just all calmed me down."
On the second map, Haven, KRÜ won the opening round, but they couldn't build the momentum up thanks to a disgusting triple from TenZ on the Marshal. The first half was ultimately decided by Sentinels making great individual plays from the likes of TenZ, SicK, and ShahZaM. The North American side closed it out 8-4 before switching sides.
KRÜ Esports' passion and determination completely turned around the tables in the second half. They took seven straight rounds before Sentinels could even get on board, giving KRÜ the lead, 11-8. 
Everything was going KRÜ's way, and Sentinels began to run out of steam, but ShahZaM answered with an insane 3K, giving Sentinels the energy they needed. 
Despite ShahZaM's 27 kills, KRÜ Esports managed to force a map three, on behalf of a crucial 4k from NagZet to secure the match point. 
The final map, Split, started off strong for KRÜ Esports but Sentinels found their footing getting an 8-4 lead at the half, once again.
This time it took six rounds for Sentinels to get on board, handing over the lead to KRÜ Esports. NagZet's insane entry plays helped the LATAM side gain confidence throughout their comeback. The scoreline was 10-8 in favor of KRÜ Esports. 
With the tournament life on the line, Sentinels managed to win a hectic round and followed it up with an insane 3K from dapr which tied the map 10-10. 
A ferocious rush into B went unanswered by Sentinels and KRÜ Esports did the unthinkable to take the Split 13-11 and the series 2-1.
"Thank you very much to all the people who have supported us, I have an inexplicable feeling right now, this win is for you," said keznit. "I am really glad we made history for LATAM especially, this victory is for that and I feel amazing."
KRÜ Esports has competed in every international LAN this year, however, this time they showed how much they have grown with the help of the support their team has.
"Usually the nervousness and anxiety get the best of us," keznit explained. "Usually we have everything really well-prepared but when we get to the moment, we just make things different and make mistakes. In this tournament, we said we weren't going to let that happen and we have a really good team behind us that really supports us. We just couldn't let them down and we did it today."
After their victory, Manchester City legend Sergio Aguero, KRÜ Esports founder, congratulated them on achieving this huge feat.
KRÜ advance to the playoff stage of VALORANT Champions alongside Acend, Fnatic, Team Liquid, and Gambit Esports, all of Europe, the Middle East, and the African region. 
Sentinels, meanwhile, leave VALORANT Champions with the worst finish they've had at an international event.