Noah Lyles vs Usain Bolt Comparison: Record | Best Time | 200m Sprint Record | Top Speed
Usain Bolt has cemented his legacy as one of the greatest sprinters in the history of athletics, but he has also left a gaping void in athletics since his retirement. 
However a lot of sprinters came in to replace him as the best on the track, but no one came as close as Noah Lyles to replace him as the face of the sport.
One of the reasons why Noah Lyles is considered to replace Usain Bolt as the face of athletics is, the event that is a pet to Lyles and Bolt is similar i.e the 200M which is known as the middle child of sprinting. 
The current record for the 200M sprint is with Usain Bolt who clocks at 19.19 which was done in 2009 at the world championships.
Noah Lyles is currently the 4th fastest man on the planet at 19.50 seconds.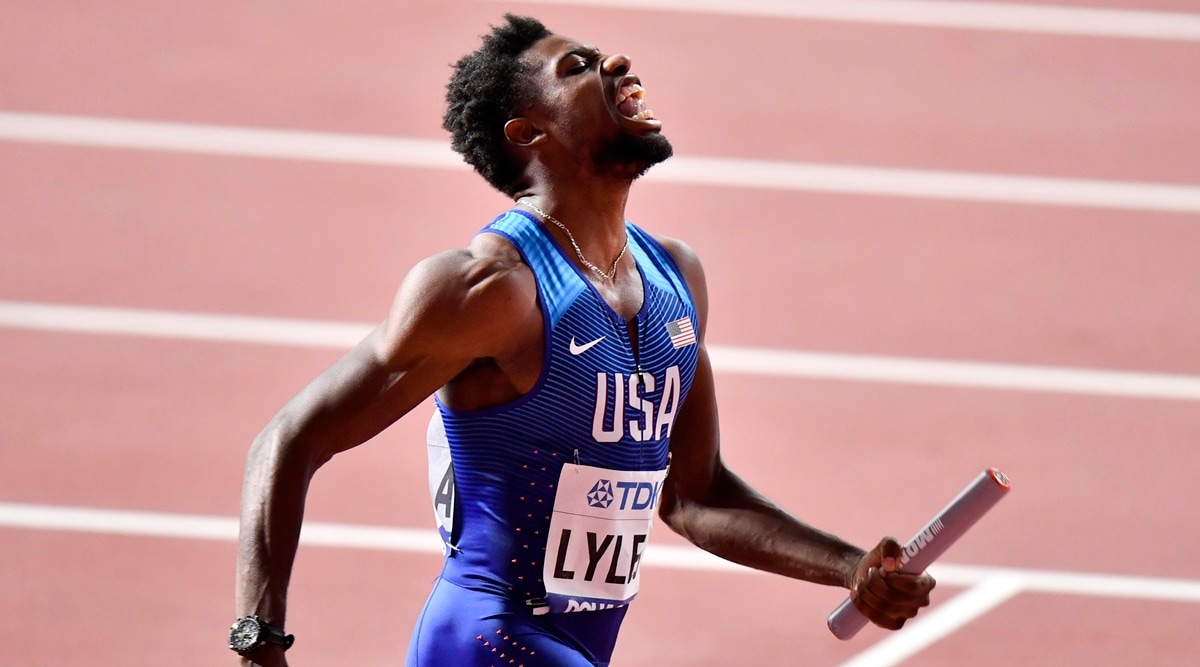 Born on July 18, 1997 - Noah Lyles is an American Professional track and field athlete who is poised to make a mark in the Olympics 2021. Touted to be the next Usain Bolt, Lyles is making headlines since he stepped up on the opportunity vacated after Usain Bolt announced his retirement.
Lyles recently won Gold in World Championships in 200 M event where he clocked 19.83 seconds which was not probably his best one but took the world on notice about his intent in the upcoming Olympics
The American sprinter is one of the fastest men on the planet currently and one of the top athletes to watch out for at the Summer Olympics in Tokyo.
The blunder at Inspiration Games, Zurich 2020
It was a moment to relish for Noah Lyles. The Defending 200 M Champion clocked a sprint speed of 18.91 seconds in Zurich which could have broken the record of 19.19 seconds which was set by Usain Bolt in 2009. However, the personal best of Lyles was 19.50 and hence the clock time was challenged.
When the scenario was checked around, it got on the news that his stunning performance was not all it seemed - race organizers had placed him in the wrong lane before the firing gun. Hence it got noticed that Lyles had just run 185 M due to the blunder by the Organizers. 
Comparision - Usain Bolt vs Noah Lyles
Personal Bests
| Usain Bolt | Events  | Noah Lyles |
| --- | --- | --- |
| 9.58 (WR) | 100 M | 9.86 |
| 14.35 | 150 M | 14.69 |
| 19.19 (WR) | 200 M | 19.50 |
| 45.28 | 400 M | 47.04 |
| 36.84 (WR) | 4 x 100 M Relay | 37.10 |
International Competitions Won - Since 2013
Usain Bolt 
🏅 World Championships (Moscow, Russia - 2013) - Gold - 100 M, 200 M, 4x100 M Relay
🏅 Commonwealth Games (Glasgow, United Kingdom - 2014) - Gold - 4x100 M Relay
🏅 World Championships (Beijing, China - 2015) - Gold - 100 M, 200 M, 4x100 M Relay 
🏅 Olympics 2016 (Rio de Janeiro, Brazil) - Gold - 100 M, 200 M, 4x100 M Relay
🏅 World Championships (London, United Kingdom - 2017) - Bronze - 100 M
Noah Lyles
🏅 World Youth Championships - (Donetsk, Ukraine - 2013) - Silver - Medley relay
🏅 Youth Olympic Games - (Nanjing, China - 2014) - Gold - 200 M
🏅 Pan American U 20 Championships - (Edmonton, Alberta, Canada - 2015) - Silver - 100 M ; Gold - 200 M
🏅 World U20 Championships - (Bydgoszcz, Poland - 2016) - Gold - 100 M, 4x100 M Relay
🏅 World Relays (Nassau, Bahamas - 2017) - Silver - 4x200 M Relay
🏅 Continental Cup - (Ostrava, Czech Republic - 2018) - Gold - 100 M, 4x100 M Relay
🏅 World Relays - (Yokohoma, Japan - 2019) - Silver - 4x100 M Relay
🏅 World Championships - (Doha, Qatar - 2019) - Gold - 200M, 4x100 M Relay