Liverpool vs Tottenham Preview: A Potential Two Horse Race this season?
Liverpool host Tottenham Hotspur as we hope to find out whether Jose Mourinho and co. hold their top spot or if Jurgen Klopp's 'injured' Liverpool side continue their domination in the tie 
Liverpool are unbeaten against Spurs in their last six meetings and this would certainly ring in the Spurs dressing room who have witnessed a complete turnaround in their mentality this season. 
As strange as the year 2020 has been, the effects have been visible in the Premier League too with Tottenham at the summit of the Premier League table, something that they would not have dreamt of in Jose's initial days. 
Taking nothing away from the team and Jose, the manager's quick counter-attacking tactics have worked very well so far in not only the big games but also in games where they needed more creativity.
Spurs started the season with a defeat against the Toffees, Everton. However, since then they have managed to disrupt Manchester United at Old Trafford, kept successive clean-sheets against Pep Guardiola's Manchester City and Chelsea, and managed a comprehensive win in the North London derby as well. 
Liverpool on the other hand, has faced some severe injury crisis this season, with Virgil Van Dijk out until the New Year at least, recently injured Diogo Jota and the list goes on. The two managers have also had quite a history as there have been times where Klopp has lost it against Jose's defensive tactics, having a tough time penetrating his teams, while not to forget, Jose's sacking at Old Trafford came just a day after he lost 3-1 against Klopp's side. 
However, Jose Mourinho's recent jibe at the Reds' boss was a 'special one' as he spoke about how Liverpool have been using injuries as a big layoff despite several casualties being present in Jose's teams too currently and also over the past seasons. 
We are yet to see a response from the German boss but it seems the game will have lots of heated moments as Jose will be hungry to get a win over the Reds, having failed to get the three points against him since the 2017/18 season.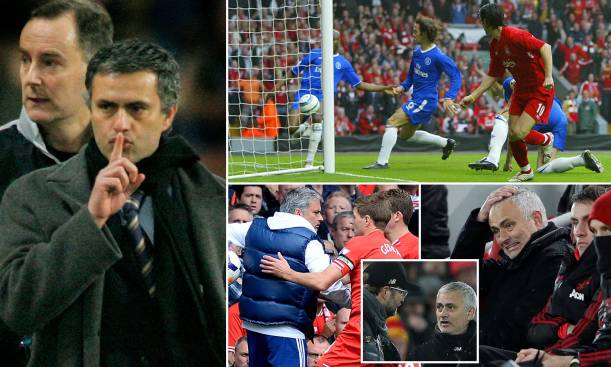 The stakes are high and Spurs would hope that Harry Kane and Heung-Min Son rise to the occasion again as the Lilywhites won their last game against the Reds in October 2017, 4-1. 
Since then neither side have managed to score more than two in a game and it will be interesting to see whether Spurs manage to break Liverpool's unbeaten run at Anfield in the league. 
Liverpool will not back down too, as most of the players have returned from injuries. Trent Alexander-Arnold's crossing has been phenomenal if not his overall performance in his last game despite the draw, but Liverpool would surely miss Diogo Jota who has an impeccable record against Tottenham. 
The Reds have been unbeaten in their last five games in all competitions, while Tottenham are undefeated in their last ten games in all competitions. 
Liverpool are expected to take charge of the possession while Spurs would wait for the perfect opportunity to hit them on the counter with the pace they have managed to keep up in this season.
 Let's see who comes on top!